**The posts I write might contain affiliate links or be written in collaboration with businesses or brands. Please see my disclosure policy for more information.**
**Some of these links are affiliate links. That means if you click and buy, I may get a very small commission at no extra cost to you 🙂
My daughter is a reluctant reader.
I can't begin to tell you how much this makes me scratch my head and turn purple with chagrin. I love books. As a child, I would devour books and beg for more. I read all of the Nancy Drew series, most of the Hardy Boy mystery books and anything else that would appeal to my middle reader self. Later in my teens I adored Agatha Christie books and anything by John  Dickson Carr. I also read dang near every Louis La'mour ™ western!
Anyhoo….my daughter did not inherit my "I love to read" gene and getting her to read is a battle. Until recently that is. Within the last few months she has discovered the joys of graphic novels. In case you are wondering, graphic novels are like comic books and chapter books all rolled into one. These colorful books are a highly visual medium and can put stories with diverse, multicultural elements into a new perspective for young readers.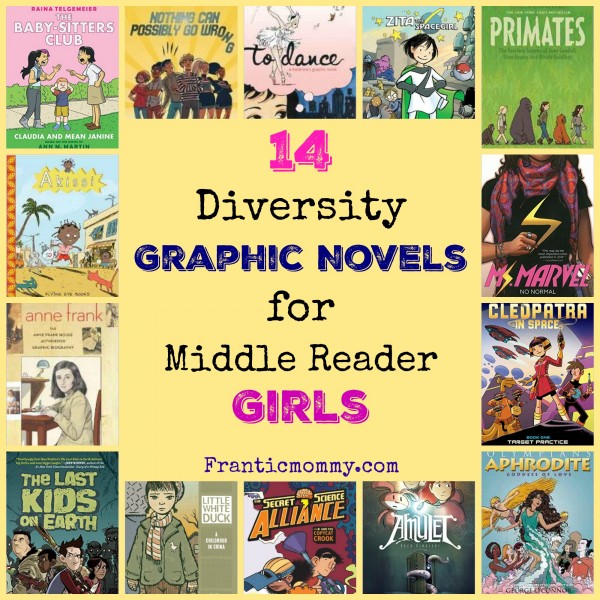 Needless to say, I've been freakin GIDDY at her newfound adoration of these books! This has prompted me to do some digging to find some Diversity Graphic Novels that not only appear to middle reader girls, but ones that have a multicultural element to them. Enjoy!
Primates: The Fearless Science of Jane Goodall, Dian Fossey, and Biruté Galdikas by Jim Ottaviani-A powerful, stylized, and playful rendering of the life stories of Jane Goodall, Dian Fossey, and Biruté Galdikas—the greatest primatologists of the twentieth century. Afterword. Bibliography. Full-color illustrations.
Aphrodite: Goddess of Love: Olympians (part of the Olypmians Series)The goddess of love gives birth to Eros (also known as Cupid), brings Pygmalion's statue to life, and bests Hera and Athena in a beauty contest. Endnotes. Discussion questions. Bibliography. Suggested reading. Full-color illustrations.
To Dance: A Ballerina's Graphic Novel Dancers are young when they first dream of dance. Siena was six — and her dreams kept skipping and leaping, circling and spinning, from airy runs along a beach near her home in Puerto Rico, to dance class in Boston, to her debut performance on stage with the New York City Ballet. Twirl along with Siena as she shares her story in words with pictures by acclaimed illustrator Mark Siegel.
Little White Duck: A Childhood in China by Na Liu-Da Qin and her little sister, Xiao Qin, grew up in the city of Wuhan, China, in the 1970s—as their country was changing in exciting and confusing ways. Glossary. Time line. Translations of Chinese characters. Map. Full-color illustrations.
Anne Frank: The Anne Frank House Authorized Graphic Biography by Sid Jacobson-An account of Anne Frank 's life and her diary, as well as the Frank family 's history before and after their time in the secret annex. Chronology with full-color and black-and-white photographs. Suggestions for further reading. Full-color illustrations.
Claudia and Mean Janine: Full-Color Edition (The Baby-Sitters Club Graphix #4)The Babysitters Club Series: This graphic novel adapted by Raina Telgemeier, the #1 New York Times bestselling, multiple Eisner Award-winning author of Smile, is now available in full color! Claudia and her sister, Janine, may as well be from two different planets. Claudia, who pays more attention to her artwork and The Baby-sitters Club than her homework, feels like she can't compete with her perfect sister. Janine studies nonstop, gets straight As, and even takes college-level courses! But when something unexpected happens to the most beloved person in their family, will the sisters be able to put aside their differences?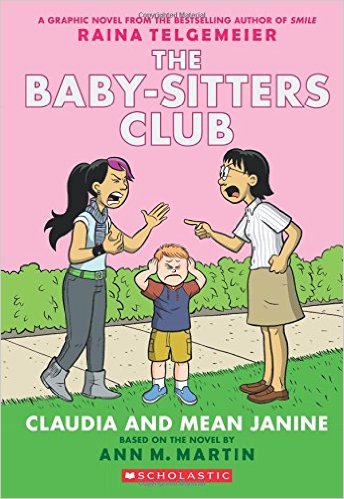 The Last Kids on Earth:Diary of a Wimpy Kid meets The Walking Dead in this very funny post-apocalyptic graphic novel for middle-grade readers. If your daughter likes a little edgier reading, The Last Kids on Earth might be appealing. Ever since the monster apocalypse hit town, average thirteen year old Jack Sullivan has been living in his tree house, which he's armed to the teeth with catapults and a moat, not to mention video games and an endless supply of Oreos and Mountain Dew scavenged from abandoned stores. But Jack alone is no match for the hordes of Zombies and Winged Wretches and Vine Thingies, and especially not for the eerily intelligent monster known only as Blarg. So Jack builds a team: his dorky best friend, Quint; the reformed middle school bully, Dirk; Jack's loyal pet monster, Rover; and Jack's crush, June. With their help, Jack is going to slay Blarg, achieve the ultimate Feat of Apocalyptic Success, and be average no longer! Can he do it?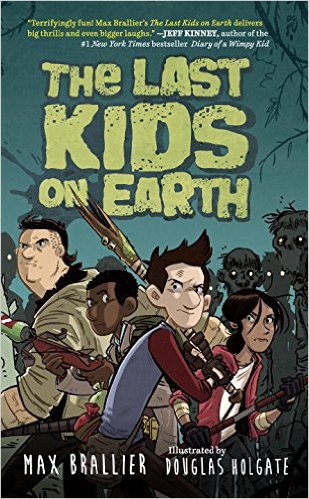 Ms. Marvel: No Normal by Wilson, G. Willow (author). Illustrated by Adrian Alphona for Grades 7-11.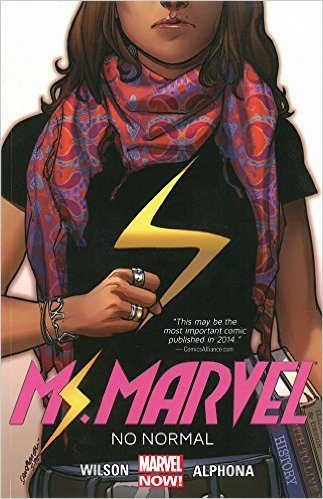 Kamala Khan is a geeky 16-year-old Pakistani girl in Jersey City with fairly strict Muslim parents, and she is tired of feeling like a weirdo for eating unusual food and having to stay home most weekend nights. She sneaks out one evening to go to a party, but a strange fog rolls in and the Avengers appear before Kamala, speaking Urdu, and they grant her wish to be like Ms. Marvel—right down to the blonde hair and skimpy outfit. Kamala spends the next few days trying to master her new shape-shifting powers, and she struggles with how to appear. Should she abandon her brown skin and Pakistani features in order to be more recognizable as Ms. Marvel?
Akissi: Feline Invasion: Poor Akissi! The neighborhood cats are pursuing her to steal her fish, her little monkey Boubou almost ends up in a frying pan, and she's nothing but a pest to her older brother Fofana, but Akissi is a true adventurer, full of silliness and fun, and nothing will scare her for long!
Part of the Sélection Officielle d'Angoulême 2011 Prize at Europe's largest comics festival.
By the author of the critically acclaimed and hugely successful series Aya, with two hundred fifty thousand copies sold in France, translated into fifteen languages. Three books in the series have already been released in French, with a fourth currently in the pipelines.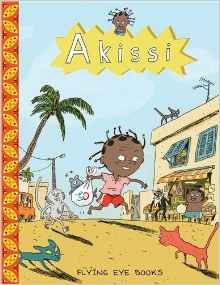 Nothing Can Possibly Go Wrong by Prudence Shen
"Charlie is the laid-back captain of the basketball team. Nate is the neurotic, scheming president of the robotics club. Their unlikely friendship nearly bites the dust when Nate declares war on the cheerleaders and they retaliate by making Charlie their figurehead in the ugliest class election campaign the school has ever seen. At stake is funding that will either cover a robotics competition or new cheerleading uniforms– but not both. Bad sportsmanship? Sure. Chainsaws? Why not. Running away from home on Thanksgiving? Nothing can possibly go wrong.".
 The Secret Science Alliance and the Copycat Crook by Eleanor Davis. Secret scientist Greta who–with her fellow junior high scientists–loves to tinker on gadgets like the Stink-O-Meter and Nightsneak Goggles. Can the inventors stop a heist with their creations? Recommended for ages 8-12.
Do you have diverse graphic novels that would appeal to girls you can share?
**
****Some of these links are affiliate links. That means if you click and buy, I may get a very small commission at no extra cost to you 🙂