I can not even begin to tell you how glad I am that it is finally February.
Why is that? Well, I think it is because December and January has left my emotions and spirits a little bruised and battered. It started in December when one of my best friends, who was battling cancer, took an unexpected turn for the worst. We were texting each other on a Tuesday, Thursday she went to the ER for dehydration and by Friday was in Hospice. She lost her battle the day after Christmas. I am still trying to get my head around that one and re-train myself to NOT grab my phone to "send her a quick text."
My body is not doing so hot either. My right sciatica is pissed off, my neck is stiff and I am now sporting custom thumb splits on BOTH hands because, at the ripe old age of 51 I have arthritis. The arthritis has been plaguing me for awhile, but REALLY reared its ugly head in January when I was up to my eyeballs in work for the Best Job Ever; also known as being the project manager for Multicultural Children's Book Day.
Don't get me wrong; I know I am blessed to be part of this amazing initiative filled with equally amaze-balls people, but I am TIRED. Managing 3 dozen major sponsors, 400 reviewers, mailing out multicultural books for kids like a mad woman. getting a Proclamation from the Gov of MN and trending THREE TIMES on Twitter can wear a girl out.
@RebeccFlansburg thank you so much for all that you do behind the scenes for @MCChildsBookDay You've been amazing!!!! #readyourworld

— Kim Vij (@EducatorsSpin) January 28, 2017
I could use some color and light, dammit.
Please let me be clear, I am not sympathy-seeking here. I am setting the stage for why Goddess Month (all Feb long) is so important for my well-being and others as well.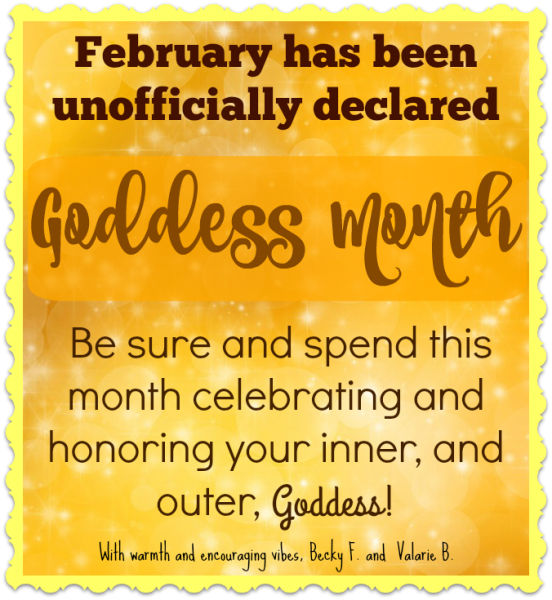 Before you start Googling like mad (because you've never heard of such a thing) just know that this isn't a mainstream/well-known holiday. In fact it didn't even exist until another bestie (Valarie) and I decided that Valentine's Day was B.S. and we wanted to honor our majesty as women All.Freakin.Month.Long! We also wanted to treat ourselves and so a little self-care.
Since January is such an insanely busy month for the both of us (she is one of the Co-Founders of MCBD) it's almost feels like the "first of the year" doesn't begin until February for us. Once the dust settles from a busy event month we finally feel like we can breathe and start looking towards implementing a fun a prosperous New Year.
Hence, Goddess Month was born 🙂
So basically, along with doing some business planning and strategizing, I want to be nice to ME. My brain needs a break, my friends miss me and my body could use a little TLC. So this is the month I take my deep breath and start walking towards my dreams and plans.
My "celebrate Goddess Month" list includes:
Get a massage
Walk every day and do yoga 3x a week.
Splurge at JoAnn's Fabrics on some delicious new markers and a new adult coloring book (my newest addiction).
Work on my Magic Mountains (part of my Leonie Dawson Shining Biz Academy)
Organize my office (it looks like a bomb went off in here)
Get the gear I need to be a little more ergonomically correct.
Implement my new goal of working with children's book authors
Read two new books a week
Go to lunch with a bestie once a week
Sign up for a new course or class that will help me and/or my business.
I don't want to be a prepper, but I kinda feel like I need to "prepare" for an uncertain world. I need the time and headspace to decide what that looks like.
Visit my horses! They are not "my" horses so to speak, but I've been taking some Masterson Method training for horses (like stress relief for therapy horses) and I want to practice on my two favorite horsey buddies and just hang out in a horse barn in general. Sounds weird, but it's a big deal for me.

This is all a BIG DEAL for me. Not just because I am doing awesome stuff FOR ME….I am doing awesome stuff that makes me a better ME. The massage and coloring-swag-buying is something that is hard for me because, as many of you moms know, we are self-programmed to always do for others and not-so-much for ourselves. This week I splurged on a new pair of shoes. After I pressed the "buy" button, I felt so guilty and almost went back to return it.
BUT, I didn't.
By the time I got home, I was proud of myself for doing something nice for ME. And you can do the same (and should).