**The posts I write might contain affiliate links or be written in collaboration with businesses or brands. Please see my disclosure policy for more information.**
1. Your current "babies" are all sportin backpacks, wiping their own butts, and saying things to you like "Mom, what's 'sex' mean?"
2. You've switched from Red Clover Tea to "enhance your fertility" to Monster Energy Drinks so you can "stay up past 9:30 p.m."
3. Your "lube" of choice is now Vicks for your chest, Icy Hot for your sore back, and Skin Md for your chapped dishpan hands.
4. Words like "PeriMenopausal" are starting to slip into your vocabulary.
5. Family TV viewing, that once consisted of PlayHouse Disney and Sesame Street, has evolved to more meatier shows like American Pickers and Hardcore Pawn.
6. Your Baby Equipment, which once was the center of your Universe, are now resellable sources of income.
7. You yell "everyone get in the car!"..and they do. By themselves.
8. When you leave your house for a family outing, your purse is "normal-sized" (as opposed to one the size of a Volkswagen).
9. Your travel kid-related "take with lists" don't have things like "pacis, a bin of wipes, changing pad for backseat, spare clothes in case of barfing (for you YOU and the kid) anymore. It's now two things:
1. Nintendo DS
2. Nintendo DS Games
10. You've become that old, wise Mother who listens stoically to New Mothers horror stories and frustrations while murmuring annoying phrases like "been there, done that" and " glad I'm past that stage."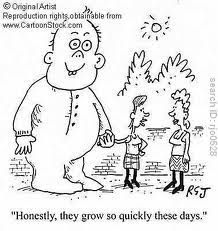 In case you wondered where the heck I've been, well never fear cuz I'm bbbacckkkkkkkk!!! Our house fell into the abyss of cold/flu/schoolcrap/
assorted-busy-junk, and other blog robbing activities. BUT, I'm back baby. Full of piss-n-vinegar and some kick-arse stories to write. So stay tuned for more good "stuff".
"Life moves fast. Starting blogging now. " 😉
Never Miss a Poop Story. Subscribe HERE http://feeds.feedburner.com/blogspot/dpfZp