I am a true Minnesotan through-and-through. We like being outside. We are nice. And we like our FOOD.
Although I do try to eat healthy, I am a die-hard fan of meat-n-potatoes.
Emphasis on POTATOES. I remember my mom tediously peeling, cutting, boiling, and mashing potatoes for many-a-meal. Not that that's bad, I miss those days. But the reality is; Life Moves Fast and any shortcuts to nutritious meals are a Very Good Thing.
I am no exception. I also work full time, have two rugrats under the age of 8, a successful side business, and three active blogs.
If I found a genie in a bottle, I'd wish for MORE TIME.
But Betty Crocker has a slam dunk winner with their new Loaded Mashed Potatoes.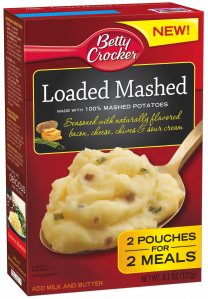 A snap to prepare, no lumps or chunks, and a great side dish for any time-of-year. The Betty Crocker Loaded Mashed Potatoes are made from 100% real russet potatoes and seasonings. The boxed potatoes are seasoned with naturally flavored bacon, cheese, chives and sour cream. Each box has two pouches for two meals and all you need to do is add milk and butter.
Easy Peasy.
I was pretty impressed with the flavor. Many of the box potatoes out there on the market taste like the box they come in. Betty Crocker's Loaded Mashed had good flavor. I don't like real strong sour cream and chive flavoring and this seemed "just right" for my likes.
Wanna try some??? COOLIO. Here's you chance. Once lucky winner to win this UBER-fabulous cooking set and a box of these yummy potatoes. All been provided by Betty Crocker through MyBlogSpark program. Aren't they nice folks? They're from Minnesota after all, so…duh!
SO…I'm gonna make it easy on you. To enter you need to do two things…that's it TWO:
*Follow Betty Crocker on Twitter at @BettyCrocker
*Subscribe to my tickle-yer-funny-bone blog Franticmommy (or comment that you already are).
Do these two tasks and tell me in two separate comments ( two entries, baby!) and you're In-Like-Flynn. Winner will be chose via Random.org on June 12th, so put the petal-to-the-metal and comment away. Just be sure and provide a viable email addy so I can contact you if you win. If our winner hasn't confirmed in 48 hours, I'll draw a new name.
AND..if you would like to Tweet this, I will think you are BEYOND cool. Like, "text book awesome" even.
And if so inclined to do said "Tweet",  I would even let you have one extra entry (in comment form)! THERE! Minnesota Nice strikes again! If you need to know other rules and gobble-dee-gook, GO HERE.
So let's Git 'Er Done (yes, I love Larry The Cable Guy) and get the party started! Thanks everyone!! 🙂
Never Miss a Poop Story. Subscribe HERE http://feeds.feedburner.com/blogspot/dpfZp