I love Halloween.
It's one of my favorite holiday in fact. I love the decorating, the munchies, the socializing.
What DON'T love is overpriced costumes that shred within 48 hours of being bought. I'd love to try my hand at making our own costumes and I am kinda stoked that I actually have the time to attempt this!
There are so many reasons to make your own Halloween costumes:
Your kid won't be one of a million Spider Men or Princesses at a party; they'll be unique.
Another reason is cost. Spending money on a Halloween costume that will be worn for a few hours (at most) and then discarded may seem pretty wasteful.
You can also tie homemade costumes into a green lifestyle – it's less wasteful and you can use recyclables in your design.
It's fun!
Here are some ideas for homemade Halloween costumes for kids and adults.
The Classic Ghost: The fun thing about the sheet-and-eyeholes ghost is that you can personalize and customize it. It's perfect for kids and adults. Here are some ideas for making a unique ghost that goes beyond the standard white sheet.
* Add a hat and/or headdress to any ghost costume and you can be anything from ghostly bride and groom to baseball ghost.
* Stick-on mustaches and "funny glasses" (with the eyebrows and big nose) make for a comic ghost.
* Go with a tie-dyed piece of fabric, add some beads and a long wig, and go as a hippie ghost.
Here's a great Ghost Tutorial at Starrs Town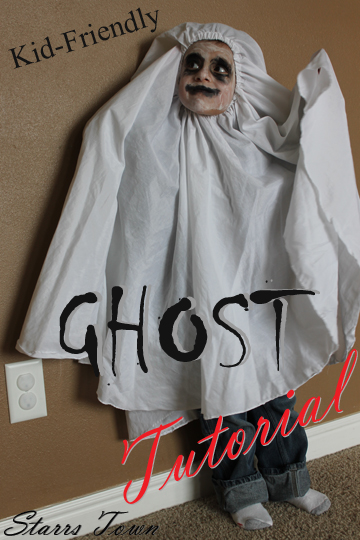 Spilled Food: Using a red-checked tablecloth with a hole cut in the center, you can dress up as spilled food. Using a hot glue gun, attach various homemade, pretend food items, such as the following:
* A paper plate, white yarn, and brown-painted styrofoam balls make spilled spaghetti.
* Glue open packages of candy to the tablecloth and glue the candy in "spills" down the front.
* Have a plastic cup (or recyclable soft drink cans and bottles) glued upside-down on the front of the tablecloth and use paint and plastic wrap to make a spilled drink. Clear, flat marbles (like you use in planters) can look like ice.
Easey Peasey Fairy Wings: Make gauzy fairy wings by stretching sheer panty hose over wire frames. You can use a roll of wire (18-gauge will probably work best) to make the wing shapes, and stretch a panty hose leg over each one. You can tie it off when it's tight enough, then tie the ends together to make double wings.
If you like, repeat with smaller wire frames so you have a total of four small wings that meet in the middle of your back, looking like two wings. Then use a hot glue gun to attach clear marbles or beads to the wings. To attach the wings, you can stitch elastic bands to the nylon where it meets in the middle. Variation: spray paint the wings white, glue on clear marbles, and use as angel wings.
Paging Doctor Kid: This is an easy kids' costume. Just use an adult's white, button-down shirt for a lab coat, and accessorize with stethoscope, head band with light, clip board, and so forth.
It's a little easier to get outrageous with older kids (and adult!) costumes too. I remember a few years back when I painted a giant letter "P" on a sweatshirt and used make-up to give myself a black eye. When everyone asked what I was, I replied "A black-eyed-pea..DUH!"