**The posts I write might contain affiliate links or be written in collaboration with businesses or brands. Please see my disclosure policy for more information.**
I first saw this New Year's Jar idea on Pinterest (God Bless Pinterest!)
And I absolutely LOVED.IT
I have had such a magical, inspiring last few years. I personally have grown and changed in ways I could not have imagined.
I am pretty darn proud of ME.
However, my memory is CRAP. I know there has been many little victories along the way that I would love to remember, but they have just slipped my mind.
THEN, I saw the New Years Jar. What a kick-butt good idea!
As I research the origin of that fab idea, I find that it came from a blog called One Inch Square and a blog post from 2008. Blog author Brooke Reynolds writes about putting notes in the jar of all the cute things their kids would say so they would not forget.  She has the jar on her desk and whenever she hears something she wants to make not of she just grabs a piece of whatever paper she can find and jots it down and adds it to the jar.
And that is exactly what I am going to do! The jar will sit on my desk and be available for me to jot my little notes. I think I may reserve mine just for business and personal stuff though. The really sweet part is, at the end of 2013, I can look back on all the cool victories and milestones (most of which I am sure I will have forgotten about)  and it will be a sweet surprise of happy.
I think I will even date my little notes. Cool , eh?
Has anyone else ever used something like for inspiration?
Speaking of Pinterest, please feel free to hook up with me on The Big P. I highly recommend my My Inner Cheeseball Board if you are looking for a chortle or two 😉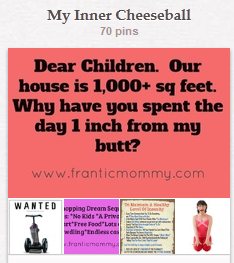 –
Looking for a new mountain to conquer in 2016? A new career path or maybe even a fresh money-making "side hustle?" Being a Virtual Assistant allows moms to utilize the skills they already have, work from home and make a steady income in the process. Here's my FREE gift to you to get you started on your journey.