I am a hardcore Social Media Examiner fan. And I exceptionally ::love:: their Social Media Training Summits. These virtual/on-line, month-long, intensive trainings happen only twice a year, but always include the best-of-the-best as far as instructors and topics.  As a Virtual Assistant, their training had been extremely insightful and helpful to me.
The SME Summit that is coming up this February 5th is unique and has me extra giddy. This particular summit is 100% about CONTENT.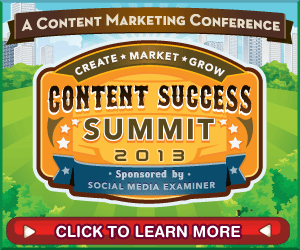 About Content Success Summit:It's a live online conference that will enable you to increase your exposure, grow a loyal following and achieve sales growth with content marketing techniques.

Presentation topics include: establishing your content strategy, making your content great, blogging, video marketing, podcasting, email marketing, creating online courses, marketing with webinars and much more! 
This Summit starts February 5, 2013 and is spread over four weeks to improve learning and accommodate your schedule. The beauty is, you don't need to be live-and-present the day the classes air. Every thing is available to listen to on playback for up to a year. Plus you'll get transcripts of all live sessions. How SWEET is that?
You also have the opportunity (once you've had a chance to listen to everything) to take a test on all the content that was shared over the 4 weeks. If you pass ( you can take it more than once) you get this handy-dandy certificate good for some pretty awesome bragging rights.
The line-up of instructors is stellar too. Here's a few that caught my eye:
Amy Porterfield: LOVE her. I swear I've listened to everything she's ever created
Michael Hyatt: I am very intrigued by this fella. I have heard so much about him, I am anxious to hear him speak.
Derek Halpern: Funny as heck, but has super simple and effective ideas.
Lewis Howes: Can you say YUMMY? That is all I got to say about that.

OK, let's talk cost. If you've been to their
home page
and looked, you'll see this opportunity is not cheap. HOWEVER, before you hit the back-button, here's reasons why you should consider investing in this training:
1. It's still cheaper than private coaching.
2. The courses are in video format. Easy to listen to, easy to RE-listen to, and a treasure-trove of information.
3. As a writer, blogger, business professional TRAINING is a MUST in your life. The opposite of GROWTH is DEATH. Keep growing.
4.There's a uber-big sale on right now!
The $250-off sale was extended to Tuesday January 22nd

. Go HERE. to sign up and git 'er done.

10 Free Videos: They've just added 10 free video bonuses (worth nearly $600) that you'll get immediate access to when you grab a seat to this online event.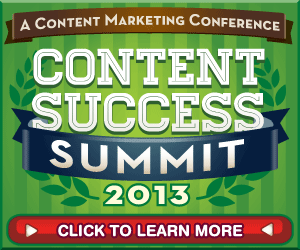 Take the time and commit to bettering yourself and taking your content to the next level!
(Click to Tweet)