Marie Forelo is definitely someone I follow and admire. I love her fire, spunk, and the commitment she has for helping women live the life they love.
Not too long ago, I had the privilege of watching her interview with Richard Branson. I can't believe the camera didn't blow up with all that "awesome" all in one room. But there was one particular question/comment that was shared by Richard that really hit home with me.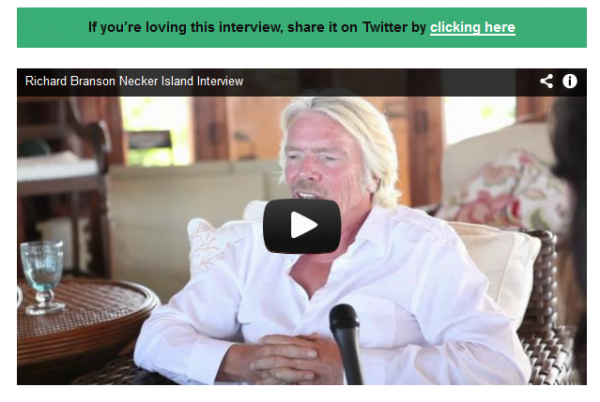 Richard, a staunch supporter of love and family, was asked by Marie how he handled the "work/family balance" and dealing with the "I work too much guilt." Richard's reply was spot-on and a huge comfort to me (and I am sure many others). Here;s a summary:
"I've always worked from home. My kids grew up with me as I was building my Virgin empire. I was always busy, but we were always around each other. I think if there is any lesson to be learned from this it's that, with modern communication, one should not have to be stuck in an office. The more one can get out-and-about, the better. Spend as much time as possible with your family as you can. Getting that balance is critical. Find that time for them because they are the next generation."-Richard Branson
View the whole video below. Honestly, take the time to watch this. There are many, many "nuggets of business gold" share Richard and the participants of this Necker Island interview.
My POV:
In the very beginning was my biggest struggle as a virtual assistant. To some degree to build a portfolio and gain experience, you do need to try a wide variety of jobs. I have no regrets in taking those beginning jobs/clients I accepted because the learning experience was priceless.  But it also leads to spending large chunks of time working on jobs that were time-demanding, but were not very profitable.
There comes a point where you need to step back, re-evaluate, and let a few of these projects/clients go. It sometimes wasn't easy, but I learned to let go of circumstances that were not really helping me develop my skills and business. There are only so many hours in the day, make sure you optimize.
With that in mind, my second biggest struggle would be striving to maintain a regular routine for work, home, and personal activities. One of the biggest perks of working from home is the flexibility and freedom to set your own schedule. I like that I can say "yes" on a moment's noticed to volunteering in my daughters First Grade class. But the bigger picture is that those hours still need to be made up somewhere. I also set aside certain days are set aside for running errands out of the house (groceries, post office, etc.) and try to cluster appointments and errands on one day. And last but not least I try to set aside some time every month just for some "me time."
Another trick I learned on optimizing my work day is to know when my "power times" are to work. I know for a fact, I am brighter, sharper, and more creative in the wee hours of the day between 5:00 a.m. and 8:00 a.m. This also well with kids since I get quite a bit of work done in the beginning part of the day so I can be "done" by the time they are off the bus at 3:00 p.m.
Are there exceptions to this rule? Sure. There are evenings when everyone has been fed, bathed, and played with and are off doing their own thing. This is the time I can (only if I want) sneak into my office and putter on some projects. I say "putter" because I may be doing client work, but its things I choose to do, not have to do. Family is always first, and like Richard said "I may be working, but we are still all together."
How do you juggle work and family?