You may remember the day a few years ago when I introduced you to Fred in my Hi, My Name Is Fred: I Eat Shoes post.
A quick recap would be that FRED is our very-much-loved Cocker Spaniel. He is the light of our lives for sure. People wonder why we named him Fred and that's a fair question. After all, you just don't run into a whole lot of dogs named Fred in life. When Fred was born, his parent's owners named all the puppies in the litter after Scooby Doo characters. So there was Shaggy, Scrappy, Velma, Daphene, Scooby, and of course…FRED.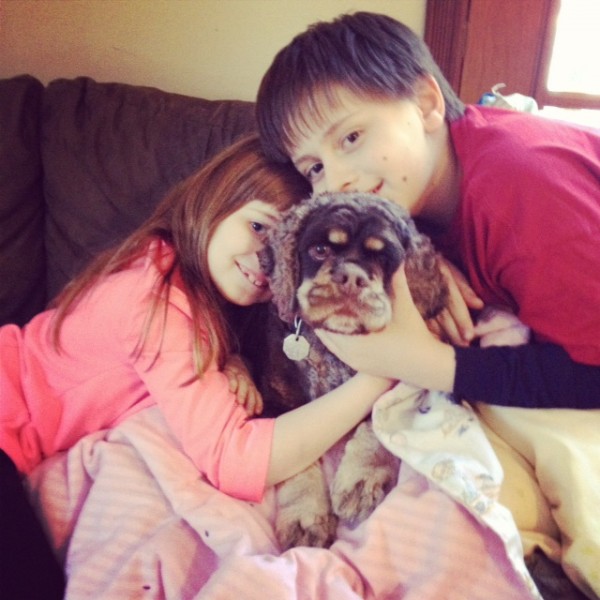 We adopted Fred and the name just stuck.
Two years later Fred is an important part of our family of 5 (five counting him) and yes I admit he's spoiled freakin rotten. He is my constant companion in my office as I work from home, my "car buddy" when I take the kids to-and-from school, and he and I have a Friday night tradition of snuggling on the bed while watching Ghost Hunters. If he didn't snore like a pig and fart like a bull-moose, I'd probably let him sleep with us at night.
So the fact he is so spoiled made me very excited to review BarkBox. More goodies for my buddy, yes yes!
BarkBox is a subscription service that delivers toys, treats, and goodies for your four-legged friend. When you sign up for BarkBox, every month you will receive a box in the mail with four or more carefully selected products and presents for your dog – anything from toys, bones and all-natural treats to hygiene products and innovative new gadgets! Each box is assembled based on your dog's size, age, and breed.
Another cool thing about BarkBox is that a portion of proceeds from each box will go to help doggies-in-need. To learn more about their causes, read about their giving program.
We got our BarkBox and I was very impressed with the selection of goodies inside.
Fred was pretty stoked too.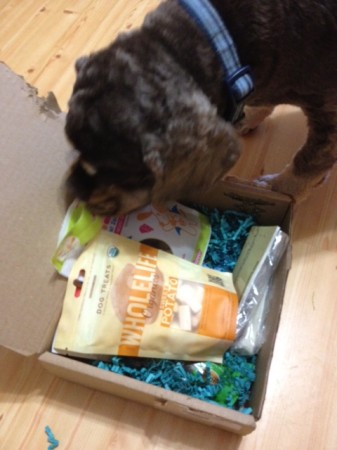 The only thing Fred wasn't groovin on was the antler. Since he's a "chewer," I thought he'd love it, but..not-so-much.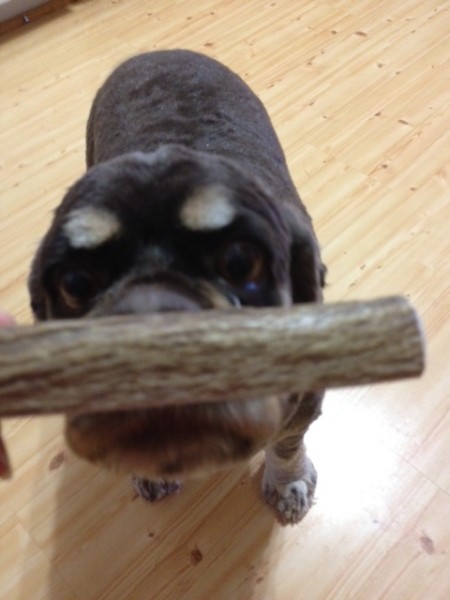 The bottom line is I think BarkBox has awesome product and an awesome idea for us doggie parents who like to spoil and pamper our four-legged child. BarkBox is very affordable too, as low as $19 per month and if you use Coupon Code 2013NMQ14 you will get $10 off your first order! They have monthly, 3 month, and 6 months plans and you have the option to cancel at anytime.
You can visit BarkBox.com to learn more about them and find them on Facebook as well. They also have a "BarkBox app" at iTunes which I haven't looked into yet, but sounds pretty intriguing. Have fun spoiling your doggie!
**Franticmommy was given product to review free of charge for this review.