Sometimes, a parent and a child do not see eye to eye when it comes to buying clothes and shoes.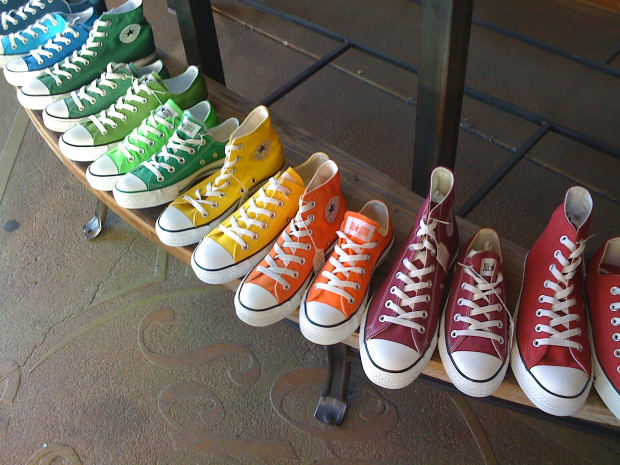 As a parent, you want to purchase quality made shoes that can withstand the high energy and activity level of a child. You are also concerned about the construction of the shoe, especially the insoles and it's important that the shoe provides a cushion for your child's feet. Comfort and support are features you look for when shoes shopping. On the other hand, your child is more concerned about how the shoe looks, how fashionable its design is and often how colorful it is. It seems that the popular trend in kid's shoes is bold, bright colors. Colorful shoes are a fun wardrobe accessory for a child.
Lucky for you, there's a place where you can find shoes that meet your criteria and satisfy your child's desire for fashionable shoes. You can find these shoes when you visit places such as SneakerKing and accept their invitation to "view our collection." In that collection you will find shoes for babies, toddlers, pre-school age children, and school age children. The types of shoes include slippers for indoor/outdoor wear, a diverse selection of sneaker designs, crocs and many other types of shoes. The selection covers a range from warm, lined slippers for indoor wear to durable, weather-resistant boots that can keep your child's feet warm while they enjoy a day of sledding or building snowmen.
Once you have found a resource that provides the quality made shoes that you know are good for your child's developing feet, you can let them join in on the selection process. They will probably be delighted to have the opportunity to choose some flashy sneakers. Their attention might even veer over to some shoes that look like the ones you wear. That type of shoe could make them feel like a grown-up and kids sometimes enjoy that feeling.
When you find a source of shoes for your child that also has a selection of shoes for men and women, you can do all of your shoe shopping at one place. This is a time-saving feature that any busy parent can appreciate. With the time you save, you can enjoy some extra fun family time hiking, jogging or playing outdoors with the kids in your comfortable, fashionable footwear. View SneakerKing's wide selection HERE.  Happy shopping!
**Franticmommy was compensated for this post