Some of my readers may remember the whole series I did leading up to Christmas called "Eight Ways to Earn Extra Money before Christmas." In reality, these tips could work for you year-around.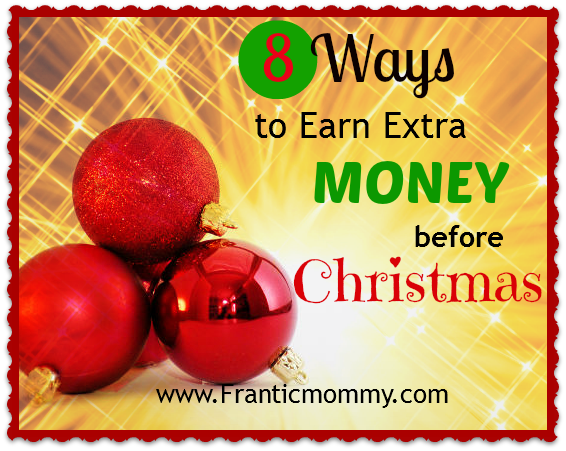 Here are a couple of the more popular ones:
8 Ways To Earn Extra Cash Before Christmas: Make Money From Your Know-How
8 Ways To Earn Extra Cash Before Christmas: Fiverr
8 Ways to Earn Extra Money Before Christmas: Using Your iPhone to Make Money
Now that Christmas has passed, I am still on the hunt for innovative and easy ways to generate cash for summer fun or even for Christmas '14.
Music Magpie (now called DeCluttr) is something I tried to get rid of some of my kids' outgrown DVDs. At age 8 and 10 they were VERY over the Thomas The Train and Barney stages and these DVDs represented money to me. Granted, they would sell well at a garage sale in the summer, but it was winter and I wanted to grow my Christmas nest egg. Overall I received around .50-$1 each for my DVDs. There was a few that they gave me $3 for, but the bulk of them were in the fifty-cent range. Please note all my DVD's were in their original cases and in good shape. Music Magpie does inspect these DVD's upon receipt and they may adjust your pay-out accordingly.
PROS:
FREE shipping! I loved the fact that I didn't need to pay to ship which would have eaten all my profits. Music Magpie gives users a prepaid shipping label to be used at your nearest UPS Store is USPS office.
The Service itself is FREE. No membership fees. Love.That.
Great communication: Music Magpie was great about sending me numerous emails noting the receipt of my shipment, when my DVD's were being inspected and when to expect my check in the mail. I was impressed.
Super convenient: It was easey peasy to use and I will for sure  use it again.
Educational: My inner "scroungequeen" found it very interesting which DVD's they were willing to pay more for. I will keep that in mind when garage saling this summer (resell).
Music Magpie/DeCluttr App: In light of the tidbit I just share above, there's a free app you can download on your Smartphone to give values of DVD's. Like money in your pocket, baby 😉
Great Guidance: This site was super helpful on walking me through the process and even gave me the names and addresses of local places where my package could be mailed.
CONS:
A little on the slow side. I mailed my package 11/18/2013 and received a check 12/17/13. Not that that's bad, it just something to be mindful of if you are creating extra streams of income for Christmas.
Reduced Money: My initial quote from them was $19.29 and my final check was for $18.36. Again, not that that's bad because they have right to want quality. Just know, if you are sending in beat-up DVD's NOT in their original case, you will get dinged for it.
My overall experience with Music Magpie/DeCluttr was very positive and my check (albeit not a huge one) came in handy for last minute Christmas needs. I would suggest anyone who has DVDs, games and even CD's give this site a try. Good luck!
**Franticmommy was not compensated in any way for this post.