**The posts I write might contain affiliate links or be written in collaboration with businesses or brands. Please see my disclosure policy for more information.**
Whether you are an blogger, a freelancer, a virtual assistant or a marketing person, you need to be visible on LinkedIn. If you do any sort of B2B business, LinkedIn needs to be on your To-Do list.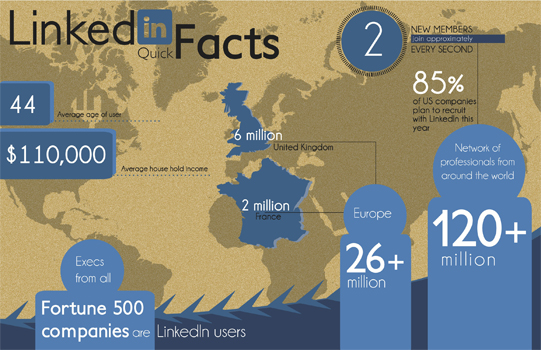 Your LinkedIn profile is like your on-line resume.  Oftentimes it's the first stop for any new business associates who are looking to connect with you.  LinkedIn is like your office and an optimized Profile is like a solid foundation to your office. Once you have that foundation in place, adding connections are like adding bricks, and each brick makes you stronger and more credible as a business professional. Your profile is also your opportunity to shine. To let peers, potential clients or employers see you and begin to establish a layer of trust and influence. Here are some tips on not only getting started on LinkedIn, but putting your best business foot forward:
Upload a Professional Image: This would be the time to get current, and professional headshots taken. I have seen too many LinkedIn profile pictures that look like they were taken by Uncle Charlie at the backyard BBQ of  '99. OR, but my-all-time-fav, the I'm-Trying-To-Look-Edgy-And-Arty profile pick that really makes them look more like Creepy Connie. This is your opportunity to make a great first impression with anyone who is reviewing your information. Put your best foot…um..face forward,  a professional image is important for attracting strong connections.
Create A Compelling Headline: Did you know, by default, Linked sticks the last employed position in as your headline? This does little to tell business folks about you or your expertise. Viewers of your profile need to see, in a glance, who you are and what you do. You only have 120 character here so make it count. Here's what my headline reads: Freelancer Writer* Blogger *WAHM Mentor-Helping Others Realize There IS Life Beyond the Cubicle.
List Your Current Position and at Least Two Past Positions: WHY? You may be asking. #1 it shows of your history of expertise  and #2 it helps get your Profile to 100%. When you profile is at 100%, Linked-In reports you have a 40% greater chance for networking success.
Complete The Summary Section:  Once again this is your chance to showcase your talents, skillsets, work history, and achievements for all to see. Many industry experts recommend filling out the summary section in the third person. Just as many experts claim filling it out in first person will lead to quicker engagement because of the conversation tone. You be the judge, I could go either way on this one.
Connecting Elsewhere: If you click on the "Contact Info" icon within your profile, it drops down to display other places where viewers of your profile and can and connect with you.  In the "Website" area, if you choose "Other" you will be able to add links to your blog or social media profiles. Make it easy for people to find you in a variety of places.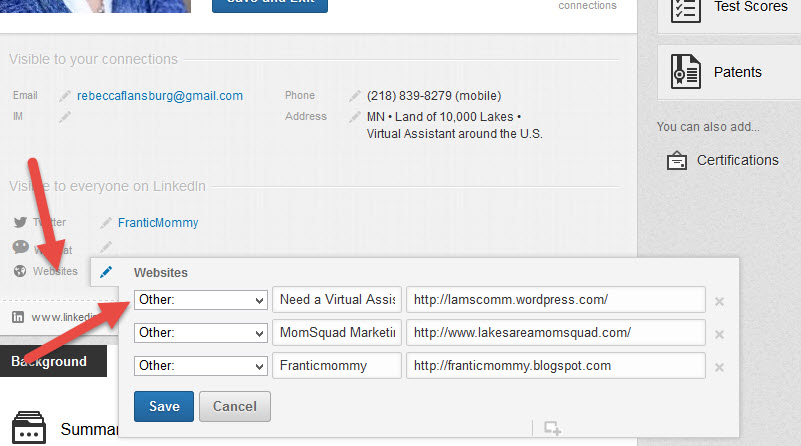 The Extras: People who view your profile are looking for a connection with you. Fill out the areas that ask about Causes (non-profits you support) and articles you've written. Late last year, LinkedIn launched a brand new feature called Professional Portfolio. This offers LinkedIn users the chance to not only enhance their profiles,but also showcase their professional story with visual content. Check out more about Professional Portfolio here.
Once you get set up on LinkedIn, connect with me! I'd love to hear from you!