In my worldly travels as a freelancer and Virtual Assistant (along with the oodles of hours taking trainings and courses) I seem to have developed an "eye" for website and blog layouts. I think this is also partly due to the VA client (a marketing/web design company) I had a few years back that had me doing oodles of "competitor website analysis" projects. Basically I would visit website of a client's competition and look for what they were doing right, and what they were doing wrong, and report those findings as a piece of their new marketing and web design strategy. It was work I really enjoyed doing and has helped me to help other clients, and even friends, optimize their website.
That being said, I thought I would share some of the best tidbit that I learned about optimizing your website or blog with my readers since I've been asked about it quite a bit lately and hey…it's really good information to have.  Thankfully, my buddies at FanCastle were open to the idea of me using them as my example for this blog post. I knew they were working on a redesign so the timing was perfect, and I also knew they were very interested in a female perspective of their site too. They are such nice people. 🙂
Things FanCastle is Doing Right:
Clickable Logo/Header: Any website that has multiple pages needs to give site visitors a quick way to return to the homepage. Other than the word "home," a best practice is to have your website's logo or header be clickable and lead visitors back to the home page quickly and easily.
Nice and Wide: During my stint as a competitive website analysis person I learned that one of the quickest ways to turn off site visitors is to have a narrow and cramped looking website. Narrow websites also scream, "Archaic" and personally, make me feel crabby and claustrophobic. But FanCastle's site is nice and wide and well….roomy! Love.IT.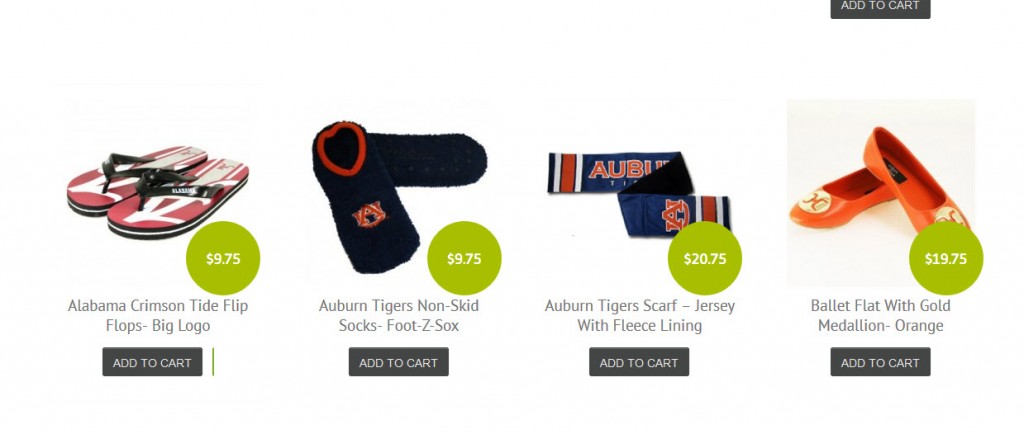 Light Colors: Along with a narrow website, another way to prompt site visitors to smack their Back Button is to have dark, dated looking colors. If you are one of those websites or blogs that has dark backgrounds with light or white letters; those are major "eye-killers" and people will probably not stick around to view your products or services if they are squinting or feel like their eyes are crossing. FanCastle has glorious light colors which makes their products, like their Auburn t-shirts and apparel on the Auburn Apparel page POP. Very nice.
Easy Navigation: Their navigation is simple, clean and easy to find my way around. Their extended contact information is at the bottom that discloses their location and working hours.
Things I Would Advise FanCastle to Change:
About Us Page: Today's buyer is savvy as heck and they also want to do business with people…not logos or brands. As a freelancer writer who does business profiles for magazines, About Us sections are gold to me. This section is a great place to share information about your company, your vision and goals, your staff or team details and will create a sense of authenticity and transparency that potential buyers have come to expect.
Bigger Font Size on Navigation Buttons: I am old(er)…OK only 48, but because I spend 8+ hours a day staring at a computer screen my eyes are 105. Tiny print to me is like me trying to wedge my 5'9" bod into one of those cars that are the size of a pimple. It just doesn't feel right. I think bigger fonts on navigation have several benefits other than helping an old gal like me see better. It offers of bold statement of, "hey, cool stuff over here" and makes a better balance with the other text on the page.
More Calls-To-Action: Another important thing I've learned during my web analysis travels is that numerous calls-to-action are a good thing. Tell visitors what you want them to do, whether it's, "Check out our new sales page" or "Subscribe and get updates in your inbox" so you can get the results and ROI you desire.
Social Proof: Again, as a freelancer and virtual assistant I am always looking for those social media share follow buttons, especially if it is a site or product I like and I want to keep tabs on them. Life moves fast and I may not remember to re-visit their site on my own accord, but I would if I saw links and updates from them via social media because I chose to connect with them on Facebook, Twitter and LinkedIn. I would suggest FanCastle move their icons to the top of their page (right side) since its unlikely most site visitors will NOT scroll allll thhheee waaayyyy to the bottom (where they are located now). Make it easy for your readers, fans and visitors to connect with your business other places by including social media share buttons in prominent places.
Add A Blog: Blogging is not only an amazing way to build relationships and drive traffic to your website, but it is also a chance to share expertise, credibility, tips and include value-added info for your readers. I thought FanCastle didn't have a blog, until I saw the "recent posts" option way down at the bottom of the page. Again this information should be visible, "above the fold" or within the first section of the website. I would suggest they add a Blog tab so visitors can see and read their info easily and not have to go hunting for it.
Contact Form: FanCastle includes their contact info nicely at the bottom, but unfortunately nothing is clickable. Today's email-crazed world customers want a quick and easy way to ask questions or suggestion joint ventures and the best way to achieve that is via a Contact Us page that includes a place to fill in name, address, email and place to state question or issues.
Offer a Resource Page: Offering additional value-added information is always a plus on website no matter what industry you are in. It could be resources for other related products or services, sizing information, special sales, and a calendar of events for your business or the products you are selling. In FanCastle's case, they could have an extra page that share's Alabama's sports schedules and game days to complement their Alabama Apparel page.
Now it's your turn! Since the peeps at FanCastle want a female perspective on this site, what would you suggest to make this site fun, fresh and user-friendly? Leave your comments and feedback below. I'd love to know as well!