I have to admit I am very intrigued at our world's fascination with zombies. I even see it reflected in Halloween costumes, TV shows and kids books. I pretty much consider the notion and obsession of zombies just part of the fabric of today;s world (much like Selfies and Quinoa). When I first received the request to review Moore Zombies: The Search for Gargoy from indie author Wendy Knuth I admit; I  hesitated. But there were several things going in her favor that piqued my interest:
#1: She's an indie author. I adore indie authors
#2: She had the intestinal fortitude to ASK. Like my mom always says; "You will never know until you ask..."
#3: The thought of a "Stay-at-Home Mombie" truly made me GIGGLE.
That being said, my daughter and I just finished reading Moore Zombies: The Search for Gargoy and I am so glad I said YES. This book has been recently published on Amazon, soon to be on Kindle and published through Smashwords.  These zombies love tomato juice and even have a stay-at-home mombie. Cool, eh?
You're not really afraid of zombies, are you? Take a peek into the lives of the Moore zombie family. When Gargoy goes missing, Baby Zom enlists her siblings to help in the search. Follow along with Gothina, the critter loving goth zombie, Broheimer, the nerdy zombie, and Kamper, the messy zombie who enjoys camping. Who, or what, is Gargoy?

I won't spill the beans as to who "Gargory" is, but we both got a kick out of this Zombie family (ranging in age from Baby Zom to a teenage sister zombie named Gothina) and how they band together to solve this intense family mystery. The illustrations by Brian Allen are to die for (get it? ::giggle::giggle) and are fun and vibrant. Basically this book is 34 pages of kid/zombie fun that I think readers from ages 5-9 will enjoy.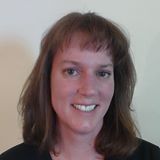 Get to know Wendy and the Moore Zombies better at www. Moorezombies.com or Like Moore Zombies on Facebook: https://www.facebook.com/moorezombies