Summer is almost upon us and our kids are squirming with anticipation at the thought of summer and freedom.
I predict that will last roughly two weeks, then the whining, boredom and bickering will set in. 🙁
BUT, as always, the FranticCrew will be engaging in our annual No Bummer Summer Quest. This quest involves finding new adventures, crafts and activities (preferably ones that involve the out-of-doors) to help temper the long days of summer.
This summer, we are trying something new. We are trying a creative, affordable alternative to pricey summer camp, this 8-week eCurriculum called At-Home Summer Nature Camp eCurriculum.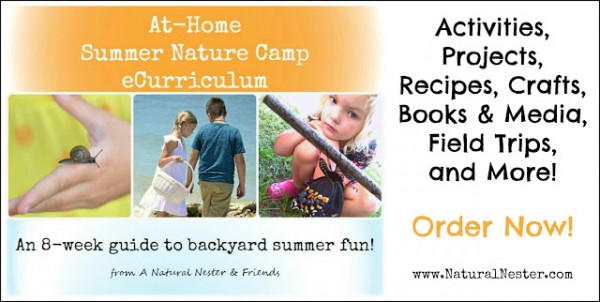 This eCurriculum is packed with ideas and inspiration to keep your kids engaged and happy all summer long. In one easy-to-follow PDF, parents will receive eight kid-approved themes, each including ideas and tutorials for: outdoor activities, indoor projects, arts & crafts, recipes, field trips, books & media, and more. Every weekly theme is packed with summer nature fun our family can have right in our own backyard!
Get 8 weeks of kid-friendly lessons, outdoor activities, indoor projects, arts & crafts, recipes, field trip ideas, book & media suggestions, and more in a full-color PDF you can read on your computer screen or tablet, or print out.
Designed for children ages 5-11… but fun and adaptable for all ages!
Themes include: An Edible Garden, The Night Sky, At the Beach, A Spot in the Shade, Ponds & Frogs, Rain Rain, Wildflowers & Bees, and Sun Fun.
Want a sneak peak of what's inside? First, let me tell you that every week includes guest contributions from some really incredible, creative mamas. Here's a sampling of their projects:
Of course, there are plenty of A Natural Nester projects & ideas too, including: At-the-Beach Touch Tanks, Rainy-Day Cheesy Croutons & Tomato Soup Recipes, Build a Bee Condo, Blast Off to Outer Space (A Virtual Field Trip), and much more!
And to tie it all together, I'm including two all-summer-long bonus projects: Keep a Nature Journal and Create a Curio Cabinet to help your little naturalists learn to observe, collect, and record the objects and events of their natural world.
The weekly materials can be implemented in any order you desire, during any week of the summer (or beyond!). That means you can customize the weekly themes to meet your schedule and surroundings. For example, you can implement the Rain, Rain theme on a wet and grey week; or you can take along At The Beach when you go on vacation at the shore! The materials are yours to use in a way that works for your family.
It's going to be loads of fun, and a resource you can use for years to come. And the best part…it's really affordable. Pay only $39.99 for all 8 weeks – that's just under $5 a week folks! So, now you know why I'm jumping out of my skin to share this new project with you…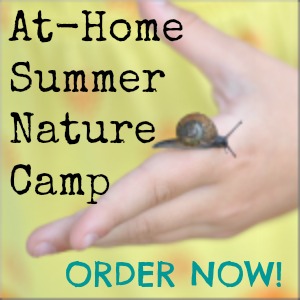 I will keep everyone in the loop as to how this works for our family!
**these links are affiliate links