**The posts I write might contain affiliate links or be written in collaboration with businesses or brands. Please see my disclosure policy for more information.**
Can you believe it's less than 7 weeks until the end of 2015? And I thought Christmas was approaching fast!
People view the coming New Year in a variety of ways. Some see it as a "Hasta la vista, baby" to old problems and view it with anticipation for a fresh start.
Others (like me) look at the ending year as a springboard to a bigger, better and even more prosperous New Year.
But logging in "prosperous years" in business and life doesn't typically happen by accident. Behind the scenes are MUCH planning, implementing, connecting and a ton of HUSTLE.
For me, I utilize two specific tools to help me visualize and map out my hopes and dreams for the coming year. One is a Dream Board and the other is my beloved Leonie Dawson Create your Shining Life Planner/Workbook.
Dream Boards, also called Vision Boards, are something you create that uses the power of positive thinking, to bring abundance to you.
A vision/dream board is about using the power of images to remind you of the path you desire to follow, and the goals you hope to achieve, in the upcoming 365 days.
Photo source and tutorial on Totally Together Journal
Here's the skinny on Creating Your Own Vision Board for 2016:
Gather ALL the newspapers/magazines etc. laying around your house and put them in a pile.
Go through them and cut out images or words that represent what you'd like your new year to be.
Look for things related to work, family life or personal interests.
Grab a glue stick and a 16×24 piece of card stock or posterboard and start gluing everything down in a fun, attractive, and thoughtful pattern.
Add embellishments: I'm a "word girl"so I usually add color/written words/designs to the end. Even if you don't you'll be so surprised to see what's in the final document.
Now – put it up on your wall so you can look at it every day!
My Dream Board
I admit I am off to a slow start on creating my Dream Board, but I like being really thoughtful about my "dreams and goals" choices. I think I will be dividing my board into thirds: personal business success and spiritual goals.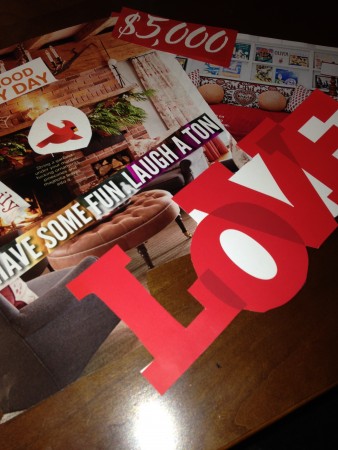 I am very hands-on-visual so my Board will be something I can hold in my hot little hands and look at every day. YEAH, it's that important to me.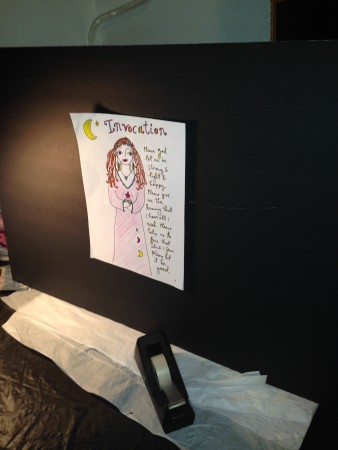 Hardcore iPhone user? Well "there's an app for that" too. Check out these apps from Google Play, iTunes, or a gorgeous one called DreamBoard.
There are some amazing tutorials on Pinterest about Creating Your Own Dream Board. I liked this one and this one.
THEN there's the planners.
Ahhh yes, PLANNERS. After working 30 years in the office products industry, I still have a "thing" for calendars and planners! It's been a long time since I found one that REALLY trips my trigger and the Create Your Shining Year Life & Biz planners from Leonie Dawson does just that.
Motivating, fun bright, quirky (like ME) I bought this amazing workbook and planner as a treat for ME in 2015. I have this planner coming as MY treat to ME for 2016 as well!  I recommend this system to anyone who needs help pulling out the good and the bad from 2015 and using it (along with you new goals) to transform 2016 into an incredible year for your life.
The Create Your Shining Life Workbooks for 2016 are READY and I hear that they are already running low. Leonie has made it very clear she is not reprinting so I think it's best to get this workbook into your business and life planning project ASAP.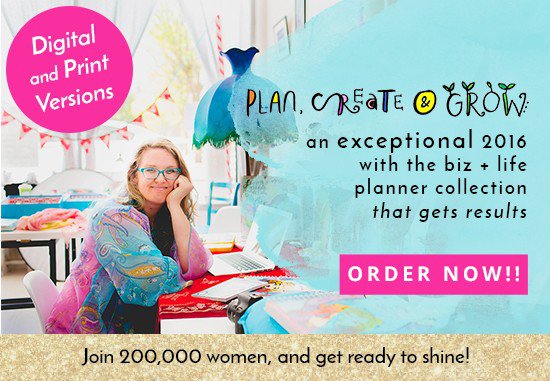 Now, you may be thinking, "Why is she bugging me about this NOW?? I have 7 weeks to procrastinate on what I want for my life and biz in 2016."
This stuff takes TIME, people! Business planning and identifying your goals for how you will rock the coming year takes time, thought, strategy and a whole lot of inner reflection. It takes TIME to find the head space to ask yourself the hard questions and really get to the core of what you want for your life in the New Year.
NOW, is the time to put the wheels in motion to decide what you want/need from the fresh start known and 2016. I've offered you two viable options above (one free, one crazily affordable) as a means to round up your thoughts and dreams and create a roadmap that is for YOU and only YOU.
Git 'er done 🙂