**The posts I write might contain affiliate links or be written in collaboration with businesses or brands. Please see my disclosure policy for more information.**
Like I mentioned a few days ago, I am presently scuttling around like a frantic squirrel (or a FranticMommy), working hard to do proper closure of 2015 and ramp up for the kick arse New Year that is just around the corner.
It's a combination of excitement, exhaustion and exhilaration. Just typing this and reading it back makes me want to lay down and take a nap.
But this time of year is such an amazing time to delve deep into either your business or personal life (or both) and laser in on what needs to happen and/or change in the upcoming New Year. I am eyeball deep in two different courses right now, Michael Hyatt's Platform University and Leonie Dawson's Creating Your Shining Biz Academy. Both are rockin' my world and I truly, truly wish I had more time every day to work on the lessons.
A few days ago I also shared Part 1 of my 4 Dream Discovering Questions to Ask Yourself in 2016 project and I did this article in two parts because I really wanted my readers to take the time to ponder on that information and implement it.
I didn't want to do a "data dump" and create such a monumental task that readers would get scared off instead of taking these 4 questions/ideas to heart.
THAT being said, here's Questions 3 & 4 for those on a quest to gain the life and biz they love in the upcoming New Year: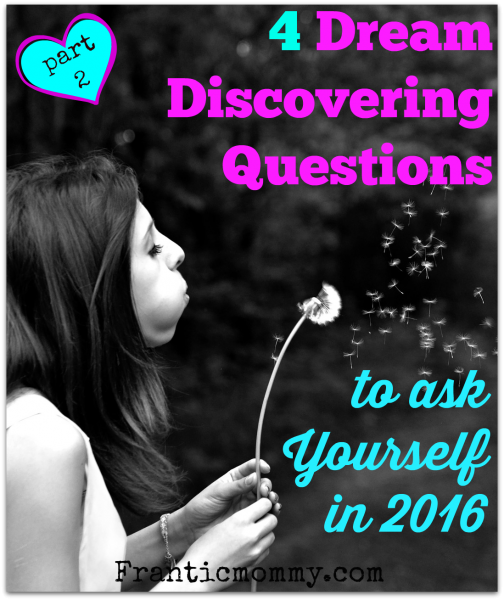 Question #3: I am happiest when I am____________________.
For me this helped me weed out all the bullsh*t and really see some of the activities, obligations and even people who were sucking the life outta me and also what I needed to "bless and release" before 2016. Again, I encourage everyone to really ask themselves what makes their heart sing…and then nurture those aspects of their life to the fullest.
Question #4: What do I need to do to move my business or life FORWARD?
As you look back on both parts of this project, I am truly hoping that the clarity on where/what you need to do/change  has thwacked you up betwixt the eyes. In a nice way, of course.
Now here's the hard part; what do you need to do TODAY  to move forward in achieving these things and to implement the dream that has been percolating in your noggin for quite some time?
I am going to give you a few quickie hints (thanks to Leonie) but the rest is up to you 🙂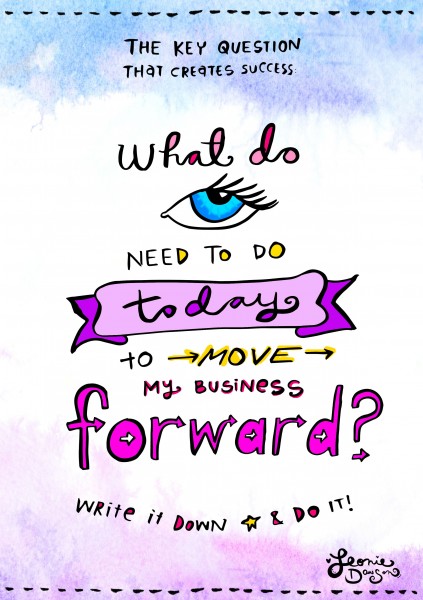 Set your goal
Write down every action you can think of connected to that goal (pick a business name, update resume, buy a domain name for new blog etc.).
Organize those actions into categories (money, physical, education etc.).
Set a deadline for each action (I want to take and complete the Virtual Assistant's course by____).
Work on it EVERY.STINKIN.DAY. Even if it's for 10 minutes…do something that moves the need forward every single day. Little things totally count. Even if you feel like you are moving forward towards your dream in millimeters, it's still forward movement.
Go ahead! You got this!
**some of these links are affiliate links. Meaning; if you click and buy, I get a teeny tiny commission. Not enough to buy a pony, but maybe enough to get the fancy creamer for my coffee 😉
**********************************************************
The Create Your Shining Life Workbooks for 2016 are READY and I hear that they are already running low. Leonie has made it very clear she is not reprinting so I think it's best to get this workbook into your business and life planning project ASAP.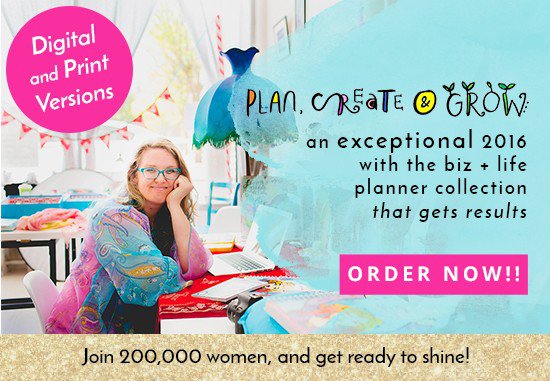 Are you a real "go-getter?" Or maybe you are someone who is going through some turmoil and transition could use some extra guidance? Not only is the Workbook and Planner a breath of fresh air like no other, it is an amazing companion and tool for anyone looking to really rock the coming year. I just received my 2016 version after completely loving and using (daily) my 2015 Shining Life and Business Workbook. This book would make a killer gift for anyone on your Christmas list, but I advise you to NOT wait. Not only are supplies limited, when Leonie runs out there will not be a second printing (plus they take about 2 weeks to get due to demand). Leonie also offers enhanced online "academies" and I am currently taking the Shining Life & Biz Academy (yes, I am SERIOUS about ROCKING 2016) and I am loving it to bits so far. Yet another great gift for the female entrepreneur in your world.
Get the scoop on the Leonie magic HERE.