**The posts I write might contain affiliate links or be written in collaboration with businesses or brands. Please see my disclosure policy for more information.**
Sophia is not like the other princesses in her kingdom. Her sandals have a double-digit size in them and she is far from "petite and dainty." Sophia also has no time and interest in her royal training. She loathes classes like Lovely Laurels, Magnificent Mosaics and Olympic Cheerleading. She'd much rather spend her day discussing the Pythagorean Theorem or reading the works of Homer (much to the chagrin of her teachers and fellow students.) She also tends to question the legitimacy of her people's ancient beliefs and traditions surrounding the Greek Gods, a fact that makes he less-than-popular. Finally she can hold it in no longer and voices her disbelief and mistrust of these stories.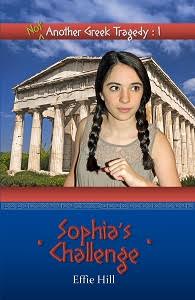 This bold act prompts a visit from the not-so-nice Greek Goddess, Hera…and all heck breaks loose. The goddess Hera challenges Princess Sophia to avert three tragedies that are about to occur. If Sophia fails, her father will lose his kingdom and they will both be turned into stone statues for Hera's garden. Even with the winged horse, Pegasus, transporting Sophia to her three challenges, will she succeed and make it back in time?
"Hera looked at Princess Sophia and Harpee then pointed to the water clock on a nearby marble table. 'Twenty-four hours,' she said, frowning. 'That's it. Drip, drop, drip, drop. Time, tide, and Hera wait for no man . . . or princess!'
Sophia hesitated no longer. She turned, motioned with her hand for Harpee to follow, and ran out of the courtyard. 'I must succeed—for my father, for his kingdom, and . . . for my mother!'
Not Another Greek Tragedy came across my desk because author Effie Hill is an Au
thor Sponsor for Multicultural Children's Book Day and there was something about this book that caught my interest. I am super-glad I picked it up because it is GOOD. the story is tight, entertaining and quick read.  Plus her sidekick Harpee totally cracks me up. 🙂
I think anyone with a child age 8-10 would love this book, especially girls! Great story and one that I feel is a high-quality one too. Grab your copy here.