**The posts I write might contain affiliate links or be written in collaboration with businesses or brands. Please see my disclosure policy for more information.**
My home state of Minnesota is such a beautiful and majestic place! I am also blessed to live in an area that is the hub of things to do for thrill-seekers, vacation goes and families looking for a laid-back daycation. Here are some uber cool things to do in my hometown to help create your own No Bummer Summer:
28 Ways To Explore The Brainerd Lakes Area as a Family This Summer (2016)
Created by the Mom Squad Central of Brainerd, MN
Visit a Zoo! Our area has two wonderful zoos in a 30 mile radius. Check out the Pine Grove Zoo in Little Falls and Safari North Park in Brainerd. AND, if you are I the mood for a little jaunt, be sure and check out one of my favorite zoos; Paul Bunyan's Animal Land in Bemidji. Read more about it here.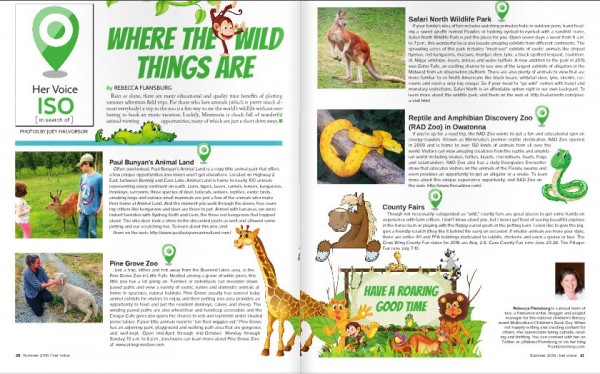 Get Your Art On: The Franklin Art Center and Crossing Arts Alliance has wonderful programs and events happening all summer. They also have great programs for kids including Art Camps.
Learn More About Trains: The Northern Trackers Club in Crosslake has depictions on display of historic and contemporary railroad heritage of the settlement and economic development of north central Minnesota from the early 1900's to the present. Things to see at this museum includes a 1/2 scale replica of the William Crooks loco and cars, operating model railroad layouts, museum (artifacts, photography and interpretative displays and exhibits
Croft Mine: Mining is a huge part of our area's history and the Croft Mine Historical Park is built on 17 acres of the original Craft Mine. This park includes an interactive underground mine tour and museum.
Go Down on The Farm: The Farm at St. Matthias offers wonderful events, like their Social Animals-Field of Dreams, many growing and picking opportunities, and appearances by the Evergreen Grass Band.
Check out some Bike Trails: Our area has several paved bike trails including The Cuyuna Lakes Trail and the Paul Bunyan Trail. The Cuyuna Lakes Trail Association exists to promote, create, and maintain paved bicycling trails connecting various communities in and around the area known formerly as the Cuyuna Iron Range.
Crow Wing County Fair: The Fair is coming! Mark your calendars for August 2- August 6, 2016. The fair began as an agricultural event for the purpose of providing a place for county residents to exhibit their products. Youth projects such as 4-H and FFA were able to enter and compete for prizes. While many aspects of the fair have changed over the years, the main philosophy remains the same, to provide opportunity for our patronage to touch base with the agricultural heritage of Crow Wing County.
Attend a Music Event: There are many chances to hear live music outside this summer in the Brainerd Lakes Area. Check out events like Bands in the Park – Pequot Lakes Trailside Band Shelter, Crosslake Outdoor Music Series 2015 at Crosslake Town Square, Iconic Music Fest and Lakes Jam.
READ THE REST OF THE LIST HERE (PRINTABLE AVAILABLE)