**The posts I write might contain affiliate links or be written in collaboration with businesses or brands. Please see my disclosure policy for more information.**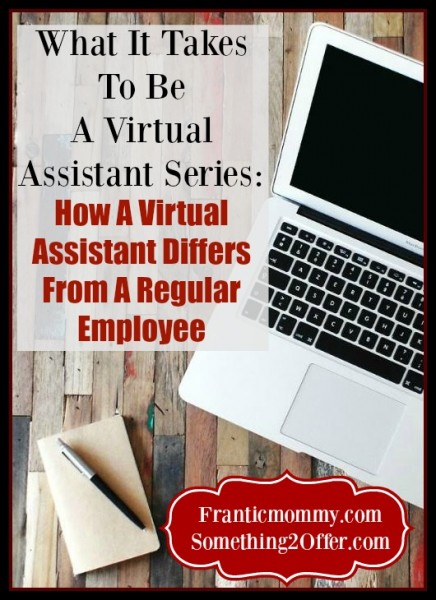 Thaleia Maher from Something2Offer and I have joined forces to co-create a series this month called What it Takes to Be a Virtual Assistant. She and I have had so many valuable discussions about being virtual assistants and working from home that we decided to get serious about this topic and create something that will really help readers understand what a VA is, and move forward in their quest to become one.
These are just a few things we will be covering on Franticmommy, and Thaleia's Something2Offer blog:
Many business professionals these days are aware of the concept of working with a virtual assistant. But just as many really aren't sure what to look for, or how to accommodate a virtual assistant.
With companies downsizing right and left, the profession of a virtual assistant is on the rise, yet many would-be employers find themselves in "analysis paralysis" when weighing the pros and cons of VAs-vs-employees. Hiring a virtual assistant does have similarities to hiring in-house employees, but there are some major differences as well. Here are some facts to clear the air:
Similarities:
A Virtual Assistant is both an asset and a partner in your business so you want and need to choose quality people. • As with any prospecting for new team members, rely on referrals and recommendations from friends and peers before hiring. • Like any employee, your VA desires direction and guidance. Be very clear about your expectations–what specific deliverables or outputs you expect, by when, and for how much.
Like hiring an in-house employee, employing a certified virtual assistant is a smart business decision. Their job is to help you gain more time to focus on core tasks that create value for your business.
Like an employee, Virtual Assistants have working hours and specific times of availability. Don't assume, just because they are working from home, they are free to work on your projects on weekends and evenings.
Differences:
Make sure your new VA is very clear about your expectations. Be very clear what specific deliverables or outputs you expect, by when, and for how much. Often times you will be communicating via email or Skype so tone and urgency of your voice won't translate well. Create an ongoing work plan with milestones that is updated often.
Insist on a detailed contract or Terms of Agreement. Make sure the mode of payment is clearly laid out, as well as the schedule for submission of tasks or completion of milestones.
Since many virtual assistants work from home the option is not there to "walk down the hall" to check on their progress. Processes, systems, and programs need to be utilized to keep projects flowing and prevent tasks from falling through the cracks.
If you have temporary projects, a VA can be an asset for handling all the time-consuming tasks. Once the project is completed, their contract is ended and they can move on unlike the risks and costs of employing and firing employees.
Bonus TIP:
When working with a VA, give feedback promptly and when they do good work, make sure he or she knows it. If there's something you'd like to be improved, communicate that as well.
Finally, use the tools at your disposal to make working with your VA easier and more efficient. Online collaboration options like Basecamp, Trello, and Dropbox can be a business professional/virtual assistant's best friend. Here are more of my favorite "must-have" virtual assistant and freelancer tools here and here.
It's important that you find your ideal Virtual Assistant, and that they will work well with you. You want your new VA to add to your business as opposed to creating more headaches. If you take the time to screen well, you will find the right one and you can start to get rid of those tasks that are holding your business back.
Be sure and check out Thaleia's posts HERE as well since we are doing this series in tandem. If you have any specific thoughts, comments, or questions, please leave them in the comment box below. We want to know what YOU are wondering about and what you need to know to start Rockin The VA Life?
Franticmommy BONUSES:
Tons of "getting started" info from what kind of gear will you need to where are the best places to find clients. Did I mention it was free?
Best of luck to you on your new quest!