**The posts I write might contain affiliate links or be written in collaboration with businesses or brands. Please see my disclosure policy for more information.**
Embracing Your Inner Goddess Gathering at Prairie Bay in Baxter, MN!
Hosted by Debbie Endres and Becky Flansburg
Sign up deadline is Friday, February 16, 2018 so don't delay!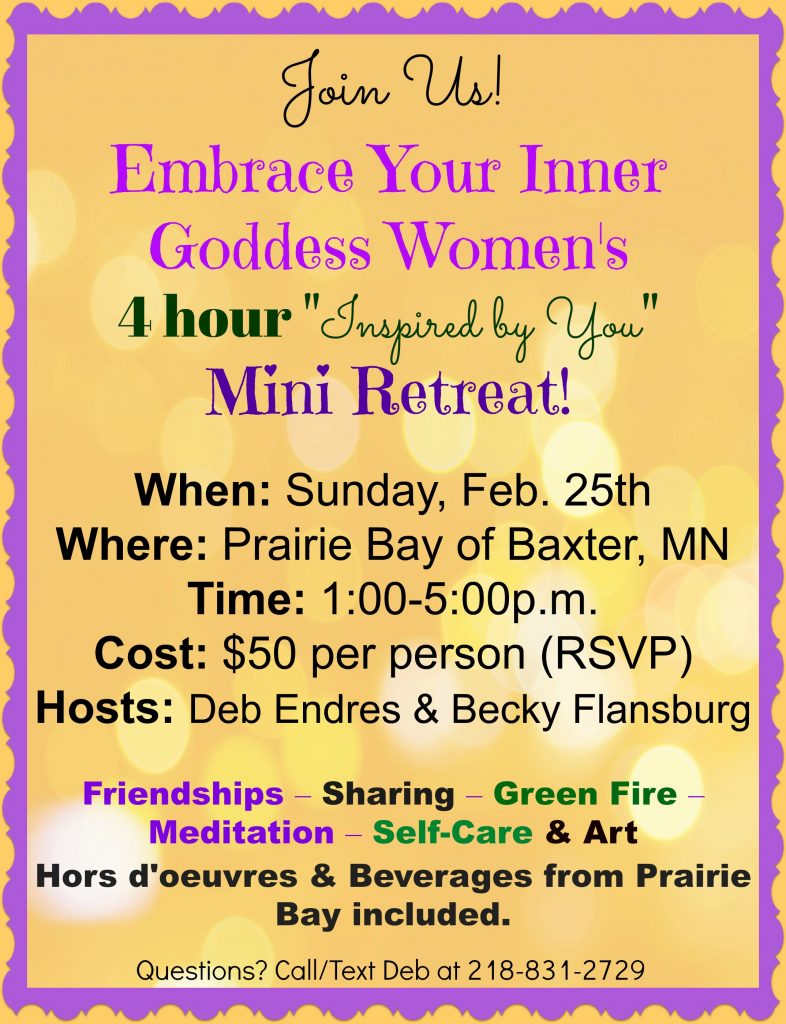 "Where there is a woman, there is magic."
 – Ntozake Shange
The Beauty of Who You Are
It's all about you.
Looking within, knowing you are unique.
There is no mold to follow.
                               This journey, you travel on your own,
but surrounded by loving Goddesses , each on their own journey.
"This journey isn't about getting lucky here and there.
 It's about walking through anything knowing that Perfect Love walks beside us."
-Tama Kieves
You are your own version of perfection.
You are a Woman of Beauty.
You are Divine.
This time is recognizing Self-Love and accepting ourselves as we are.
Authentic, creative, loving, compassionate, vulnerable, weak, uncertain and strong.
We are all longing to go home to some place we have never been –
a place half-remembered and half-envisioned we can only catch glimpses of from time to time.  Community. 
Somewhere, there are people to whom we can speak with passion
without having the words catch in our throats. 
Somewhere a circle of hands will open to receive us,
eyes will light up as we enter,
voices will celebrate with us whenever we come into our own power. 
Community means strength that joins our strength
to do the work that needs to be done. 
Arms to hold us when we falter. 
A circle of healing.  A circle of friends.  Someplace where we can be free.
Starhawk/ The Spiral Dance
Join us for our first-ever EMBRACE YOUR INNER GODDESS
4 Hour "Inspired By You" 
Mini-Retreat for Women at Prairie Bay in Baxter, MN
What You Can Expect
An afternoon of Friendships, Sharing, Green Fire Ceremony, Meditation, Tips and Ideas for  Self-Care
A fun "Reflections of You" Mirror Collage Activity
Yummy Hor d'eouvres and beverages provided by Prairie Bay.
This gathering will be a safe place for you to share, talk, connect and heal with other like-minded women.
Every participant will get a Goddess Mini Swag Bag!
COST : 

$50.00 per person (adults only please)
If you have question or concerns, call Co-Host Debbie Endres – Message/Text: 218-831-2729
Retreat Itinerary 
Opening Ceremony  
Introductions
 Sharing:
Overcoming and discarding the junk so the beauty shines.
                              "Through my tears
                                I found god in myself
                                and I loved her fiercely" – Ntozake Shange
Green Fire – Releasing Fears
Self-care calls back your Spirit
                Brain-storm self-care ideas
                Receiving is a good thing!
Do not limit your joy.
What do you love?
Reflection of Me Mirror Collage "As if there are no obstacles."
"This journey isn't about getting lucky here and there.  It's about walking through anything knowing that Perfect Love walks beside us." – Tama Kieves
Break (Snack time!)
Discussion:
As Amazing Wise, Goddesses, we can bring healing back to our planet and those who are suffering.
We are brave, open, trusting and giving.  Some of us are called to serve.  What are ways we can?
Art:  Flower Wreaths
Closing Ceremony and Goddess Parting thoughts.
Follow Me on Social Media!