**The posts I write might contain affiliate links or be written in collaboration with businesses or brands. Please see my disclosure policy for more information.**
Warm weather and summer fun is just around the corner and, no matter where you live, there's a good chance that water in the form of lakes or pools is a big part of the hot-weather enjoyment.
But as a parent, I also know swimming doesn't come naturally for all kids even if you live in the Land of 10,000 Lakes like I do.
My daughter, even though she has had several rounds of swimming lessons, still freezes in fear at the thought of getting into a pool or lake.  So as another "water-filled-summer" approaches, I was pretty excited when Minnesota author, Shelly Boyum-Breen sent me the latest book in her Shelly Bean the Sports Queen series; Shelly Bean the Sports Queen and the Brave Swim. My Sara may be 12, but the underlying message and lesson within these pages are important for any age (Big People too!).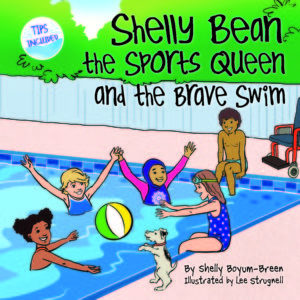 About the Shell Bean series
Shelly Bean is a sporty, dirty knee little girl with a "can-do" spirit. It might take falling down, getting hurt and getting back up but Shelly Bean is determined to learn new sports and be great. After watching an event on TV or seeing other kids in the neighborhood, she gets it in her mind that it is her time to play and to reward herself each time she's successful, she creates a new sports charm to put on her crown like a jewel of accomplishment.
Side Note: Girls' participation in sports is at an all-time high, but the books they are reading are not reflecting that. The Shelly Bean series is unique because it gives a voice to the "sporty girls" who may have felt misunderstood or unheard.
With the Brave Swim, there were three main things that stood out to me. The first was how mom, sensing Shelly was nervous about swimming with friends, told a story that assured her daughter that she would always be cheering for her from the sidelines. Us moms need to not only have our kids' backs but let them know we do often.
The second piece of the story that captured my heart was how Shelly's friends supported her and encouraged her to "keep trying" even though she was struggling to find the courage to swim across the entire pool. Their love and support inspired Shelly to keep trying. So instead of making fun of her or rolling their eyes, they chose to help their friend find the courage that was already inside of her.
It reminded me of this meme I spotted on Facebook that honestly needs to be shared with the world.
Lastly, I love, love, love the representation of diversity in this picture book that would appeal to both boys and girls. Friends like Parisa, who swims in her hijab swimsuit, and Mason, who uses a wheelchair on dry land, but can swim like a fish in the water."  Diversity in the pages of books is soooo important; more important than ever.  There are 5 books in the Shelly Bean series and they are all just as delightful and entertaining as this one. Check out the guest post author Shelly Boyum-Breen did for this site during Multicultural Children's Book Day 2018.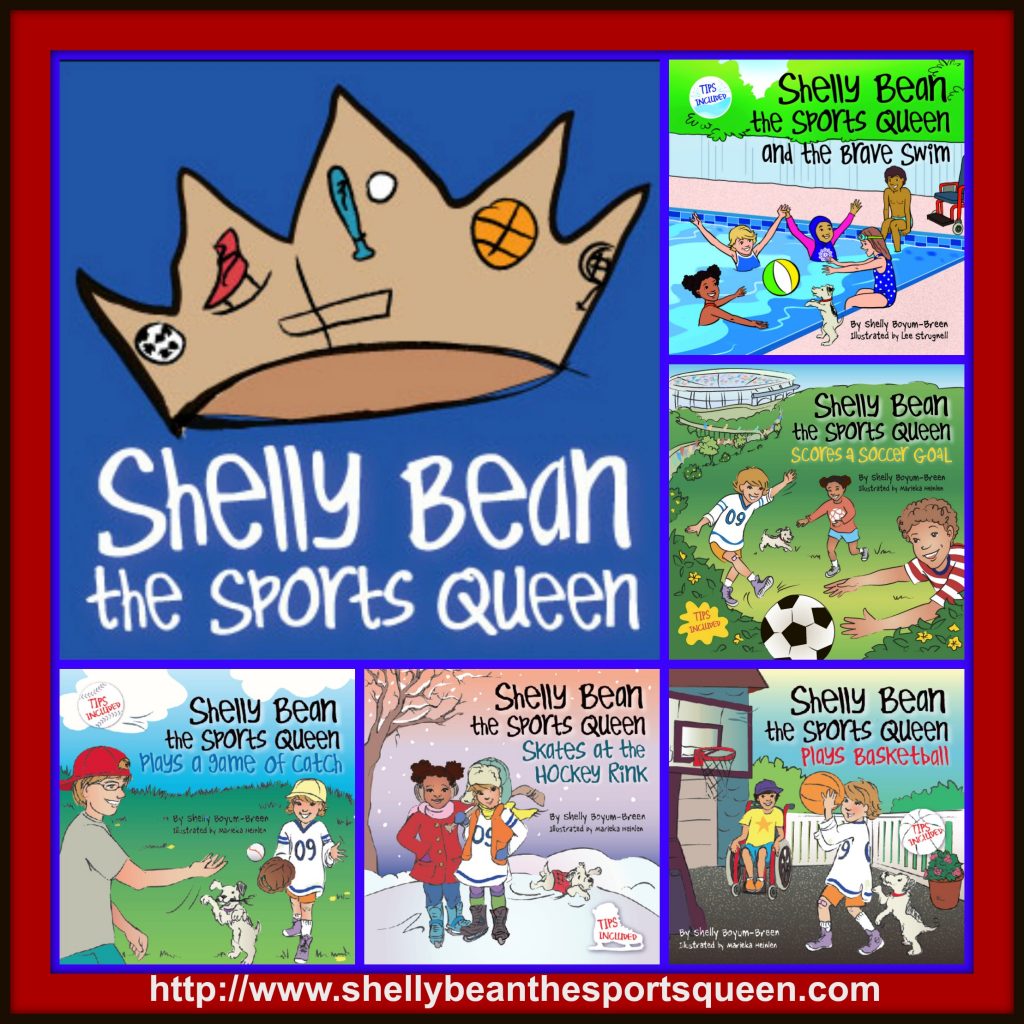 Another bonus with Shelly Bean the Sports Queen and the Brave Swim is the swimming safety tips section in the very back of the book for kids and adults alike. Grab your copy of this amazing book on Amazon or on the author's website.
Author Bio:
A native of Brainerd, MN, Shelly Boyum-Breen grew up with aspirations of playing professional sports. She spent countless hours on the basketball court, neighborhood hockey rinks and local golf courses. With a foundation of support from family, friends and the community, Shelly pursued a career as a physical education teacher and coach. Boyum-Breen received her B.A. from Augsburg College in Minneapolis, MN in 1997.   She spent five years in the education field, coaching the Augsburg Women's Basketball Team and Anoka High School's basketball and tennis teams. Boyum-Breen then pursued a job with the Minnesota Timberwolves and Lynx organization. Shelly served with the organization for three years and later moved into a sales consulting role serving the Lynx, the New York Liberty, and the 10th Anniversary WNBA All-Star Game at Madison Square Garden.
Boyum-Breen is the Founder and past-President of Foundation IX, a non-profit increasing the rate of girls' participation in sports and fitness, who dissolved upon the merge with the Ann Bancroft Foundation. "Sports helped pave my path in life, building my character as well as my leadership skills along the way. No young lady should be prevented from experiencing these things because of her family's financial situation. It is my dream to eliminate cost as an obstacle and give girls more than money- the opportunity for experiences of a lifetime. It is an honor to work for girls in sports, and to continue the work that many have done long before me in the name of girls and women in sports."
Connect with Shelly via her website, Instagram, Twitter, Facebook,
**I was gifted a copy of this book for review. Opinions expressed are purely my own.