**The posts I write might contain affiliate links or be written in collaboration with businesses or brands. Please see my disclosure policy for more information.**
It seems like 100 years ago that I got my start as a full-time, work-from-home, virtual assistant. Eight years in, it's been a wild ride, but one I wouldn't give up for the world.
SO ….have you been thinking about starting up your own Virtual Assistant business but don't know where to start?
I've been there. I remember when I was first starting out and was feeling a little like those cartoons where the character has one foot nailed to the floor and all they can do is spin in a circle frantically. My free VA Starter Kit will answer a ton of those questions, but the absolute secret ingredient in the success of this venture is the training that you invest in. The information in this guide will help give you a roadmap on what you can do, what expect and how to get started with your Virtual Assistant business.
First, what IS a VA?
A Virtual Assistant is just that, someone who assists businesses or individuals with certain tasks in their business this freeing them up to work on more critical things.  A virtual assistant can help with things like managing emails, doing bookkeeping, writing blog posts, project management, managing social media and much more. VAs work from the comfort of their own office, work as independent contractors and are not official employees.
A virtual assistant can be hired as a long-term commitment or a "one time deal" for a project. It's up to the virtual assistant and the business owner to hammer out the details and put it into a contract. My advice to all VAs (new or veteran) is to never work without a contract.  If you need an idea of what a Virtual Assistant contract looks like, leave a comment below with your email and I will send you a template of the one I use.
The Training You need to start a Virtual Assistant Business
I always say that I am a case study in how to NOT to gain a new skill or career!
When I first got started as a VA I decided to be frugal and find as much free info or cheap courses as I could to gain skills. That's not a bad idea to a point, but if you are serious about being a VA, a freelancer, a graphic designer, etc., invest in at least one quality and in-depth course.
I say "invest" because you are investing money and time into your future. You can piece-meal your training together from 15 different places as I did, but I promise it will take longer to reach your goals, your learning curve will be huge, and you likely will end up spending more money anyway.
The Solution: This is the motherlode of exceptional training that I eventually invested in and it was the best move I could have ever made. I want YOU to avoid the "piece-meal" approach to your virtual assistant training and save yourself some time and headaches by participating in the #VAVS Virtual Assistant Virtuosos Summit. Tawnya Sutherland is like the Oprah of Virtual Assistant training and she will give you everything you need (info and training-wise) to rock your new VA biz.
#VAVS Virtual Assistant Virtuosos Summit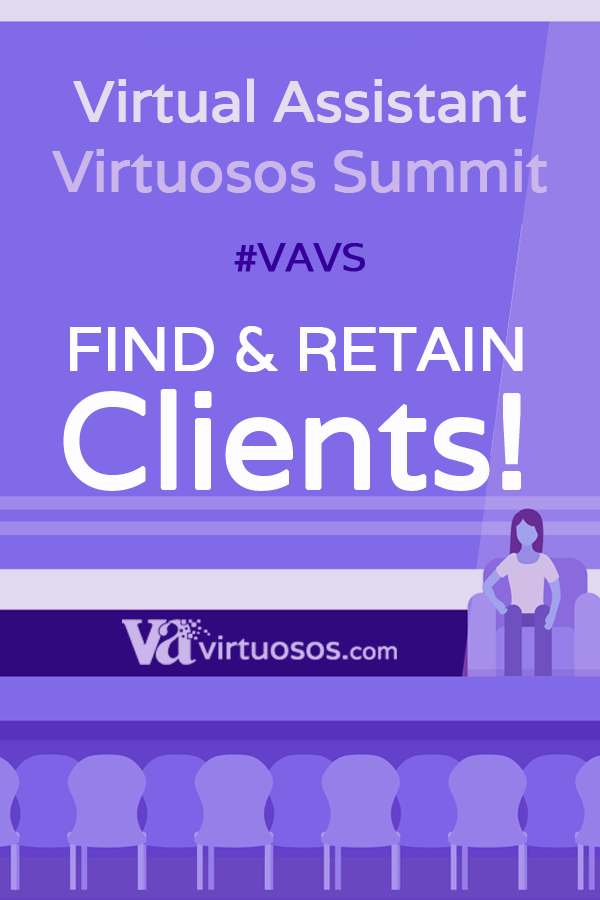 Why attend? It will help you FIND and RETAIN clients in your service-based business. Because without clients you won't make any money right?
At the #VAVS Summit, you'll learn some awesome marketing strategies like:
How to get more paying clients on your roster
Figure out your pricing structure to turn you a nice profit?
Learn the best ways to close the sale with a new client?
Want to discover who your clients are and what they want?
How would you like to make 5K+ every single month?
Figure out how to maximize your marketing plan to get a big ROI?
20 Experts who understand the service-based industry will be teaching you their top strategies to help you FIND and RETAIN Clients!
Whether you are just starting out as a Virtual Assistant or have been in business for many years, one thing is for sure, you must have a steady flow of clients to turn a profit each year.  At #VAVS you'll learn endless ways to find great clients PLUS how to keep your current clients happy so you retain them for long-term revenue streams.
At #VAVS you'll find speakers who actually understand the VA industry having been freelancers themselves. They know how to help Virtual Assistants and better equip us with solutions that actually work to make our business grow and succeed.
Check out the awesome topics, presented by 20 Expert speakers, Tawnya has in store for you…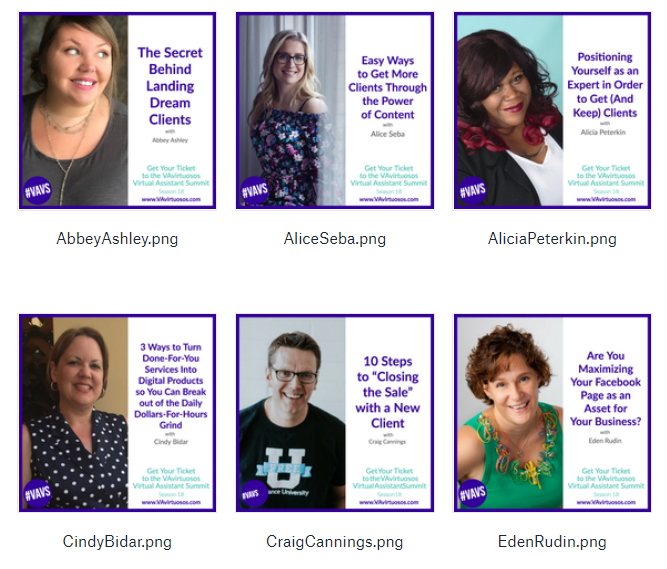 Get Booked Solid with a Full Roster of Clients
Make More Money and Attract Your Perfect Clients Using these 3 Keys to Building Profitable Packages
5 Simple Reasons Why You Haven't Found Your First Client – And How to Fix Them!
Ditch That Laundry List of Services and Get Specific – So You Can Get Clients
Avoiding the VA Scams…
Positioning Yourself as an Expert in Order to Get (and Keep) Clients
Easy Ways to Get More Clients Through the Power of Content
How to Create Your Client Attracting Website
Solving the Target Audience Mystery: Discover Who Your Customers Are & What They Want
3 Ways to Turn Done-for-You Services Into Digital Products So You Can Break Out of the Daily Dollars-for-Hours Grind
Easy Ways to Retain Your Clients by Keeping Their Website Secure
Why You Shouldn't Use Virtual Assistant As Your Title"
The Secret Behind Landing Dream Clients
10 Steps To Finding Clients On LinkedIn
Are You Maximizing your Facebook Page as an Asset for Your Business?
The VA Myth And How To Break Free From It
10 Steps to "Closing the Sale" with a New Client
Pinterest Basics For You and Your Clients
Handle (Even) More Clients with Confidence
Leveraging Live Events For Clients: Making The Most Before, During, & After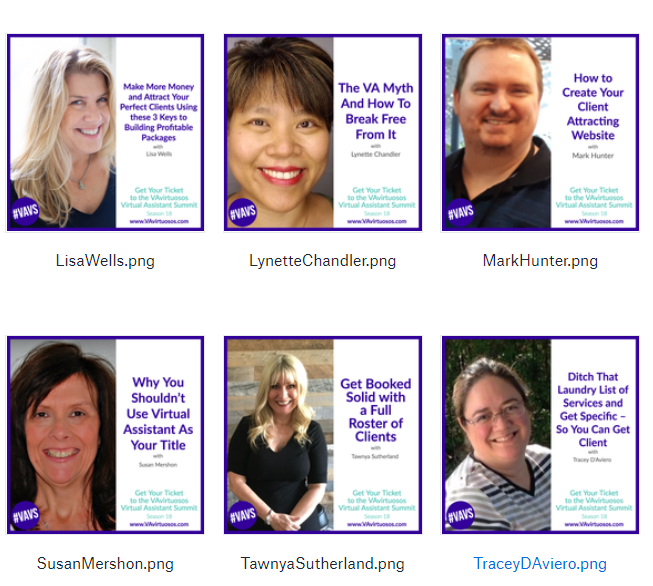 Imagine learning all these strategies to help you fill up your client roster? THIS is that way to launch your VA business…not the onesie-twosie-long-way method that I used.
You don't want to miss this awesome event to help you gain & retain more clients in your service-based business.
And people…this opportunity is CRAZY affordable. Tickets start at $37 to attend LIVE and you can check out all the details HERE.
ONE MORE THING; this online conference starts on MONDAY 10/21 so there's no time to dick around…sign up ASAP and get the tools you need even if you don't plan to start your business until 2020.
Hope to see you at the #VAVS Summit!