**The posts I write might contain affiliate links or be written in collaboration with businesses or brands. Please see my disclosure policy for more information.**
This last spring I set up two brand new bird feeders outside my office window and bought higher-quality birdseed from our local Farmer's Market. The reward was a plethora of gorgeous birds that my 54-year-old self hasn't recalled ever seeing! This prompted the hunt and ultimate purchase of TWO great bird i.d. books. My daughter and I continue to marvel at the beauties that continue to visit our feeder. 
Book #1- Bird Identification Book for Young Naturalists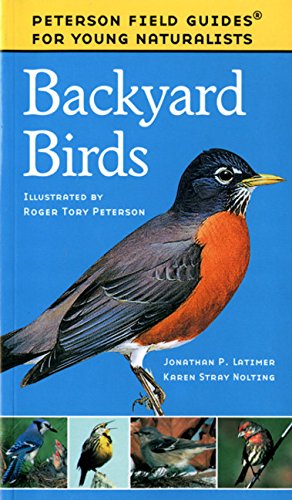 Book #2-Birds of Minnesota Field Guide
Stan Tekiela's famous Birds of Minnesota Field Guide has been delighting bird-watchers for more than 15 years. Now, the award-winning author has created a perfect identification guide for children! The Kids' Guide to Birds of Minnesota features 100 of the most common and important birds to know, with species organized by color for ease of use.
Do you see a yellow bird and don't know what it is? Stan's book is divided up by bird color which is handy as heck. The beautiful yellow and black bird in my feeder? Well,  I went to the "yellow section" and found out that it was an oriole. Each bird in Stan's book gets a beautiful full-color photograph and a full page of neat-to-know information.  Readers can also find out things like field marks, favorite hangouts, a range map, and "Stan's cool facts."
All of which makes identification a snap and disguises learning as a fun outdoor activity. There are also bonus activities for the whole family, like building a birdhouse and participating in the Great Backyard Bird Count, make this a must-have beginner's guide to ç in the Land of 10,000 Lakes!
I know I don't have to keep mentioning this, but I will away! Kids need to be outside. They need to get dirt between their toes and weeds in their hair. Get outside!
Another book to add to your summer reading is…
As parents, we want/need quality books with extension activities to help our young ones unplug and create memories. Pulling books from shelves, and stories from pages is also an important act that will the habit of being life-long readers. Quality books with companion book extension activities are not only working to create special family time, but it also allows kids to solve the world's problems without major consequences. A Year in the Secret Garden is just such a book.
This delightful children's book that is co-written by Marilyn Scott-Waters and Valarie Budyar and it offers original month-by-month activities that allow readers to delve deeper into the classic children's tale, The Secret Garden.
Within the 120 pages (with 150 original color illustrations and 48 activities)families will find many activities inspired by The Secret Garden that encourages them to step away from technology and enjoy getting hands and feet into the black earth of a family garden. This book will make a great gift and be the catalyst of many hours of family growth, learning, and FUN!
Grab your copy ASAP and "meet me in the garden!" More details HERE!