**The posts I write might contain affiliate links or be written in collaboration with businesses or brands. Please see my disclosure policy for more information.**
{Guest post from author and teacher, Carolyn Wilhelm}
My name is Carolyn Wilhelm. I am a blogger, curriculum writer, and have self-published my own books. My long-time friend, Becky (also known as Franticmommy) invited me to share my thoughts and info on her site because she gets asks A LOT the not-so-simple-question, "How do I self-publish a book?"
I too was posed this question often since I have self-published several successful books so I decided to create a course that started at the absolute STEP ONE.
The result was my Self-Publishing Course on UDEMY that Starts at the very beginning.
My Self-Publishing from The Very Beginning course is a self-paced class that offers future authors 45 videos and dozens of PDFs with clear directions and actionable steps.
The information I share in my UDEMY course is what I learned while volunteering to help others and myself self-publish. This class is especially for beginners unfamiliar with the world of self-publishing. I did the technical work for my husband's book, books by a writer who wrote her first book at age 91, and anthologies for my writing groups.
During the course, you will set up free accounts for selling books, including how to:
Create a free author page on Amazon Author Central
Set up a free author page on Goodreads
Make free author social media accounts
Set up a free KDP Amazon account
Videos and handouts with additional information, links, and directions are included. Find out how to see the record of your sales and how much money you have earned. Download the included book templates in the course to create eBooks, novel, and picture book manuscripts.
It is possible to self-publish on Amazon and some other sites entirely for free. This course explains how, and well as discussing the pros and cons of accepting Amazon's terms for doing so. Costs can include purchasing your own ISBNs (International Standard Book Numbers) and copyrighting. Covers can be made from free by using public domain photos from sites such as Pixabay. Of course, some people may wish to buy or take their own photos. Free or relatively inexpensive self-publishing is entirely possible. Different book sales sites are discussed (Amazon, Barnes, and Noble, and more).
Students are welcome to ask questions which might result in a new video and handout being added to the course.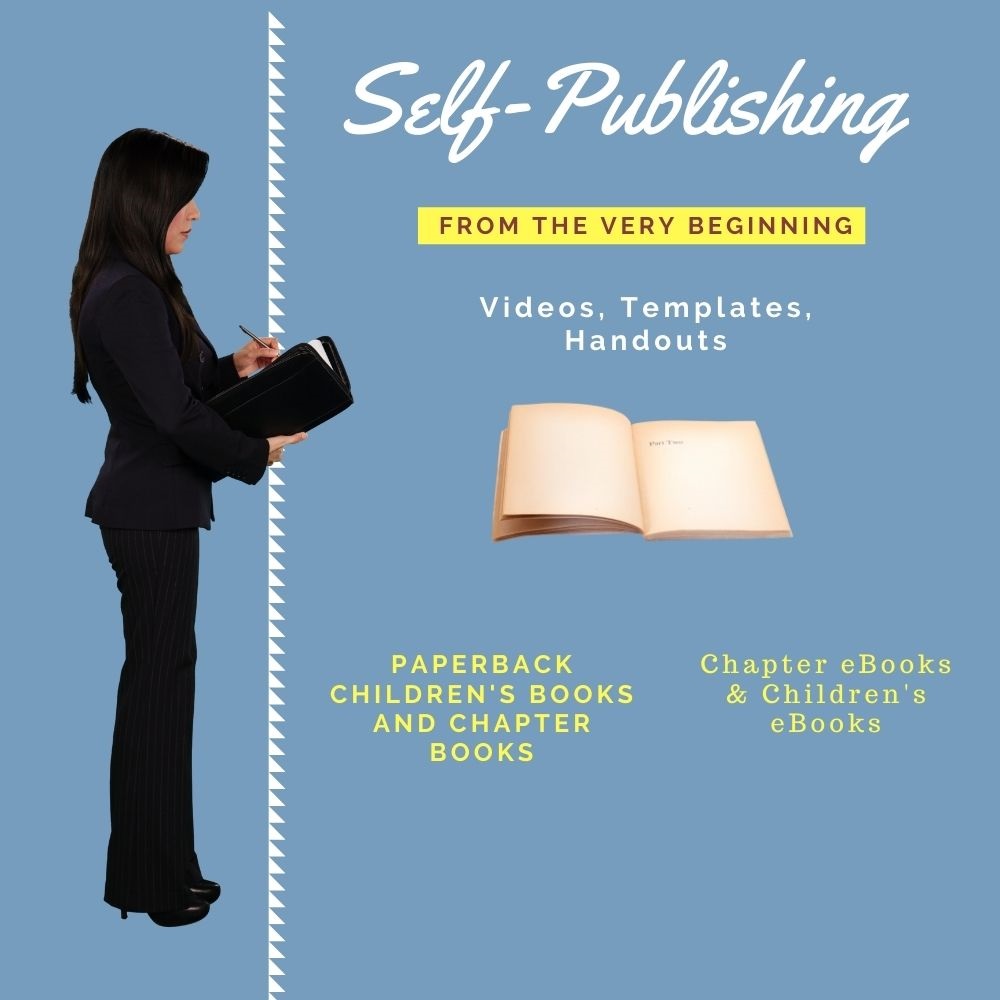 Sample Lesson:
You might also like my free template, video, and step-by-step directions about creating a children's picture book to publish on KDP Amazon. This has one of several book templates.
Course Description
This course has video demonstrations, templates, and instructions for the beginner to create eBook and paperback manuscripts, learn some ways to get additional online links to the book sales page, prepare a cover as a print-ready PDF, learn how not to compress images in Word, and learn about ISBN's and copyrights. Adobe Pro is used in a few lessons but alternative methods are described.
Step-by-step printable direction PDFs for working with book templates are included.
Easy templates include the following:
Chapter Paperback Word Doc Template
Chapter eBook Word Template
Children's Picture Book PowerPoint Template for a Paperback and an eBook (8.25″ X 6″ paperback with bleed)
Children's Picture Book 8.5″ X 8.5″ Paperback Word Template
Videos include the following and more:
Free Accounts for Self-Publishing: There are several free online accounts that will allow you to publish eBooks and paperbacks. This video discusses Kindle Direct Publishing, the sales page, Amazon Author Central, Goodreads as a reader, and Goodreads as an author.
Quick Overview of Social Media for a Book: Social media can be carefully used to provide links online to your book sales page. Quick overview.
Copyrights: When the manuscript is finished (or finished and published) it should be copyrighted within 90 days.
Begin with an End Plan: Begin with the end in mind so that decisions made later will not require revisions and extra work. Start out with a plan to be most efficient and reach your goals.
Be Consistent with Metadata: Be careful to use the exact same title, subtitle, and author name on all documents to be published such as eBook manuscripts, paperback manuscripts, and covers.
Copyright Page: Word Doc and PDF provided to edit for your own book.
Set-up Word so Images will not be Compressed: If your book has photos or art, before typing the manuscript, Word should be set up to not compress images.
Set-up Acrobat Pro: If using Acrobat Pro to create PDFs, set up Word so that images will not be compressed when saved as a PDF.
Prepare the Kindle Manuscript: This video has a demonstration of preparing a Kindle eBook Word document from scratch. A generic Word Doc is provided which meets the new requirements.
Table of Contents for Kindle: Learn to insert a table of contents that will have links for eBooks, learn to update it, and see how to see/check your work by downloading the Kindle previewer for PC or Mac. Two supporting documents are included in this lesson.
Online Cover Creators
Kindle Create to Embellish Manuscripts
Convert Paperback Manuscript to eBook Format
Fonts in eBooks
Paperback Manuscript How to and Free Template; Create your own paperback manuscript using the directions and lesson resource template.
Table of Contents for the Paperback: The Table of Contents (TOC) for a paperback is different from the eBook format.
Create a Full-bleed Children's Paperback with PowerPoint This video shows how to use a PowerPoint file sized to publish a 8.5″ X 6″ children's paperback.  Template provided.
Create a No-bleed Children's Paperback with Word: This lecture has a video about creating a children's paperback using Word (no other software is required) to make an 8.5″ X 8.5″ book. A sample Word doc is provided.
Use Word and Adobe Pro to Create a Full-bleed Children's Paperback: This lecture has a video, a step-by-step guide, and a Word document that may be used to create both a paperback and an eBook from the same file. For this paperback, Word, Adobe Acrobat DC Pro, a story, and illustrations are required.
On UDEMY, there are sample videos to watch to help you decide if you would like to take the class. Interested? Head over to Self-Publishing from The Very, Very Beginning on UDEMY, and take Step One in making your publishing goals come true.
Carolyn Wilhelm has a BS Elementary Education, MS Gifted Education, MA Curriculum, and Instruction K-12.
Her self-published books include:
Climate Change Captives 2035 and Project SAVE: Students Help Save the Earth (Climate Captives)
Alex Asks Grandpa About the Olden Days: A 1940s Story
Alex Asks About Auntie's Airplane Day: An Adoption Day Story
Connect with her on her veteran website The Wise Owl Factory or on Facebook.