**The posts I write might contain affiliate links or be written in collaboration with businesses or brands. Please see my disclosure policy for more information.**
It's a wrap!
Yes, I know 2020 ended weeks ago, but I've been eyeball deep in projects so I am a little late on sharing some of my Favorite Kids' Books from 2020. Enjoy!
Multicultural Books That Have Tugged At My Heart Strings (the 2020 edition)
Who's Jerry? by TM Jackson
I love, love, LOVE when I come across a diverse book that touches on a very unique (but important) topic.
Why is Mommy ignoring me? Why does Jerry lie about me? What did I do?
Imani's mommy is acting strange.
She doesn't talk to Imani much anymore.
She doesn't care that Imani got an A on her math test.
Sometimes she doesn't get out of bed before Imani leaves for school.
Strangest of all, Mommy has an imaginary friend called Jerry, who seems to think Imani is a very bad little girl…
Imani tries hard to focus and do her best at school, but it's difficult when her classmates laugh at her for having a strange mommy and uncombed hair.
Her teacher, Mr. Jackson, notices that Imani is sad and distracted in class, but he doesn't know what's wrong. Even Imani's daddy doesn't know what's going on!
Will Mommy ever get better? And who is Jerry?
In this educational picture book, a little girl discovers her mommy has schizophrenia and needs to get help before she can function normally again. Told with warmth and understanding and beautifully illustrated on every page, Who's Jerry? will help caregivers and children connect with one another and explain a sometimes difficult to understand the subject.
---
Danbi Leads the School Parade by Anna Kim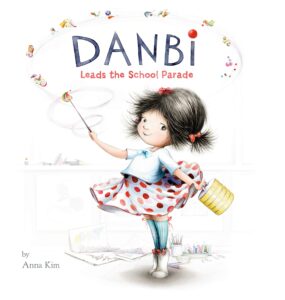 I met Anna through my work with Multicultural Children's Book Day and the sweet whimsy and storyline of her new book capture my heart immediately. Anna is an author/illustrator and her work is gorgeous.
Danbi is thrilled to start her new school in America. But a bit nervous too, for when she walks into the classroom, everything goes quiet. Everyone stares. Danbi wants to join in the dances and the games, but she doesn't know the rules and just can't get anything right. Luckily, she isn't one to give up. With a spark of imagination, she makes up a new game and leads her classmates on a parade to remember! Danbi Leads the School Parade introduces readers to an irresistible new character. In this first story, she learns to navigate her two cultures and realizes that when you open your world to others, their world opens up to you. Visit Anna via her website.
---
Bellasia: Once Upon a Tea by Mercedes Wadkins
Bellasia: Once Upon a Tea is the story of a girl who was found in a mystical garden made from love and magic. The girl becomes a princess in an unforgettable kingdom and a loving daughter to a very lonely King and Queen. The story is based on Wadkins' real-life adoption of her daughter. As an adoptive mom myself, sweet stories about families created through this process always makes me smile.
---
Pippa Park Raises Her Game by Erin Yun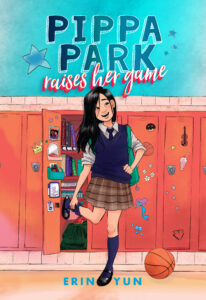 For kids nationwide who are distance learning one way or another, Pippa Park Raises Her Game is the perfect #OWNVOICES book to remind kids of the middle school experiences they can look forward to like new friendships and crushes, fun sports games, and even math homework… Well, maybe not that last one!
Pippa Park Raises Her Game is inspired by Great Expectations. As a child, author Erin Yun read tons of retellings, but for the most part, these books focused on Western mythology with mostly white characters. She was able to find dozens of books about Greek mythology,  but finding books about Korean lore was a lot harder. This inspired her to pen her own diverse reimaginings including her latest book.
Pippa grapples with struggles all middle schoolers will be familiar with. It's an age of juggling and making sense of others' expectations for us, all the while finding (or remembering) what makes us, US. The importance of friends increases just when it's harder to figure out who, exactly, they are. And while we try to be separate and independent from family, they still play an important role in shaping and supporting us.
---
Following the Footsteps by Tina Tedesco-Vella
This cute picture book alludes to relevant topics that children encounter in today's social media run the world. The beautifully illustrated story follows a young non-binary child named Taylor as well as their mom, dad, and two pet dogs, Charlie and Chester, as they go on a beach vacation.
The family is enjoying their time at the beach when Taylor gets separated from them and other beachgoers and begins to panic. Although Taylor is afraid of being lost, being an only child, they are used to finding ways of entertainment independently. As a way of distracting from the situation at hand, Taylor notices the sea life and rock pools and begins creating an imaginary game. They take in the surrounding environment including the big ocean and they begin to listen to the waves. Listening to the ocean, Taylor breathes in and out to try and breathe with the sounds of the waves to help relax.
Especially in the current state of the world, children can be anxious with everything going on and it is important for them to find something simple so they can destress from feeling overwhelmed and lost by going back to the simple things in life. Tedesco-Vella wanted to reflect non-binary persons by not giving the main character, Taylor, a gender and encourage readers to express their true selves.
Available at Amazon, Barnes & Noble and Balboa Press
---
Mommy, Mama, and Me by Leslea Newman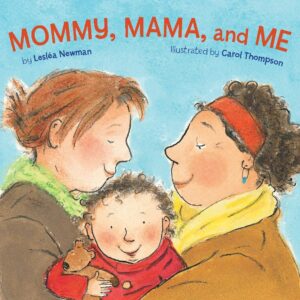 "Traditional" families feature heavily in children's literature, but if you're looking for the best children's books with same-sex parents, Mommy, Mama, and Me and Daddy, Papa, and Me are two classic board books featuring two moms and two dads. They have charming illustrations, gentle rhymes, and a simple plot that shows a day in the life of a child with same-sex parents. A positive look at LGBTQ families, these are great books for kids with two moms or two dads, as well as for kids who could benefit from seeing a different kind of family structure.
Jamie and Bubbie: A Book About Pronouns by Afsaneh Moradian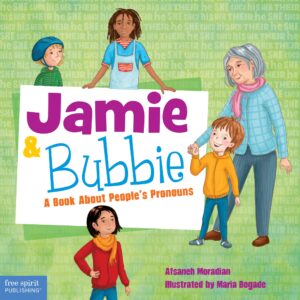 This beautiful book is the follow up to Afsaneh's award-winning book, Jamie is Jamie. In Jamie and Bubbie, Jamie helps Bubbie (Grandma) understand that it's important not to assume a person's pronouns based on appearance, and to always use the name and pronouns they go by he, she, they, or something else. Jamie and Bubbie introduces children, through an accessible fictional narrative, to the nonbinary experience, the use of gender-neutral pronouns, and how to respectfully use personal pronouns. They will learn the importance of using the correct pronouns, and that sometimes a person's name and pronouns can change. The story stays lighthearted and sweet, while diving into an often misunderstood, evolving topic, so children can build empathy and begin to explore their own feelings about gender identity. A section at the back of the book includes tips for teachers, parents, and caregivers for expanding on the concepts in the book and for talking with children about gender. Connect with Afsaneh via her website or on YouTube and Twitter.