**The posts I write might contain affiliate links or be written in collaboration with businesses or brands. Please see my disclosure policy for more information.**
**some of these links may be affiliate links**
Now that spring has finally decided to show here in MN, I'm switching gears from a "snuggle under the blankets and read" to a more summery "sit on my patio sipping tea and read" mindset.
For those like me who are always on the hunt for fabulous books from all genres to add to their TBR (To Be Read) pile, here's a handful of titles I know you will like 🙂

If you love to journal as a form of reflection, healing, or just documenting your life's journey, Kass's book is filled with amazing thoughts and writing prompts to us dive deep into perspective, emotions, truths, and awareness as to what makes you, YOU. "The purpose of this book is to assist you in discovering what a beautiful soul you are. ~Kass Hillard
Parents and caregivers, clergy and teachers pour into us their beliefs about life, the world, and God. Other family members, friends, media outlets, etc. soon enter our life, adding even more influences. We trust, believe, and accept what we see and hear as truth, rarely questioning those facts and statements, or sources.
As we journey through life we find that our thoughts and perspectives change. The more we learn or are exposed to ideas and experiences beyond ourselves, the more our world expands. We begin to question, seek answers, challenge our beliefs, and find our own truths.
The purpose of this book is to assist you in discovering what a beautiful soul you are. There are challenges that offer questions and prompts inviting you to look deeper within yourself and in doing so, perhaps a greater awareness and understanding of your true self which is waiting just beneath the surface.

If you are a fan of True Crime novels, Frank's Detective Jon Frederick series. Black and Blue is the sixth book in this award-winning series and is the true story of the search for the killer of 19-year-old Sadie Sullivan. A chance meeting between Minneapolis Police Officer Xavier (Zave) Williams and Sadie changed his life and ended hers. Zave joins Investigator Jon Frederick as a black-and-white team reopening a cold case with a lot of gray—contaminated evidence, questionable court decisions, and two opposing hardened suspects. In the backdrop of modern-day Minneapolis, investigators are left to sort through the chaos, shootings, and political outrage to deliver justice to Sadie's family. Black and Blue is an intense thriller about love, tenderness, and resilience in an era when it's easy to be callous.
Frank is someone I know personally and, let me tell you, he is one fascinating and talented dude. He is a forensic psychologist who has completed assessments for homicide, sexual assault, and domestic abuse cases. His work has ranged from assessing murderers chained to the cement floor in the basement of a prison and assessing psychopaths to providing therapy for wealthy professionals who've engaged in multiple affairs. He has testified as an expert witness in numerous sexual assault and homicide cases, written seven different treatment workbooks. His other books include Murder Book, The I-94 Murders, Last Call, Lying Close, and Burning Bridges. All are available via his website or on Amazon.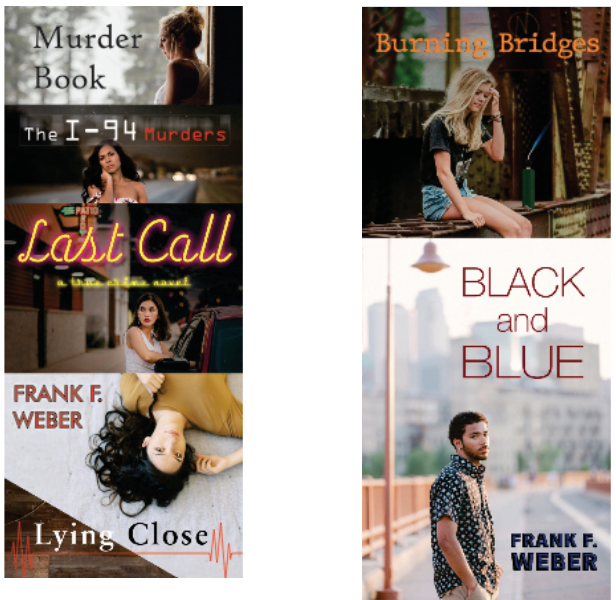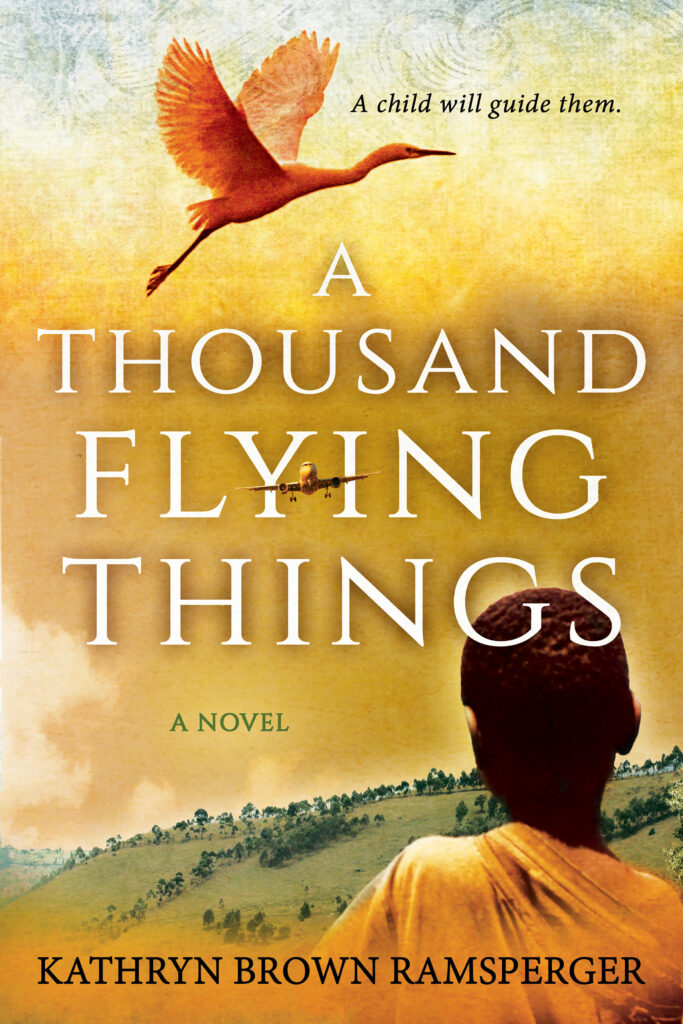 American Dianna Calloway is committed to educating young children in the thick of war-ravaged Southern Sudan. Hampered by disease, a divided government, and a cruel warlord harboring a mysterious child, Dianna must toe the line of political correctness while being true to her own sense of justice. The chance meeting of a long-lost love only complicates her career's passionate calling in a dangerous country. Faced with the choice to pursue integrity and justice or reconnect with the man she once loved, Dianna must make the most difficult decision of her life.
A Thousand Flying Things is a riveting, poignant read that will work to heal global misunderstandings and encourage conversations about race, country, and culture while also showing readers that love, not war, conquers all.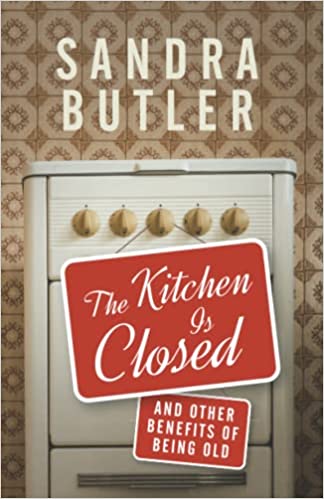 There are so many things I love about this book. One of the many things that resonated with me is that the 80+ year-old author addresses A LOT of topics revolving around aging-related intimacy, dating, and knowing that the clock is ticking that people like me (I'm 57) secretly wonder about but were too embarrassed to ask.
With its sharp humor and refreshing honesty, The Kitchen Is Closed is a must-read for aging women, eldercare workers, and adult children who want to gain a fuller sense of their mother's life. Butler argues that old women are cast aside in white American culture, and it's both disheartening and disrespectful. Butler is not only a senior—she's a mother, a lesbian, a Jew, a feminist, and sometimes a "rabble-rousing hectorer." And now that her time is running out, she doesn't mess around with things that don't matter. She is supremely motivated, and she's so much braver than ever before.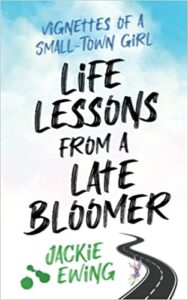 This book of "vignettes of a small-town girl" is a uplifting and insightful read from the first page to the last. I'm pretty certain that Jackie is my Sister from another Mister! As a late-bloomer myself, I found comfort in familiar stories and experiences that helped me realize maybe I'm not such an oddball after all.
Told through vignettes with refreshing candour, Jackie Ewing imparts wisdom in a charming, relatable and down-to-earth manner in Life Lessons from a Late Bloomer.
This book is for those who stumble through life, bumping into inanimate objects (and apologizing profusely) as they traverse the world.
Jackie Ewing is a stumbler.
She has stumbled around the world, bumping into green paint, bears, bullet holes, rattlesnakes, interlopers, errant camels, flying mattresses, and even … giant testicles.
From growing up in small-town Ontario to teaching in countries far and wide, Jackie has had many opportunities to bump into wisdom.
Although a slow learner, she eventually unearthed ten life lessons from her myriad adventures.
Life Lessons from a Late Bloomer, Vignettes of a Small-Town Girl, is a perfect book for fellow stumblers.
Jackie Ewing's wonderful way with words will delight you, make you think, and remind you not to take yourself so very seriously. When you turn the last page, you will feel like you just spent a few hours with your new best friend.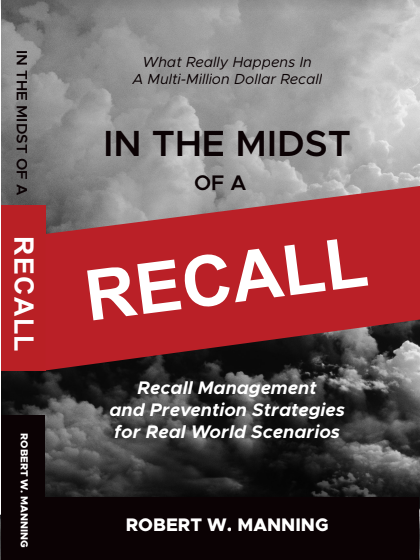 In The Midst of a Recall by Robert W. Manning is a concise management
and field manual for professionals working in the food industry. With tactical applications, examples of consistent communication, and a strategic vision for producing safe, quality products, Manning also shares vital tactics and information that will guide companies through the labor-intensive and thorough product recall process and how to prevent recalls in the future.
Manning's Lessons Learned and Proactive Guidance at the end of each chapter summarizes the crucial knowledge, key takeaways, and actionable steps. Within the pages of this book, CEOs and company leaders will learn the importance of Operations, Quality, Project Management, Engineering, Sustainability, Sanitation, and Environmental, Health, & Safety.
     In The Midst of a Recall also provides a real-world account of what happens when a company initiates a recall and how consumers are protected. Filled with solid business advice, detailed case studies, and a strategic vision of sound operational practices, this book will appeal to anyone in the crisis management field in any industry.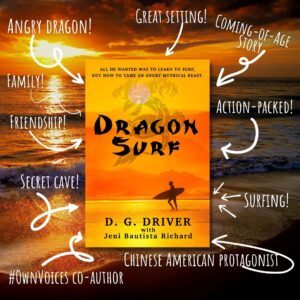 While on a surfing trip with his father, a young teen boy discovers a dragon hiding and brooding in a cave on a secluded beach in North California. Through visions and thoughts communicated by the dragon, Eric comes to believe that he might be descended from a long line of dragon tamers going back to China. Only, this dragon is not interested in being tamed at all. An action-packed coming-of-age story about family, friendship, heritage, and surfing.
Co-written with Jeni Bautista Richard and published by Fire and Ice Young Adult Books.
Happy Reading!