**The posts I write might contain affiliate links or be written in collaboration with businesses or brands. Please see my disclosure policy for more information.**
     When we hear a mention of the "private piano teacher," the initial reaction is likely to picture an elderly instructor wearing horn-rim glasses and a disapproving glare. This imagined teacher is also the one who struggles to teach less than willing students and is running their music studio as a side business or hobby.  
     In reality, thousands of private piano teachers nationwide are using their extensive music education to create fulfilling and successful careers that have both students and parents clamoring for more. However, one ambitious mom and private piano teacher is determined to dispel the myths and misconceptions of "your grandma's music studio" and show instructors all over the globe how to take their music studio business to the next level.
     Noreen Wenjen has been passionate about music for as long as she can remember and is no stranger to hard work and continual learning. She competed in regional and international piano competitions for 23 years, starting at age five. A self-proclaimed "accidental piano teacher," she entered college with plans of studying business. She graduated with a Bachelor of Music in Piano Performance from the University of California, Santa Barbara. 
     She also spent several years working for two Fortune 500 companies, Aquent and Nissin Foods, where she gained invaluable marketing and customer service knowledge. As her marketing career flourished and her music studios filled with eager students, Noreen saw a need to share her steps for marketing success with other music teachers so they could grow their home studios. 
     After two decades of teaching at two flourishing piano studios and maintaining her two-year waitlist, she wrote her first book, Two-Year Waitlist: An Entrepreneurial Guide for Music Teachers, published by Audrey Press in Maryville, TN. From identifying the value of a music teacher and connecting with students to taxes, fees, and running a music school like a business, the goal of Noreen's book is to educate other professional music teachers on how they can create creating an exceptional student/teacher experience that will have students lining up for their expertise.
      "I've met so many experienced music teachers who have struggled financially because they could not fill their private studios with enough students or maintain a steady income throughout the year," Noreen shared. "I wrote Two-Year Waitlist: An Entrepreneurial Guide for Music Teachers to share the marketing and professional knowledge that I've accumulated due to 25 years of teaching and having waitlists for both of my piano studios. I hope this book helps private music teachers of all genres and locations fill their studios and gain the financial stability and success they deserve."
     She also shared that this book has details and advice that will appeal to all professionals in the music and teaching field. Established teachers will find tips and tactics for taking their business to the next level, while new teachers will have access to a roadmap that will help them reach success faster than their peers. 
     "All teachers, especially music instructors, have a genuine passion for helping students be the best they can be," Noreen acknowledged, "but often, they are also the last ones to acknowledge their worth. Music teachers need to understand the 'big picture' of what they provide to students and parents and that their offerings are much more than a session.' They are bringing an entire music program to the table, which attracts new students and creates the need for a waitlist."
     Noreen's robust book covers essential business areas like the basic framework for running a music studio but also includes ones that every generation of music teachers will find interest in. Subjects like student retention, how to teach students of all ages, marketing, setting rates, planning for retirement, and reasons why waitlists are so critical to long-term business success, are all included in the pages of this non-fiction guidebook.
     "If I were to give just one piece of advice to piano teachers and private music instructors, it would be this: you are not alone on this journey to financial stability and success as a music teacher. Two-Year Waitlist: An Entrepreneurial Guide for Music Teachers is not only an instructional guide but my story of starting from scratch and growing my studio with the heart of a music teacher and the mind of an entrepreneur. Through trial, error, and necessity, I have resolved issues and created guidelines that will leave readers thinking, 'Thank goodness it's not just me!' If I can help teachers succeed financially and sustain a career in teaching music, I've accomplished my ultimate goal with this book." 
Check out Noreen's latest album "Santa Barbara Flow" dropped on Spotify! Please like
and save it to your playlist.
Click on the link Santa Barbara Flow https://open.spotify.com/album/21kvTqWiVMP8Rfv97oa8dp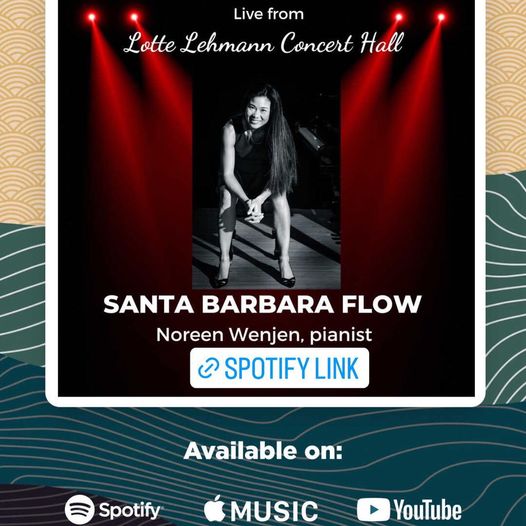 When not engaged in music at one of her two studios, Wenjen plays tennis, cook up a storm, or surfs with her husband and two children in her Southern California home. Connect with Noreen Wenjen on Facebook, Twitter, Instagram, LinkedIn, and her author website.