Organizing experts have stated that the average family of 4 has at least

$1500

worth of unused, sell-able items in their home.
I think it's MORE.
It's time to take action. Instead of letting these outgrown, unused, and excess items clutter up your home and Weigh.You.Down…
Turn it into CASH.
Having a garage sale is a great way to clear out the clutter and make extra money. Period. I know they can be a lot of work, but as long as the whole family pitches in it's a great way to de-junk and de-clutter.
Clothes get outgrown, tastes in music or books change, and we upgrade furniture and electronics to something new and fresh. Whatever the reason, many homes quickly clutter up and get buried under an avalanche of "stuff."
I have being hosting yearly garage sales for 25 years. I have also spent hours and hours studying how other families conduct successful sales as well. I've taken that knowledge, experience, and research and rolled into one fun and easy-to-read free guide.
AND for a limited time…
I am offering my Tips and Tricks for a Wildly Successful Garage Sale for FREE. 20 pages of ideas, tactics, best practices, and strategies to turn your "stuff" into "income."  This ebook includes: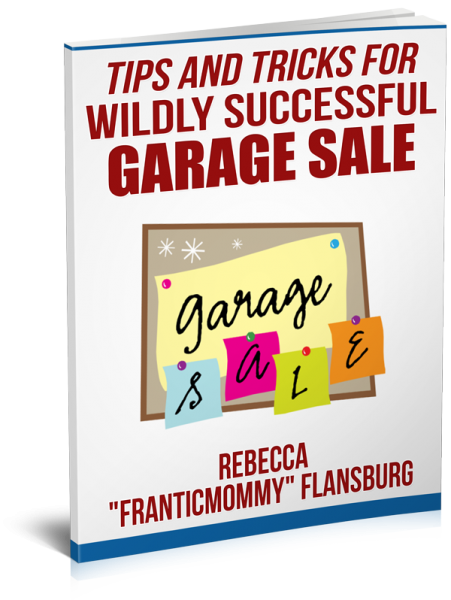 The Basics
Gathering Your Supplies

Tables

Call for Back-up

Here's Your Sign

Timing

Location, Location, Location

Get Change

Advertising

Early Birds Don't Get The Deals

Price It
How To Price Your Items to SELL
Pricing Tips

Bag Sales

O.B.Os
Practice Good Garage Sale Etiquette
The Golden Rule

Sell or Donate- THAT is the Question

Buyer Feedback is a Good Thing
Prepare for Battle
The Weatherman Lied

Extra Signage

The More The Merrier
Helpful Hints for a Wildly Successful Garage Sale
Resources
Summer is here and the time is RIGHT to de-clutter, de-junk, and make some extra money.
Our family uses the proceeds from our yearly sale for special family treat. One year it was a swing set, another year it was a Basketball Hoop and stand. This year our proceeds will go into our No Bummer Summer Travel Fund for a fun family summer trip.
Convinced? Is your mind racing with which items in your home can be turned into CASH?
All you have to

lose

is unwanted STUFF!
 What you have to

gain

is MONEY and SPACE in your home!
Enter your information, and get for the Garage Sale (and Money Makin') Season!