NOTE:
Facebook recently removed its restrictions involving running contents on Facebook (it's now acceptable to use Likes as a form of entry to your contest) HOWEVER it is still extremely beneficial to use Third Party Apps to tap into the power and effectiveness of Facebook Promotions. This in-depth 17 page ebook is your guide to…………….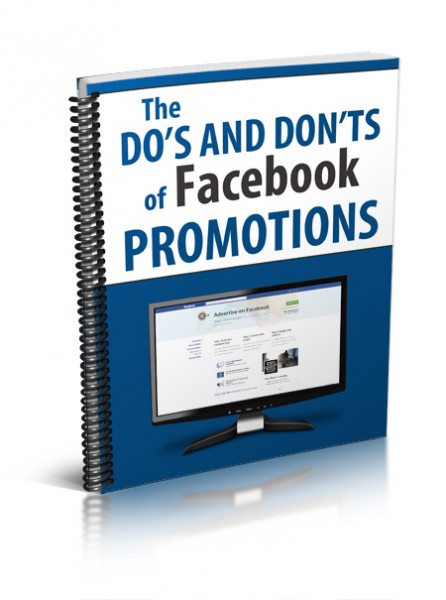 Here's the what this 17-page report and tutorial contains:
Discover why you need to use third party apps for your Facebook Promotions and which ones are the best.
Learn why a focused niche approach is best and why you should avoid the "shot-gun-pattern" approach.
Discover The Top 10 Most Important Do's and Don'ts of running promotions or contests on Facebook
Did You Know? Facebook user spend an average if 20 minutes a day (18% of their time) checking Facebook and reading their messages? That is significantly more than any other social network!
Discover The tips and secrets to attracting Super Fans (repeat customers) what makes a "Super Fan."
Which type of Promotion you should be most cautious about and why.
Which promotion  has the biggest advantage and is the easiest to do.
How Facebook's new Cover Photo changes can work to your advantage (if done correctly).
Facebook Promotion fact: You may be tempted to offer a high perceived value item (like an iPad) to your entrants, but the true secret is offer an item that will appeal to ideal client. This will help to result in permanent engagement once your promotion is over.
Facebook has over 1 billion users. How many of those could be your ideal customer?

The on-line world of Facebook is a noisy, busy place and business professionals are finding it harder and harder to get noticed. One tried-and-true strategy in gaining visibility, subscribers, likes, or creating new "buzz" is contests (a.k.a. "sweepstakes).
But creating and hosting a contest via social media is more than placing a pretty prize for all-the-world-to-see. Facebook has rigorous rules governing what campaigns you can and can't create, promote, and administer on their platform.
 The Do's and Dont's of Facebook Promotions cuts through the clutter and confusion and guides your business in the right direction.
For a Limited Time get this guide for
Sign up now and get my FREE Quickie Ninja Tips for Facebook!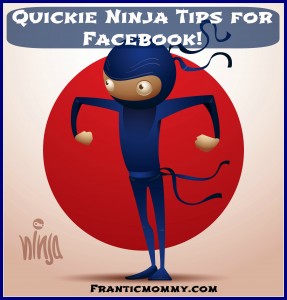 Facebook is a powerful platform that is also known for it's constant change. As a social media Virtual Assistant and Social Media Specialist, it's my job to stay on top of these changes and make sure my clients stay informed as well.
Basically, I know a ton of "quickie" tips that will  help your Facebook Business Page ROCK.

Sign up now and get a total of 7 Quickie Ninja Tips in your email over the course of 2 weeks. These tips aren't called "quickie" for nothing. They are simple, easy to understand, bite-sized Ninja Tips that will help clear up Facebook confusion and help optimize your Facebook efforts.
 AND (because I am a visual person)
I've included 2-3 screen shots with each Ninja Tip as well!
My Quickie Ninja Tips for Facebook offering is only FREE for a short time, so don't delay Enter your info below and gain instant access to this valuable info.
Follow Me on Social Media!