**The posts I write might contain affiliate links or be written in collaboration with businesses or brands. Please see my disclosure policy for more information.**


I am a "List-ho"


I love lists. Making lists. Cross stuff off lists.

Why? It keeps me on task and my memory is dog-crap it's empowering to cross things OFF. 
One of my main "lists" right now is No Bummer Summer activities and in lieu of that, I have been hard-core on the hunt for fun (yet cheap) things for the fam to do this summer.
I am IN AWE of all the great blogs out there right now. It's safe to say

The Blogosphere IS my world.
Here's my top picks for lists, ideas, and sources for sanity-saving summer fun:
(Gotta See) Fun Summer Activities to Keep the Kids Busy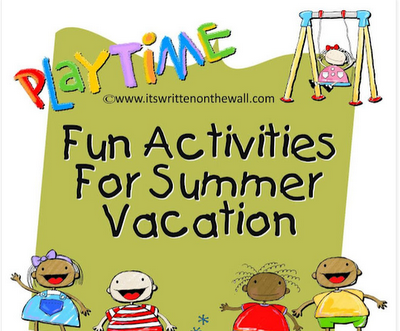 Little Wonders' Days had a great idea called the Summer Bucket List. I liked this idea better than the "I'm Bored" Jar because the choices are colored based on length of time. One day my 6 year-old pulled "go to the zoo" as an activity, but I had an important meeting looming and couldn't leave. Color-coding helps buffer that. Here's an excerpt:
Our activities are also broken into color codes that correspond to how long an activity will take.  Yellow is an all day activity, blue is a half day activity, and orange is less than a 2 hour activity.  I tell the kids what color slip they can choose based on our other plans for the day.  This also helps plan the day a little better.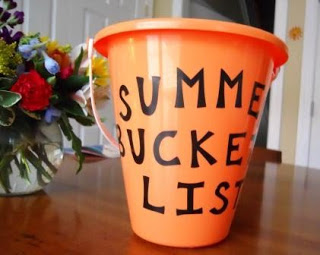 Family Your Way is offering a FREE download of some great summer activities. We done a few already and I have to say I was very impressed. With more than 40 recipes, crafts and planning tips for summer from some very popular bloggers, this is a great handbook to help you make the most of the fleeting days of summer. Click HERE to get your copy.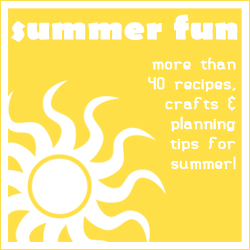 Frugal Dad got in on the action with his list of 14 Boredom Busters: My favorite is #8 and we should all do #14 more often.

Like I say, I am on the HUNT for fun things to do. I am really committed to having a No Bummer Summer and TRULY, we are having one of the best summers EVER as a family. 


I'd love to hear what your family is doing, or if your blog has a resources or ideas list, let me know! I'd love to do "Part Deux" to this and feature other beloved blogs. Leave me a comment here, or even on the Franticmommy Facebook Page.
Now go outside and PLAY.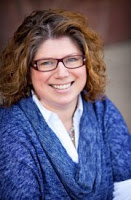 Writer, blogger, social media fiend, total cheeseball, & proud mama, Becky Flansburg writes for a variety of places including Her Voice Magazine, Audrey Press, and BusyWomenDirect. When not creating typos and brain lint here, she can be found spending a scary amount of time on Facebook. Twitter, Pinterest, and Google+.
Never Miss a Poop Story. Subscribe HERE http://feeds.feedburner.com/blogspot/dpfZp