**The posts I write might contain affiliate links or be written in collaboration with businesses or brands. Please see my disclosure policy for more information.**
I came across this cute "survival kit" formula for Moms of Newborns years ago and I have to admit I personally have used it several times. Once for a new mom friend who was in those early I-think-I-may-lose-my-mind first weeks of new Motherhood, and once as a welcome gift for a Girl's Night Out-type gathering. 

Both times, it was a hit and you can probably create one these just from items in your home. What's not to love?
Supplies:
Toothpick
Rubber band
Band aid
Pencil
Eraser
Chewing gum
Mint
Candy Kiss
Tea bag
Toothpick – to remind you to pick out the good qualities in others.
Rubber band – to remind you to be flexible, things might not always go the way you want, but it will work out.
Band aid – to remind you to heal hurt feelings – yours or someone else's.
Pencil – to remind you to list your blessings everyday.
Eraser – to remind you that everyone makes mistakes, and it's okay.
Chewing gum – to remind you to stick with it and you can accomplish anything.
Mint – to remind you that you are worth a mint to your family and friends.
Candy kiss – to remind you that everyone needs a kiss or a hug everyday.
Tea bag – to remind you to relax daily and go over that list of your blessings.
This is my gift to you. May you be richly blessed. And to the world, you may just be somebody…but to somebody, you may be the world.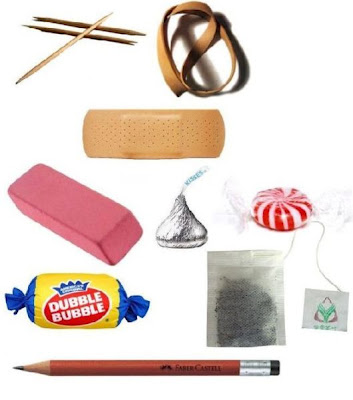 Photo Source: http://www.funzug.com/index.php/inspirational/daily-survival-kit-to-help-you-through-2010.html
"This is my gift to you. May you be richly blessed. And to the world, you may just be somebody…but to somebody, you may be the world."