**The posts I write might contain affiliate links or be written in collaboration with businesses or brands. Please see my disclosure policy for more information.**
Earlier in Feb, I shared that #9 on my "stuff I am doing to honor ME" list was "Finish the Business Goddess 2.0 course."
The "Making me a better ME" Project via Leonie Dawson's Shining Business Academy and Business Goddess 2.0 courses has been ongoing since December. Let me just say, this info is not woo-woo folks, this stuff works.
The Business Goddess 2.0 course is one of the many perks and options I got when I signed up for the Shining Biz Academy back in late 2015. After using Leonie's amaze-balls planners and workbooks for two years, I was determined that THIS year was going to be the year I absolutely hit that "tipping point" of business (the one where you are so busy, you need to hire help) and bust through the income stalemate I've been at for two years.
So far, it's working 🙂
I think…no, I know, that once you find that person/guide/coach/mentor who resonates with you, the battle is half won. Leonie's style, wit and mind-blowing business savvy (paired with her unicorns-and-fairies RULE delivery) was exactly what I have been looking for. The WWW is littered with thought leaders and gurus looking to drain your wallet and blather ridiculous ideas and theories (I know, I've spent hard-earn money on many of them), but this I know for sure: Leonie is my kind of gal and the ticket to the business success I've been hungering for.

Here are some nuggets of gold from Business Goddess 2.0 that will give you a taste of the awesomeness that lies within: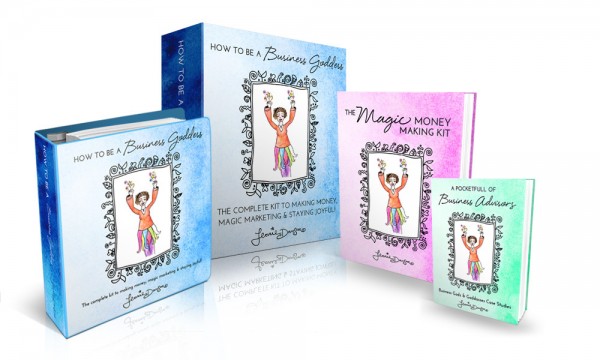 [ez_box title="Business Goddess 2.0 Gold Nugget #1″ color="blue"]
You do NOT have to quit your job in order to start the business of your dreams. Leonie's recommendation is to have some balance, and do it in a way that is fun, easy, non-stressy and in line with the evolution and growth of
your business.
[/ez_box]
My Take: This is an important fact I want to point out. Many of the women I talk to/work with/encounter desperately want to be business owners, but recoil at the thought of leaving a stead 9-5. It's not an "all or nothing" gig…you can take the steps to create the biz you want while still maintaining the safety and consistency of a day job. The added bonus this that 5 week course is chock full of ideas and innovations on how to do just that.
[ez_box title="Business Goddess 2.0 Gold Nugget #2″ color="blue"]
"I realised I'd been spending so much energy developing my creative and spiritual gifts, and no time at all
developing my business ones. My creative and spiritual muscles were well-developed and pretty buff-looking,
but I didn't have any business muscles and knowledge to support them."-Leonie
[/ez_box]
Sound familiar? I recently had a coaching/consulting session with a client who was frustrated that "all of this business stuff was taking away from her creative time." I get it. Our creative craft is what makes us tick-makes our hearts sing. But doing the fun stuff only isn't going to get you far in business. There are very grown-up and important things that need to be considered if you truly want turn your creative love in a business. Icky things like marketing, websites and even ::shudder:: bookkeeping (I think my butt just puckered).
The good news is that, instead of fumbling and floundering, the Business Goddess 2.0 course HAS all of that "how to develop your business muscles" stuff you need to know. In a fun, sweet, crazy-hippie-chick kind of way.
What is tripping you up and your quest to create the business you love? Let me know. I will help if I can 🙂
***Some of these links are affiliate links which means, if you click-through and buy something, I will get a wee little commission. Maybe even enough to buy a new marker to support my adult coloring addiction 🙂
–
Looking for a new mountain to conquer in 2016? A new career path or maybe even a fresh money-making "side hustle?" Being a Virtual Assistant allows moms to utilize the skills they already have, work from home and make a steady income in the process. Here's my FREE gift to you to get you started on your journey.