**The posts I write might contain affiliate links or be written in collaboration with businesses or brands. Please see my disclosure policy for more information.**
**some of these links are affiliate links**
One of the many side benefits of being Project Manager for Multicultural Children's Book Day is not only reading great books, but meeting cool people as well.
During the 2014/2015 MCBD, author D.G. Driver came into my radar with her Multicultural YA Book book Cry of the Sea. This YA book caught my eye because of not only the environmental theme, but also the fact that the main character in the book is a Native American teenage girl. That's just not something you see very often. Within the first chapter, I was hooked.
Here's a quickie summary of this awesome middle reader/YA book:
About the Juniper Sawfeather Novels: Juniper Sawfeather is the teen daughter of environmental activists with an ability to discover mythical creatures during her attempts to protect the natural world. In the award-winning novel Cry of the Sea she strives to help real mermaids caught in an oil spill from being exploited or killed?
THEN a year later I had a pee-my-pants-with-happiness-moment when D.G. release the second book in the Juniper Sawfeather saga called Whisper of the Woods. In this book, a more action-packed and tense one, Juniper gets into all sorts of impossible situations steeped with ancient Native American traditions and folklore while trying to stop the logging of Old Growth trees. Ultimately, she finds herself trapped 170 feet up in one by an ancient tree spirit that is unwilling to let her go or allow anyone to save her.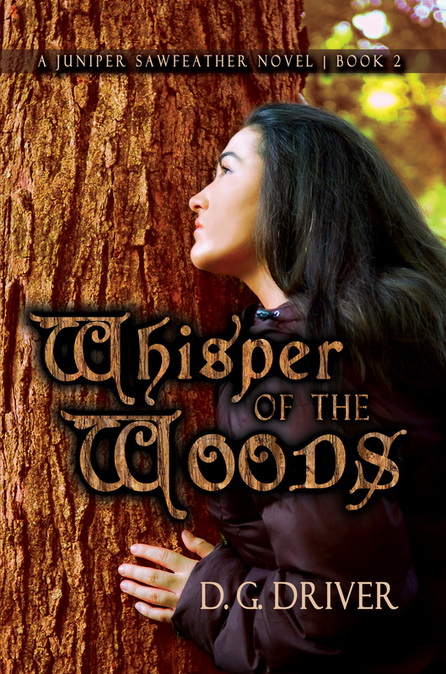 The mermaids she saved from the oil spill are long gone. There's no evidence of them, and she's been branded as a liar and a fake in the media and at school. Her environmental activist parents have moved on to a protest to save Old Growth trees from being chopped down. June isn't particularly concerned with this cause, but that changes when she falls asleep at the base of a giant tree and wakes to find herself 40 feet in the air on one of its branches! From this point on she becomes obsessed with the tree, and it appears the tree is becoming obsessed with her too. Soon, she is trapped 170 feet above the ground, and the magical spirit that resides in the tree isn't interested in letting her go free or allowing anyone else to save her. Is the tree spirit good or evil? Will Juniper's feet ever touch the ground again?
Over these last few years D.G. has been kind enough to share with me her thoughts and aspirations surrounding both of these awesome multicultural YA books.
When she first came up with the idea for Cry of the Sea, she knew it needed to be set in the Pacific Northwest because that's where the oil spill would happen (the main focus of the book). She also knew that she wanted the protagonist to not only be Native American, but have environmental activist parents as well. D.G. shared that she felt that the story begged for a historical and spiritual connection to the land that would play an important role in the story. BUT she also didn't want the book filled with all the Native American tropes found in most fantasy novels: dream walking, mystical shamans, peace pipes, etc. From the very beginning she felt that the Juniper Sawfeather series was more of a science fiction than fantasy, so everything needed to feel very realistic and believable.
What I Love About this Book
It's real life. It's just that simple. D.G also wanted Juniper to be a very contemporary teen, one who lives in the suburbs and goes to regular public high school. She wanted her to feel isolated because of her parents' interests and her heritage, so she decided not to have her live on a reservation. Now, in book 2, Whisper of the Woods, D.G delves deeper into Juniper's heritage and family roots but not in a warm-n-fuzzy way. In Whisper, Juniper's family is fighting and the dispute is lead by her uncle who is the Tribal Chief Executive of a reservation council. Her uncle has ordered a lumber company  to destroy a section Old Growth Red Cedar trees on their land, something Juniper and her family is completely against. But there is more than money behind her uncle's decision; more like painful memories of a loss that no one can explain, but many can speculate can be blamed on the Tree Spirits. As you can imagine, there was a lot of extra research done to make this book sound authentic and D.G.'s hard work shines through in the mesmerizing YA book.
Grab your copy of either book on Amazon by clicking either book cover above.
Connect with D.G. Driver via:
Website: www.dgdriver.com
Blog: www.dgdriver.com/write-and-rewrite-blog
www.twitter.com/DGDriverAuthor
I am reviewing this book as part of the Multicultural Children's Book Day 2017 (1/27/17) celebration; is its fourth year. MCBD was founded by Valarie Budayr from Jump Into A Book and Mia Wenjen from PragmaticMom. Our mission is to raise awareness on the ongoing need to include kid's books that celebrate diversity in home and school bookshelves while also working diligently to get more of these types of books into the hands of young readers, parents and educators.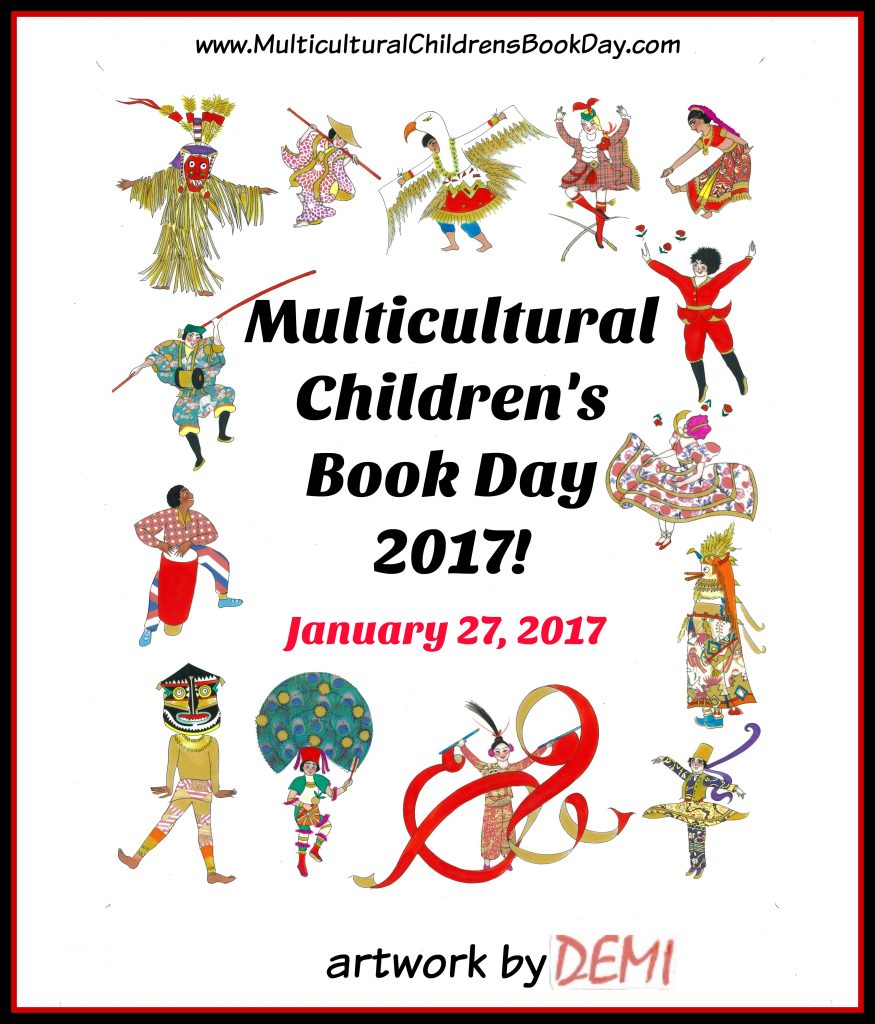 Despite census data that shows 37% of the US population consists of people of color, only 10% of children's books published have diversity content. Using the Multicultural Children's Book Day holiday, the MCBD Team are on a mission to change all of that. This event has also proven to be an excellent way to compile a list of diverse children's book titles and reviews for parents, grandparents, educators and librarians to use all year long.
The Sponsors that make it all come to LIFE
Current Sponsors: For the MCBD 2017 event, we have been very blessed to already have some amazing Sponsors in place. Platinum Sponsors include Scholastic, Barefoot Books and Broccoli. We are we are beyond thrilled to have all 3 sponsor's support. Other Medallion Level Sponsors include heavy-hitters like Author Carole P. Roman, Audrey Press, Candlewick Press,  Fathers Incorporated, KidLitTV, Capstone Young Readers, Author Gayle Swift, Wisdom Tales Press, Lee& Low Books, The Pack-n-Go Girls, Live Oak Media, Author Charlotte Riggle and Chronicle Books.
We'd like to also give a shout-out to MCBD's impressive CoHost Team who not only hosts the book review link-up on celebration day, but who also work tirelessly to spread the word of this event. View our CoHosts HERE.
Hashtag: Don't forget to connect with is on social media and be sure and look for/use their official hashtag #ReadYourWorld.
– Facebook page https://www.facebook.com/MulticulturalChildrensBookDay
– Twitter https://twitter.com/MCChildsBookDay
Buy Links for D.G. Driver's Books:
Cry of the Sea
Amazon Kindle http://www.amazon.com/dp/B00IM0JF06
Smashwords http://www.smashwords.com/books/view/409843
Nook http://www.barnesandnoble.com/w/cry-of-the-sea-d-g-driver/1118708060?ean=9781612357867
Lulu (for print) http://www.lulu.com/shop/d-g-driver/cry-of-the-sea/paperback/product-21464813.html
Whisper of the Woods
Amazon Kindle http://www.amazon.com/Whisper-Woods-Juniper-Sawfeather-Novel-ebook/dp/B017V3F53K
Smashwords http://www.smashwords.com/books/view/59227
Nook http://www.barnesandnoble.com/w/whisper-of-the-woods-d-g-driver/1122938359?ean=2940157794323
Lulu (for print) http://www.lulu.com/shop/d-g-driver/whisper-of-the-woods/paperback/product-22442498.html
**some of these links are affiliate links**