**The posts I write might contain affiliate links or be written in collaboration with businesses or brands. Please see my disclosure policy for more information.**
A few years ago, I noticed many of my friends picking their "Word" for the upcoming New Year. At first I was puzzled, then I saw the infinite power and usefulness of this practice. Let me explain:
Your "One Word" is the one word you pick to sum up what you want to accomplish/achieve in the upcoming or existing New Year. Pick just one word to inspire you all year. Love this idea. Simple, powerful and to-the-point.
Many times my Word means nothing to anyone but me. For example, my word for 2017 was Anchor. Inspired by this:
Again this applies to me, my life, my work and my family. I want to focus on honoring why I decided to work from home in the first place, the time my family needs, my skills and passions and most of all; my health. That too has massively hit the skids and I don't want my children crowding around a hospital bed asking me why I didn't take better care of myself. I need to honor that inner athlete that really wants to get out and the honor the desire to grow old and be annoying for as many years as possible.
In 2016, my word was HARVEST (inspired by this little Minion meme and oh-so fitting for that time). This also rang true and kept me chugging forward during a very dark time.
In 2015 my Word was "ReFocus." I wanted to re-focus my business efforts and grow my writing work. Basically (on a business level) I had planned on doing less VA work and more freelance writing work. It worked to some degree and my writing work did expand, but within the last few months I also found myself saying "yes" to more virtual assistant social media work and immediately hating myself for it afterward. Don't get me wrong, social media management absolutely pays the bills, but it is a notorious time-sucker and incredibly frustrating. I found myself saying to friends, "Yes, I am super busy. Swamped in fact. But I don't have time to be creative (writing) and that makes me sad."
I don't like that feeling.
After a few months of being glued to my desk, staring at social media stats, I realized I had severely back-pedaled on my goals and path and I needed to get my Energy Bus back on the right road.
In 2014 my word was  Wellspring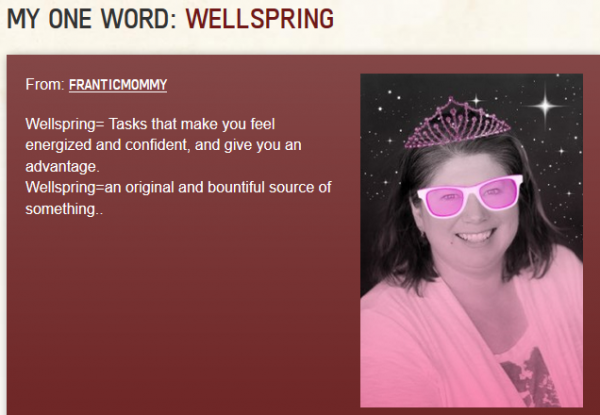 Its not lost on me that several of my One Word choices had less than positive meanings. In a way, the were not negative to me…they were validating. They also relfected heavily what I was dealing with in that moment. So with that in mind, I want to pick my One Word for 2018 with a new lens. A lens of hope, courage and optimism.
My Word for 2018 is Intentional. Why? Because I have recently let some clients go and stepped down from some of my consistent magazine work to be intentional (for the first time in over 5 years) about the work I am doing for ME.
So instead of  spending my days frantic, frazzled, rushed by the never-ending need to keep my home and business "boat" afloat, I want to be Intentional; done on purpose; deliberate, calculated, conscious, intended, planned, meant, studied, knowing, willful, purposeful.
THIS is how I want to be in all facets of my life in 2018. I don't expect it to be easy because old habits are hard to break and have been wired to go "full-tilt" most of my life. But I owe it to myself to slow down, be wise and absorb every day as much as humanly possible.
How about you?