**The posts I write might contain affiliate links or be written in collaboration with businesses or brands. Please see my disclosure policy for more information.**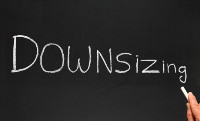 I was trolling around this morning on one of favorite Mom Haunts and I came across a discussion on New Year's Resolutions. A member was asking who made 'em, did they keep 'em, and was it even worth it.
I can speak for myself in saying YES, I usually make them. YES, I usually take them seriously (I may not "achieve" all the time, but I certainly TRY.) And YES I think they are "worth it."
The Tough Love side note to this thought would be: You don't like something in your life…quit biotchin and Change.It.
This year, I can sum up my New Year's Resolutions in three words "Workin The Downsize." Downsize as in ME (weight) and downsize as in HOUSE (clutter-OMG, do we have CLUTTER). I read somewhere that the average house has over $1000 of sellable, unused or outgrown items in their home. I swear, in my house, it's a lot than that.
In 2012, I vow to sort every nook, cranny, drawer, and closet. Some of my unwanted items I may save for a garage sale in the Spring, lots will get donated, and much will get sold on sites like Storkbrokers.com for some quick $$.
Want good things to come into your life in 2012? I do. But that can't happen unless I "decrapify" my life and make space for the good stuff to come in.
SO, stay tuned for this adventure. I am sure there will be humor, disgust, joy, remembrance, and may be…just maybe…I will solve the mystery of why my vehicle smells like someone took a dump in it.
That one scares me a bit.
Dumpster and Haz Mat Suit..here we come.