**The posts I write might contain affiliate links or be written in collaboration with businesses or brands. Please see my disclosure policy for more information.**
I just got back from 4 amazing days in Shakopee, Minnesota. 
One part of my adventure was the Live, Laugh, Love Retreat where was blessed with hanging out with 6 insanely funny (and extremely talented) ladies.

I laughed until my face hurt. The friendships, new skills, and life-lessons were cultivated and will last a lifetime. More on my new friends/sisters later.
The second leg of the adventure was the Junk Bonanza. OMG. Can you say "in heaven??" 
It was simply amazing. Housed at Canterberry Downs, it is ACRES of pure vintage junking bliss. My only wish was for more time and MORE MONEY. I am SO going back in April.
I have to admit, I have a "thing" for re-purposing junk. I tip my hat to the uber-talented friends who can craft mind-blowingly-cool jewelry or paint amazing pictures.  Give me some old ammo boxes, some metal bedsprings, and an 1950's furnace casing and I'll "let 'er buck." I could spend hours watching American Pickers or Storage Wars Texas and watch people create awesome stuff out of what others would deem and "landfill fodder." Junk is my "thing" so the Junk Bonanza was like Nirvana for me.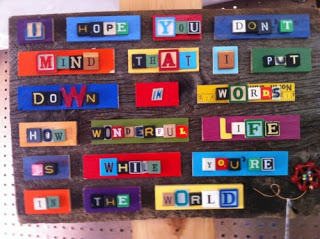 One of my new Live, Laugh, Love soul sistas has excellent pictures. Better than anything I could muster up, so I will tease you with a few of her's, then you REALLY need to visit her Cherish Designs blog for the "full effect."