**The posts I write might contain affiliate links or be written in collaboration with businesses or brands. Please see my disclosure policy for more information.**
I adore Julia Dweck's Books. Julia herself is a pretty cool cat too 🙂
Julia's latest book; Pandora's Box shares the story of what happens when a curious penguin finds a mysterious golden box in the icy waters of the Pole?  Pandora the Penguin and her friends can tell you…..something magical!
Pandora is a sweet little penguin who lives in the Pole.  One day as she is skating, she falls through the ice, and discovers a mysterious box in the water below the ice.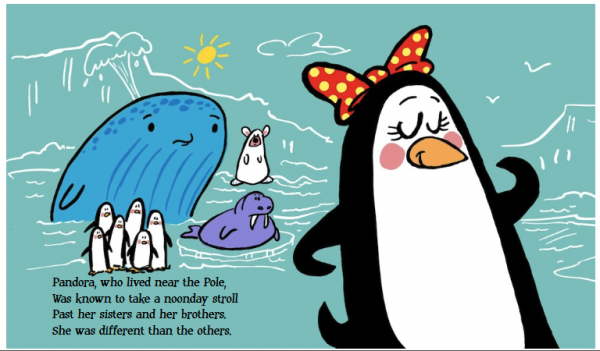 Even though all of her brothers and friends urge Pandora to not open the box, she is a stubborn little penguin and remains curious enough to ignore their warnings.  She uses her natural curiosity and confidence to trust in herself, prompt her to continue to try to open the box.
What is inside the box is for you to find out, but I will tell you it is something wonderful and I love how it ties into a real world wonder of nature.
Pandora, who live near the Pole
Was known to take a noonday stroll
Past her sisters and her brothers
She was different than the others….
In Pandora's Box, Pandora discovers something in the box that is beyond anything she could have imagined.  Her discovery is something that multitudes of animals and people have had the opportunity to admire and enjoy throughout history.
The lesson of thinking for yourself, being brave, and not following the flow is a great skill to instill in all kids. Pandora's Box is a fun, entertaining read with a great lesson within the pages.
To get your own copy of Pandora's Box, go HERE or find Julia and her other titles at her JuleLoves2Write website.