**The posts I write might contain affiliate links or be written in collaboration with businesses or brands. Please see my disclosure policy for more information.**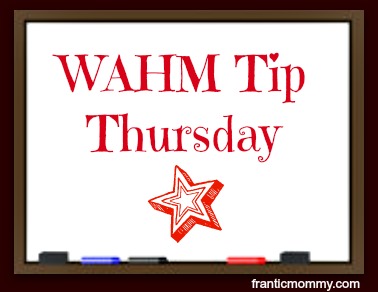 What You Need to Work from Home – A Checklist
Getting started working from home may involve a lot of preparation or very little, depending on what you already have and how far you've already gone with your work-at-home plans. Before you make the leap from out-of-the-home employment to self-employment, the following is a basic checklist to help you get started.
I'm bringing this topic up based on the idea you will be bootstrapping your business as opposed to taking out a loan. You can obviously do what you want, but I think it will be far better to start your new venture debt free as opposed to having a big fat loan payment hanging over your head.
Computer
Of course, you'll need a computer – you knew that, right? Nonetheless, it's not necessarily enough just to have any old computer. Just like a delivery service needs reliable vehicles, your work-from home biz needs reliable equipment as well. You will need a computer that can be your daily work horse – it needs to be up to date, have plenty of memory, and functional USB ports. If you know others who work from home, ask them what computer they use, and why. Also ask them if they would choose a different computer if they had to do it over again. Invest the money and buy a good one or risk having to replace it in a year. Remember, delivery companies don't use a Volkswagon Bug. They spend money to make money.
Laptop or Desktop?
While you are considering what computer will best serve your purposes, you will probably need to decide between a laptop and a desktop. Most sources recommend both – using your desktop for daily tasks (desktops usually have more memory) and your laptop for certain projects and for back-up.
The ideal situation is a desktop and router, and a laptop with a wireless card. The wireless card plugs into your laptop's USB port, picking up a signal from the router and allowing you to connect to the internet using your laptop. Then, you can do the bulk of your work on the desktop and grab the laptop when you need to finish something up or work on a project somewhere else in the house.
Broadband Internet Connection
It's pretty much impossible to work from home effectively without a broadband or high-speed internet connection. Dial-up takes far too long and will greatly inhibit your business capabilities. So sign up with the internet service provider (ISP) of your choice and get set up for high-speed internet.
Family and Childcare
Many people choose to work from home in order to be near their children. However, childcare is necessary during your work hours. This can be a dilemma – making enough money to pay for childcare right off the bat is challenging. Try relatives first – grandparents, aunts, and so forth may be willing to watch your children for a few hours a week each, and for free.
Then you can check into mother's helpers; these are childcare providers who come into your home and take care of your children while you are there. Mother's helpers are much less expensive than conventional babysitters, because you are on the premises and the helper is using your home.
Babysitters who will watch your child in their home are more expensive, and traditional daycare is probably the most expensive. If your children are in school, you can arrange your work hours around their school hours.
Workspace
While this goes on your checklist, it's highly individualized. Some people are happy with a workspace in the corner of their kitchen; others prefer an entire room dedicated to being the home office. The important thing is to have some kind of area set aside for you to work in. This helps you get in "work mode" more quickly since you will associate your surroundings with working, and it also sends a signal to other family members that you are working when you are in that area. One side note: check into the tax laws in your areas. If you are working from home there's a possibility that you can deduct a percentage of your home costs at tax time. Worth checking into.
Are you a real "go-getter?" Or maybe you are someone who is going through some turmoil and transition could use some extra guidance? Not only is the Workbook and Planner a breath of fresh air like no other, it is an amazing companion and tool for anyone looking to really rock the coming year. I just received my 2016 version after completely loving and using (daily) my 2015 Shining Life and Business Workbook. This book would make a killer gift for anyone on your Christmas list, but I advise you to NOT wait. Not only are supplies limited, when Leonie runs out there will not be a second printing (plus they take about 2 weeks to get due to demand). Leonie also offers enhanced online "academies" and I am currently taking the Shining Life & Biz Academy (yes, I am SERIOUS about ROCKING the New Year) and I am loving it to bits so far. Yet another great gift for the female entrepreneur in your world.
Get the scoop on the Leonie magic HERE.