**The posts I write might contain affiliate links or be written in collaboration with businesses or brands. Please see my disclosure policy for more information.**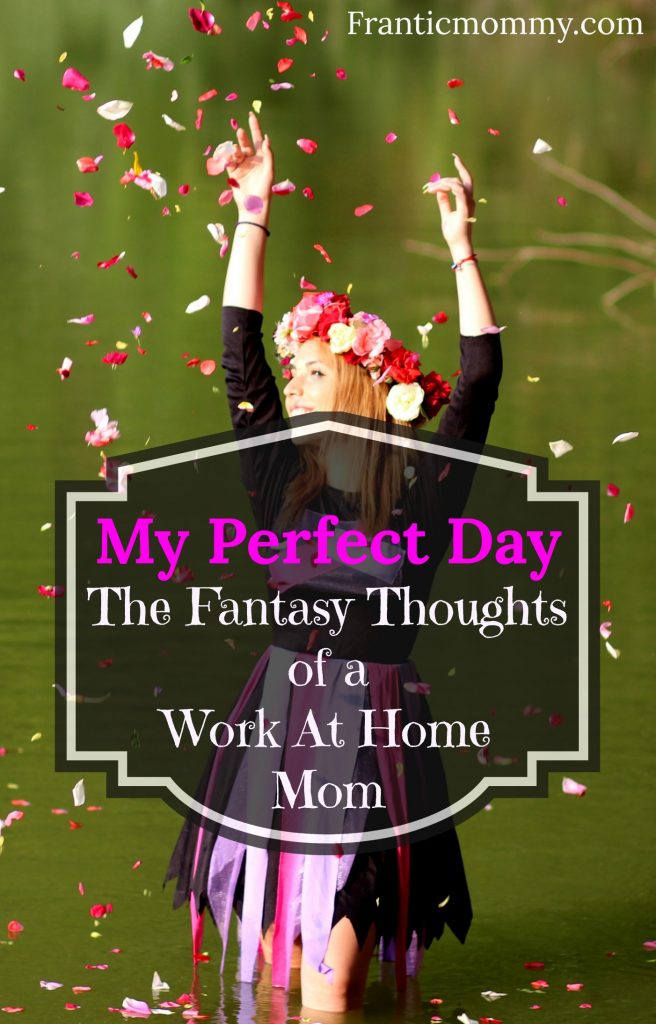 MY PERFECT DAY
*I leave my house calmly, confidently, freshly showered, and on time…with BOTH earrings in my ears.
Reality: I leave the house in my typical Navy Seal Covert Operation style hoping to avoid 15 minutes of snot and bawling (the kids-not me). My appearance is lightly askew, I am running 5 minutes late, and I am rockin the Hot Mess look.
*I would go about my day casually and confidently, meeting with high-powered clients, lunching with muckety-mucks, working million-dollar deals with ease.
*After casual noshing and making money while I think, I make a quick stop at the High End Grocery Store for a few things I am craving.
Reality: I race through the Discount Big Box Grocery at light-speed. My grocery essentials /unnecessary purchases-packed shopping cart transforms to a Land Speeder as I attempt to get through the store quickly and not prolong the agony any longer than we have to. And to get home before my Lean Cuisines thaw.
*As I cavort, network, and make bouko bucks, there's not a hair out-of-place, my feet don't sweat, my pits don't stink and even my toots smell of lavender and money.  I am as fresh and vibrant as a lotus blossom.
*Once home I would sit a moment and enjoy a "spot-o-tea," (served to me by my hunky man-servant, Fabio) survey my kingdom with the smug satisfaction and that the housekeeper once again has done a great job and making my palatial estate neat and beautiful.
Reality: I pause for a Diet Coke (from the can since there are no clean glasses), survey a house that looks like wolves live there, and remind myself to never leave Daddy in charge again. Supper is whatever was leftover from last night because I am Over.It.
*The chef makes a perfectly delightful meal that has the perfect combo of "let's eat healthy" and "more chocolate-dripping treats please." Life is good. And my pants are not even tight afterwards.
*I prepare for bedtime as the nanny wrestles coaxes the children into bed. Story reading hour consists of books I have written (all best-sellers of course) and my beloved little cherubs fall asleep without so much of a squeak of protest.
*After my nightly relaxation massage, I climb into my State-o-The-Art Sleep Number Bed with my neatly pressed, high-thread-count Egyptian Cotton bed sheets and sink into the bliss of clean sheets and a big fluffy comforter.
Reality: I spent 15 minutes making my bed "sleep-able" by scraping off the potato chip crumbs, removing countless naked Barbies and shoving 4 bushels of stuffed animals off to the side. My "relaxation" routine consists of wine and reruns of American Pickers.

What does
your

Perfect Day look like?
Want to be"DONE" with diapers?
Check out Becky Mansfield's Potty Train in a Weekend-THIS BEST-SELLING BOOK HAS EVERYTHING THAT YOU NEED TO KNOW TO POTTY-TRAIN YOUR CHILD IN 3 DAYS!
This ebook is a personal account of exactly what a mom (of four!) did that worked for her, her family and her friends. I just want to share it with you in hopes that you get the same outcome!
Potty Train in a Weekend is the only guide that you will ever need to potty train your child. Whatever method you choose, this eBook has more than 70 pages packed full of information that will be helpful to you and your child! Author Becky Mansfield even asked other Moms for their advice and input and she researched where they were having difficulties in potty-training and addressed those issues. Take the first step and ditch those diapers!