**The posts I write might contain affiliate links or be written in collaboration with businesses or brands. Please see my disclosure policy for more information.**
I love Halloween.
It's one of our favorite holidays, in fact. We love the decorating, the munchies, the socializing.
The downside to Halloween is the frantic searching for the "right" costume at stores, that are rarely the right size, are stupid-high priced, and fall to pieces 48 hours after being worn.
BUT, thanks to The Well of Amazing Ideas (also know as "Pinterest") I'd love to try my hand at making our own costumes and I am kinda stoked that I actually have the time to attempt this! I'm not looking to win any awards or contests. I am looking to create something cute, fun, comfortable and affordable.
There are so many reasons to make your own Halloween costumes:
Your kid won't be one of a million Jedi Warriors or Dora The Explorers at a party; they'll be unique.
Another reason is cost. Spending money on a Halloween costume that will be worn for a few hours (at most) and then discarded may seem pretty wasteful.
You can also tie homemade costumes into a green lifestyle – it's less wasteful and you can use recyclables in your design.
It's fun!
They are re-sellable. Many homemade costumes tend to be better quality and hold together longer so other lucky kid can enjoy them.
Here are some ideas for homemade Halloween costumes for kids and adults.
Minions: You can't even shake a stick in a store without seeing some sort of Despicable Me movie stuff. The good news is most people know what a Minion is and it's a super easy costume to create. Here's a great tutorial from One Creative Housewife.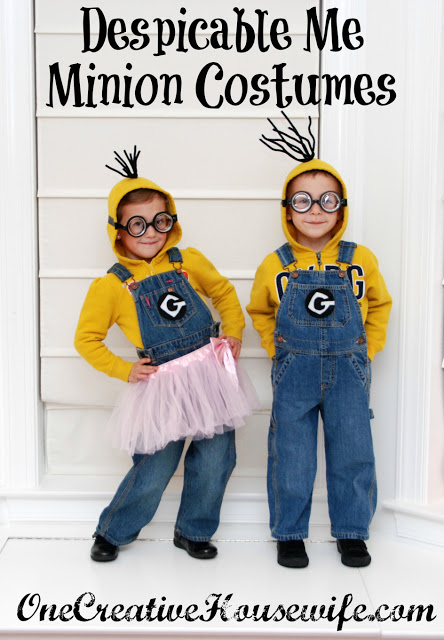 The Classic Ghost: The fun thing about the sheet-and-eyeholes ghost is that you can personalize and customize it. It's perfect for kids and adults. Here are some ideas for making a unique ghost that goes beyond the standard white sheet.
* Add a hat and/or headdress to any ghost costume and you can be anything from ghostly bride and groom to baseball ghost.
* Stick-on mustaches and "funny glasses" (with the eyebrows and big nose) make for a comic ghost.
* Go with a tie-dyed piece of fabric, add some beads and a long wig, and go as a hippie ghost.
Here's a great Ghost Tutorial at Starrs Town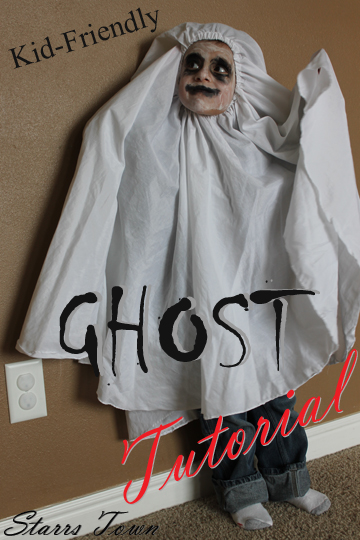 Scuba Man: Black sweat clothes, safety goggles, and a liter soda bottle helps this little scuba diver come to life. How cute is this??!! Your can find the directions to this adorable costume on Parenting.com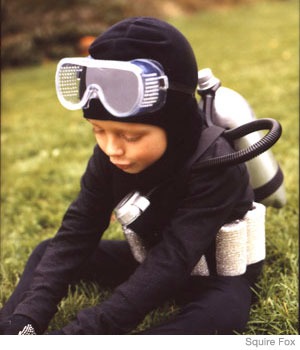 Easey Peasey Fairy Wings: Make gauzy fairy wings by stretching sheer panty hose over wire frames. You can use a roll of wire (18-gauge will probably work best) to make the wing shapes, and stretch a panty hose leg over each one. You can tie it off when it's tight enough, then tie the ends together to make double wings.
If you like, repeat with smaller wire frames so you have a total of four small wings that meet in the middle of your back, looking like two wings. Then use a hot glue gun to attach clear marbles or beads to the wings. To attach the wings, you can stitch elastic bands to the nylon where it meets in the middle. Variation: spray paint the wings white, glue on clear marbles, and use as angel wings.
No Sew Shark: Anything "no sew" always fascinates me. Anything you can take a simple sweatsuite and make it into an awesome costume, it's a good thing. Here's an adorable Shark Costume Tutorial from Atkinson Drive.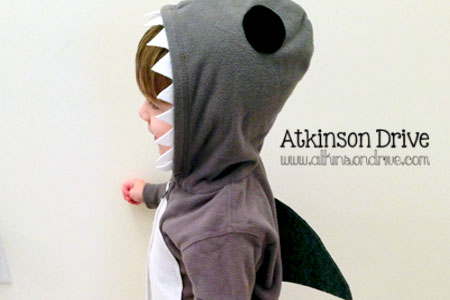 No Sew Unicorn: Sharks for boys, Unicorns for girls. How can you go wrong. Check out this great tutorial from Twin Dragonfly Designs.
ZooKeeper: Need an idea for a costume you can make in nearly no time at all? Dig into your child's stuffed animal stash to create a clever zookeeper costume. This also appeals to me because I know for a fact we have 800 million stuffed animals in our house. Mpre details on this costume HERE.
Combo-It: Last year my ever-resourceful son pieced together his costume from the "leavins" of past costumes. He was a Dead Solider Zombie Knight. I thought, "why the hell not? Go for it!"
It's a little easier to get outrageous with older kids (and adult!) costumes too. I remember a few years back when I painted a giant letter "P" on a sweatshirt and used make-up to give myself a black eye. When everyone asked what I was, I replied "A black-eyed-pea..DUH!"
What's your favorite DIY costume?