**The posts I write might contain affiliate links or be written in collaboration with businesses or brands. Please see my disclosure policy for more information.**
Why the Early Morning Hours are the Best Time for a Freelance Copywriter to Work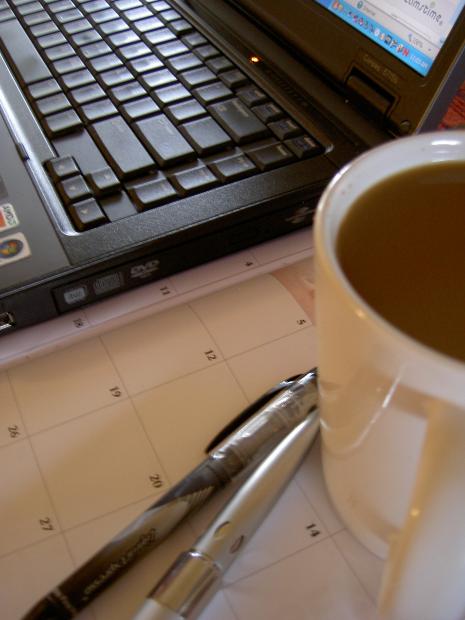 When you are a freelance copywriter, you have the freedom to make your own schedule and to work whenever suits you best. Of course, everyone has a different natural circadian rhythm and some people tend to stay up late while others wake early. Is there an ideal time to work on your freelance writing when you will be more likely to be productive?
Of course, it is up to you as a freelance copywriter to come up with a writing schedule that suits you best. However, you might want to consider setting your alarm and working early in the morning. If it works for you, it can be the best time to get your freelance writing work done.
Here are some of the reasons why writing in the morning is advantageous:
Your Willpower and Energy Runs Out Throughout the Day
There has been quite a bit of research which has shown that willpower is a limited resource. When you wake up your will power stores are at their highest, but they are drained by difficult tasks and stressors throughout the day. This is a good reason to put the difficult task of writing first, so that you will have the dedication to complete your work.
It's a lot harder to find the willpower to get your writing work done at the end of the day, when you are tired and all you want to do is curl up with a good book or zone out in front of the TV.
Creative Brain Activity is Highest When You Awaken
According to a scientific study of brain circuits, creative brain activity is at its highest during sleep, as well as immediately after sleep. The prefrontal cortex lights up during these times, which is linked to creativity and creating connections in the brain. As the day goes on, the more analytical parts of the brain start to become more active. This is a scientific explanation for why it is better to write in the morning and edit or proofread in the afternoon.
What else can you do in the mornings to stimulate the creative side of your brain? You can go for a quick walk or do some yoga before writing, as exercise will increase blood flow to the brain and improve your concentration. Also, you can eat a healthy and nutritious breakfast, such as fruit, yogurt and muesli or eggs and whole grain bread.
It's Quieter and there are No Distractions
Another advantage of an early morning writing session is that chances are, most other people will still be asleep. The mornings are a lovely quiet time with a tranquil atmosphere. You won't be interrupted as often by other family members or phone calls, so you will be able to concentrate better without any distractions other than the sound of birds singing.
As the day goes on, things start to happen. The kids need to be taken to school, the refrigerator repairman shows up, an old friend calls, you need to go shopping for food for dinner. It's easy to get sucked into the whirlwind of responsibilities during the day, leaving your writing unfinished.
You Can Let Your Subconscious Do the Work
Here's a great tip for your morning writing routine: before you go to sleep the night before you should think about the topic that you are going to write about and perhaps make some notes or do some brainstorming. Then, go to sleep and wake up early. You will find that during your sleep, your subconscious has been processing the topic and making ideas and connections for you. It will be a lot easier to write about this topic and you will find yourself coming up with more creative ideas and insights. Give it a try!
Of course, although these are some reasons why writing in the morning is beneficial – it is up to you to determine when the best time for writing might be. Despite these points, many people are night owls and the thought of waking up early is horrifying to them. You might try a morning writing routine, only to find that it doesn't work with your particular schedule or your natural way of working.
If you get better work done by staying up late, do what works for you. The most important thing is building a routine and sticking to it, which will help you to stay dedicated to your work as a freelance writer.
About the author:
I am creative writer with a fun, fresh and unique style. I have expertise and life experience in a wide variety of areas including: sales, virtual assisting, parenting, blogging, content creation, office products, working from home, social media, infertility, adoption, business profile writing, people profile writing, About pages, bios, business, small business, freelance writing and ebay selling. I am currently a contributor to several print magazines and online sites like Work At Home Woman and Your Modern Family. I pride myself in my ability to follow direction, meet deadlines and be respectful and thorough will all of my clients.
**Franticmommy was compensated for this post

Need ideas, tools and suggestions for being a work-from-home Mom? This ebook was created as a tool to help others navigate the sometimes slippery slopes of work-from-home freedom. A guide that shares the key facts, secrets, tips, strategies and resource to make an informed leap and discover Life Beyond the Cubicle. This eBook has been in the making for "lots of sleeps" but I think it's finally time to release my baby into the world.
FREElance FREEdom -Tips & Secrets for Working from Home and Discovering Life Beyond the Cubicle!
If your plan is to grab 2015 by the short hairs and create a new career and income stream for yourself, then go HERE to grab your copy of this investment in your new Future.