After 30 years of working in the midst of office politics, cat fights, drama and never ending human-induced struggles, I can honestly say that the freedom and flexibility of working from home is pretty sweet.
There are however, times when I think I am going a bit cray-cray from the lack of human contact and the four walls of my office seem to be closing in on me. Owning your own work at home business can be a very lonely affair. You could spend all day by yourself, in your bedroom or office. Unlike a normal office, you get little to no social interaction.
When I start asking the dog what we should have for lunch, I know it's time for me to get out of the house and seek out other humans.
Then there's the mental health factor. Working alone like this can be quite unhealthy for many reasons. It can cause depression, it can cause loneliness and it can decrease motivation. Furthermore, you won't have people to bounce ideas off of, to collaborate with or to hold you accountable. Adding human interaction back into the mix is a fantastic way to add more support to your life and your business. You'll be happier, work better and likely be more successful.
==> Working in Co-Working Spaces
Most major cities in the world, from New York to San Francisco to London to Hong Kong, now have co-working spaces. Even little towns like Brainerd Mn (where I reside 🙂 has a co-working space.


These spaces bring together solo entrepreneurs like yourself and give them a space to work out of. You can meet and network with other people while working in a productive environment.
Most co-working spaces offer a day or a week for free. Consider trying out some of these co-working spaces to see how it affects your productivity.
==> Go to Conferences
Conferences allow you to meet other people in your industry. It allows you to meet "gurus," vendors, advertisers and all kinds of other valuable contacts. You'll often end up staying in touch with a lot of the people you meet at conferences.
==> Local Meetups
There are many local meetups you can attend. These might include entrepreneur meetups, internet marketing meetups, tech meetups, blogger meetups or meetups in your specific niche or industry. Start by looking on Meetup.com and Craigslist.com, then network your way into other events.
In-person events are a fantastic way of meeting like-minded people in the same geographical area. You can then co-work with the people you meet or brainstorm ideas later on.
==> Form a Mastermind Group
A mastermind group is a group of people who get together in person on a regular basis to share ideas and help one another succeed. In a typical workplace, co-workers regularly bounce ideas off one another. For the home business owner, the mastermind group is the place to do this.
Most mastermind groups are small and need to be formed by the members themselves. Attend local events, go to conferences and look for people who're at a similar level to where you're at. Then bring up the topic of forming a mastermind group together. Make sure everyone is clear about what they want to get from the group.
These are some of the ways you can add more human interaction to your home-based business. Flying solo all the time not only isn't effective, but is quite unhealthy. Invest the time to build some relationships in your area. It really makes a difference.
The dawn of a new year is also a perfect time to tap into those fabulous skills I KNOW you have (yes, I am looking at YOU) and using those mad skills to cultivate some extra streams of income.
Sound too daunting? Yes..and no. There are huge opportunities out there with anyone who has the gumption to take the steps to make a better life. To point you in the right direction, I've compiled a ton of info on how anyone can get a jump start on being freelancer and work-from-home-pro.
Introducing FREElance FREEdom
Your Guide to Making the Leap to Being a Work At Home Professional
Have you every dreamed of working from home on your own terms? Dreamed of earning a steady, and honest, income while still having plenty of time for friends and family.
Lucky for you, it is all very possible. It's a life that I have successfully been living for over 4 years…and I can't imagine supporting my family (and following my dreams!) any other way.
Within the pages if this robust 85+ page downloadable e-book and resource guide is the motherlode of awesome information about working from home (on your own terms) all rolled into a handy read-at-your-own pace guidebook.
Whether you are looking to pursue a career as a freelance writer, virtual assistant, graphic designer (and more) this Resource Guide will provide the insight, tools, guides, advice and strategies that can apply to any freelance business. If you want the very basics of getting started without the benefit of support and coaching, this eBook is for you.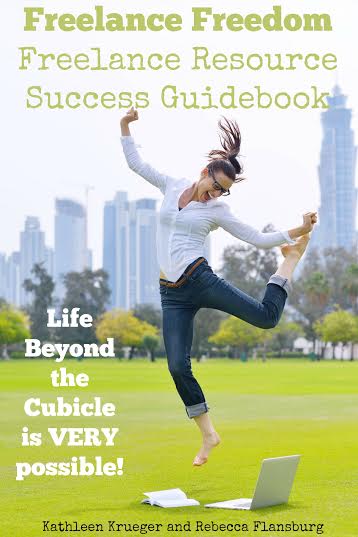 The Jump-Start Your Year Sale!!
Get this e-Book and Resource Guide for only $9.99 for a limited time!