**The posts I write might contain affiliate links or be written in collaboration with businesses or brands. Please see my disclosure policy for more information.**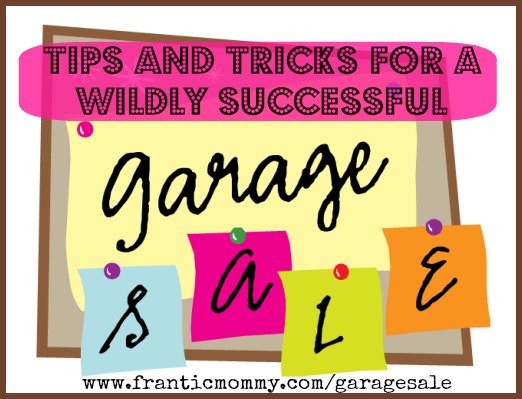 Garage sales are a fun and wonderful way to get bargains and make some money from your excess stuff. When you clean out your home, you probably see lots of things that are nice – you just don't have room for them anymore, or they're not your taste now. But how do you organize all this stuff to sell it? It can seem overwhelming. Here is a list of tips that may help to get you organized, and hopefully make some money!
1. Categorize Your Stuff
So you've got all this stuff around your house that you would like to sell. If space is limited, this can be a challenge – but remember, it's temporary. Choose an area of your home to organize items into categories. Separate them into themes, like Kitchen, Home Decor, Toys, Adult Clothes, Kid Clothes, Books, etc. While you're doing this, keep a bottle of spray cleaner and a few rags handy so you can clean up the items as you sort them. This prevents you having to run to the sink to clean items during your organization.
2. Decide on Your Setup
If you go with tables, figure out how you'll set them up and where you'll acquire them. You can make tables easily with sheets of plywood set on cinderblocks, bricks, paint cans, or even books. You can also use blankets and sheets spread out on the ground.
3. No Yard or Garage?
How do you sell stuff if you don't have a proper yard, or if you have a difficult-to-access piece of property? Find out if you can hold your sale somewhere else. For a percentage of the proceeds, see if your neighbor will donate his or her yard or driveway. Or contact the owner of a local store and see if you can use the parking lot, or find out if your place of worship will let you use their basement or lawn. In New York, "stoop sales" are all the rage. Apartment dwellers hold mini sales on their front steps. Where there's a will, there's a way 🙂
4. Pricing
Now that you have your categorized items, a location, and a set-up in mind, you'll need to price your items. One of the easiest ways is to group items by price – "Everything on this table/blanket: $1." You can put individual prices on larger single items. Be willing to come down on prices if people offer you something reasonable, especially if the sale is about to end.
5. Change
Be prepared with lots of small bills and coins on the day of the sale. Someone will inevitably hand you a $20 bill for a $1 item, and if you don't have the correct change, you may just have to lower the price (they may not have $1 but they'll probably have a quarter).
6. Unsold Items
Part of organizing a garage sale is to have a plan for items that don't sell. You can give them away to a second-hand store or haul them to the dump; the point is, have a plan so you aren't putting all your stuff back into your house at the end of the day. Borrow a truck if you need to, and have bags handy to stuff unsold items into and toss in the back.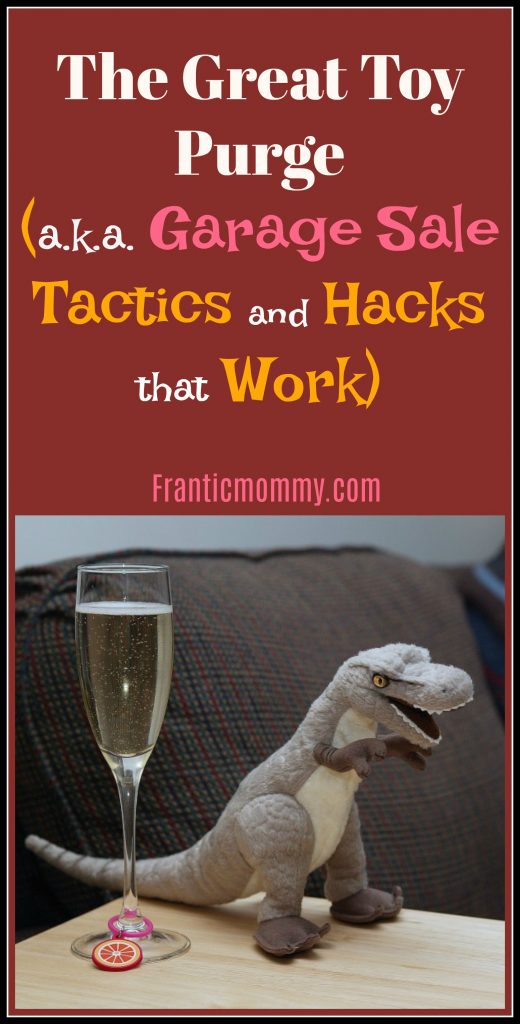 Now, how about more thoughts, guidance, suggestions, and tactics on what you CAN sell. For a limited time, I am GIVING AWAY my Tips & Tricks to a Wildly Successful Garage Sale e-book!
–
Organizing experts have stated that the average family of 4 has at least

$1500

worth of unused, sell-able items in their home.
I think it's MORE.
It's time to take action. Instead of letting these outgrown, unused, and excess items clutter up your home and Weigh.You.Down…
Turn it into CASH.
For a limited time…
I am offering my Tips and Tricks for a Wildly Successful Garage Sale report for FREE.
20 pages of ideas, tactics, best practices, and strategies to turn your "stuff" into "income!"

You have nothing to lose (the report is free) and everything to gain (sell your stuff for MONEY!)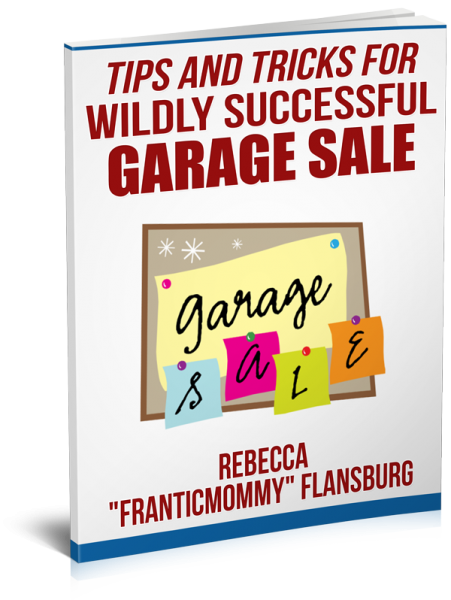 Go HERE, enter your email addy and get instant access!

Let's make some moola!