**The posts I write might contain affiliate links or be written in collaboration with businesses or brands. Please see my disclosure policy for more information.**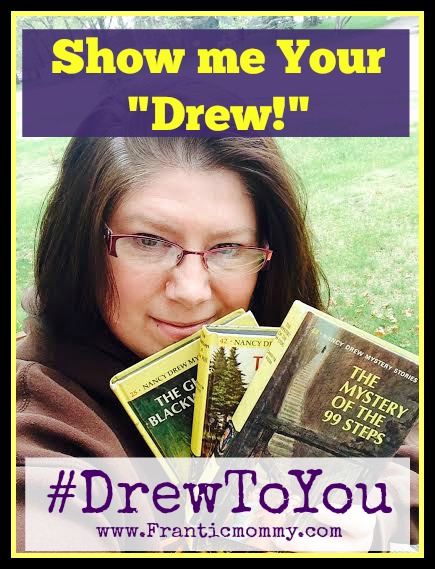 May begins the celebration of icon Nancy Drew's 80th birthday. This fictional teenager was hip, fun-loving, popular, responsible and also an amateur sleuth. If she were a real person, she would be 98 years old! This wildly popular series was created in the 1930's and supposedly written by author Carolyn Keene. The series was incredibly popular and to date there have been more than 500 books written involving teenage sleuth, Nancy Drew.
I don't know about you but I have great childhood memories of reading (and re-reading!) my beloved Nancy Drew Mystery books. I still have many of my favs because I have been saving them for my daughter, who is now nine.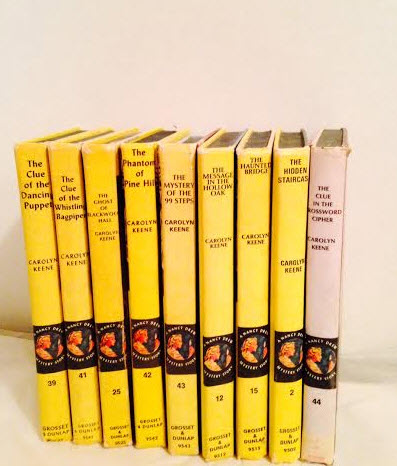 The books I have are worn from repeated reading…but I still get the warm fuzzies when I look at the covers. My favorites include the Mystery of the Message in the Hollow Oak, The Clue of the Dancing Puppet, The Clue of the Whistling Bagpipes and The Hidden Staircase. It's my hope that my Sara will love these books as much as I did and I saw somewhere that there is now over 500 Nancy Drew mysteries available to young readers!
Then I saw a super cool idea over at Jump Into a Book called #DrewToYou. Founder of JIAB, Valarie Budayr dreamed up this awesome way to share our Nancy Drew collections because she too has saved her from childhood and noticed that many of her online followers made the same comment. Valarie also shared some interested facts about the author, Carolyn Keene…who wasn't a real person! That name was a made-up name of a ghost writer that wrote the series. Get the full scoop on that little juicy tidbit HERE.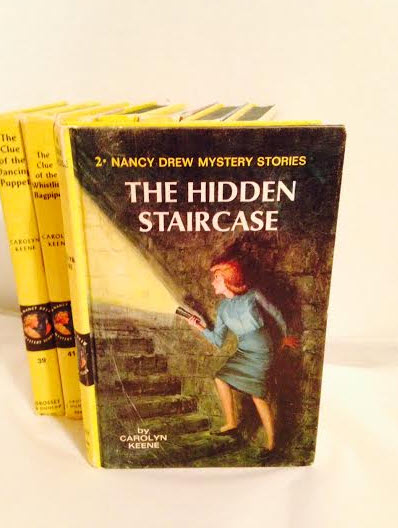 So I want to hop on board and you should too! I would love to see YOUR Nancy Drew books/collections, learn which ones were your favorites. For the rest of May, Jump Into a Book is inviting readers to share photos of their favorite Nancy Drew books along with the hashtag #DrewToYou on Twitter, Facebook and Instagram.  What a fun way to share a piece of your life and your love of books with thousands of like-minded readers!
So get ready to, "show us your Drew!" #DrewToYou
Summer is almost upon us and our kids are squirming with anticipation at the thought of summer and freedom.
I predict that will last roughly two weeks, then the whining, boredom and bickering will set in. 🙁
BUT, as always, the FranticCrew will be engaging in our annual No Bummer Summer Quest. This quest involves finding new adventures, crafts and activities (preferably ones that involve the out-of-doors) to help temper the long days of summer.
This summer, we are trying something new. We are trying a creative, affordable alternative to pricey summer camp, this 8-week eCurriculum called At-Home Summer Nature Camp eCurriculum.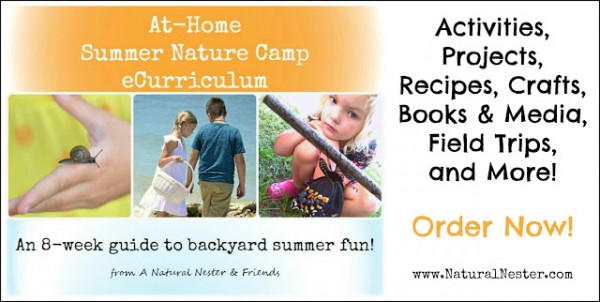 This eCurriculum is packed with ideas and inspiration to keep your kids engaged and happ.y all summer long. In one easy-to-follow PDF, parents will receive eight kid-approved themes, each including ideas and tutorials for: outdoor activities, indoor projects, arts & crafts, recipes, field trips, books & media, and more. Every weekly theme is packed with summer nature fun our family can have right in our own backyard! Learn more, or plan your summer fun, HERE.