**The posts I write might contain affiliate links or be written in collaboration with businesses or brands. Please see my disclosure policy for more information.**
We got the most "Peep-tastic" surprise in the mail this week!
We were shipped a big, luscious box of PEEPS from the PEEPS® and PEEPS & COMPANY®!!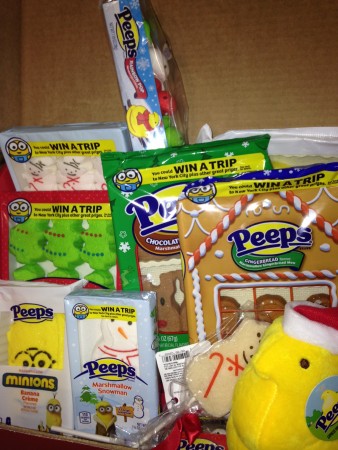 Which is hella-awesome because 'Tis the season for all things sweet!
At least 12 different varieties of yummy PEEPS® was inside. #WINNING!
Whether you're looking to stuff some stockings, top your tree or bring a smile to a loved one's face, PEEPS® and PEEPS & COMPANY® are here to help! The holiday season is quickly approaching and we want to give you a head start on your holiday shopping and gift giving.
Few products have achieved the iconic status of PEEPS®, the yellow, chick-shaped marshmallow confection beloved by children and adults alike. But, as popular as PEEPS® has become, it is only one of the many delicious products produced by Just Born, an 87-year-old, family-owned confectionery company based in Bethlehem, Pennsylvania.

PEEPS® FACT: Did you know that When founder Sam Born would display a sign for his freshly-made candy, he would title it "Just Born," playing off of his last name and the fact that he made his candy fresh daily.
PEEPS® or PEEPS & COMPANY® is a fun, energy filled retail experience appealing to all five senses. Shoppers of all ages will be entertained by captivating music, lights, interactive displays, and videos featuring historic and present day elements of all their favorite Just Born brands. In addition to great tasting candy, PEEPS® or PEEPS & COMPANY® offers an array of high-quality branded items such as apparel, accessories and gifts. AND…there products are all proudly made in the USA. That makes them extra awesome 🙂
Information about the PEEPS® products:
·         PEEPS® Large Banana Crème Flavored Minion: PEEPS® introduces a new banana crème flavored marshmallow in honor of the beloved Minions characters. Three varieties of the individually packed large Minions include the likeness of Kevin, Stuart and Bob – stars of the Minions movie available on DVD this holiday season. Available only for a limited time!
·         PEEPS® Vanilla Crème Chicks Pop: Fans can celebrate holiday traditions with these four classic Vanilla Crème flavored marshmallow Chicks on a stick.
·         PEEPS® Marshmallow Minions: To celebrate the DVD release of the Minions Movie, PEEPS® created a Minion-shaped marshmallow reflecting their fun PEEPSONALITY®. The original marshmallow Minions are sure to please admirers of all ages. Available for a limited time only!
·         PEEPS® Candy Cane Flavored Marshmallow Chicks: Those who prefer their Candy Canes chicks without the chocolate can indulge in the peppermint-goodness of Candy Cane favored chicks!
·         PEEPS® Large Marshmallow Snowmen: Large, fluffy PEEPS® Brand Snowmen are fun to eat and to share! Available in one count stocking-stuffer size packages, and three count share size.
·         PEEPS® Gingerbread-Flavored Marshmallow Gingerbread Men: Now you can get the gingerbread flavor you crave all year long in something other than a cookie with PEEPS® gingerbread flavored marshmallow gingerbread men.
·         PEEPS® Marshmallow Trees: It wouldn't be the holiday season without seeing a Christmas tree! Enjoy green PEEPS® tree-shaped marshmallow decorated with red, yellow and blue garland and topped with a star.
·         PEEPS® Marshmallow Snowmen: PEEPS® traditional sized snowmen! PEEPS® Marshmallow Snowmen are adorned with a top hat and candy cane decorations with a nostalgic look.
·         PEEPS® Chocolate Mousse-Flavored Marshmallow Reindeer: These reindeer shaped marshmallow PEEPS® are chocolate-mousse flavored and oh so delicious!
·         PEEPS® Holiday Pop: This delicious marshmallow flavored pop comes with four assorted Chicks representing the holiday colors: green, red and white.
PEEPS®FACT: Did you know that there is an annual "Peep Off" competition held in Maryland on the first Saturday after Easter when Peeps are greatly discounted? The goal of the "Peep Off" is to see who can eat the most in 30 minutes.
[ez_box title="Sweet Bonus!" color="blue"]
Readers of Franticmommy can enjoy 20% off his/her next purchase, no minimum required, from now through Thursday, December 31. Discount code: SWEETINGS15
[/ez_box]
Information about the PEEPS & COMPANY® products:
PEEPS® Plush: Cuddle up with your favorite PEEPS® this year. Perfect for stocking stuffer or under the tree and a warm surprise. Plush varieties include:  PEEPS® Gingerbread Man, PEEPS® Elf Plush Chick, PEEPS® Plush Candy Cane Chick, PEEPS® Plush Snowman.
MIKE AND IKE® MERRY MIX Candy: Filled with 4 ounces of MIKE AND IKE candies featuring Lime, Cherry and Holiday Punch flavors, this is a great way to add a little extra sweetness to the presents you give or if you need an item on hand for a quick gift that's sure to please the sweetest people in your life.
PEEPS® Lollipop: A delightful handmade PEEPS® lollipop perfect for party favors, stocking stuffers, or secret Santa surprises. Available in PEEPS® Gingerbread or PEEPS® Snowmen varieties.
[ez_box title="Want to win your own box-o-PEEPS®? " color="orange"]
One lucky winner will receive a variety of (5) five PEEPS® and PEEPS & COMPANY® products to use as holiday treats!
[/ez_box]
GIVEAWAY DETAILS
ONE winner will receive a variety of (5) five PEEPS® and PEEPS &
COMPANY® products . Giveaway begins November 22, 2015

Prizing & samples  courtesy of PEEPS® or PEEPS & COMPANY®.

Giveaway open to US addresses only
ONE lucky winner will win one copy of each of the above books.
Street addresses only-No PO BOXES
Must be 18 years or older to enter
One entry per household.
Staff and family members of Audrey Press are not eligible.
Grand Prize winner has 48 hours to claim prize
Winner will be chosen via Rafflecopter on December 6, 2015
a Rafflecopter giveaway

Connect with PEEPS and share the LOVE! Website, Twitter, Instagram,Facebook, Pinterest
Disclosure: The PEEPS® and PEEPS & COMPANY® products, information, and additional gift pack have been provided by PEEPS® and PEEPS & COMPANY®.