**The posts I write might contain affiliate links or be written in collaboration with businesses or brands. Please see my disclosure policy for more information.**
Candlewick Press is one of the fastest-growing children's book publishers in the United States.
Established in 1991, they are a progressive and creative company, with a steadfast commitment to the best, which is due in part to their rare independence–being 100 percent employee-owned gives them the freedom to publish only the books they believe in. Their reputation for excellence in creating beautiful, high-quality children's books is accomplished through a staff of dedicated, focused, and energetic individuals who enjoy an innovative, team-oriented work environment. Two decades and more than 2,000 awards and accolades later, they are as committed as ever to independent thinking and primed for a future that looks brighter than ever.
Their books are sweet, fun, timely and colorful. And from a project manager's perspective, they are a delight to work with 🙂 Here are a few of the books I have my eye on to add to my Must Read pile:
Home


Influential artist Carson Ellis makes her solo picture-book debut with a whimsical tribute to the many possibilities of home.

Sam and Dave Dig a Hole


A 2015 Caldecott Honor Book With perfect pacing, the multi-award-winning, New York Times best-selling team of Mac Barnett and Jon Klassen dig down for a deadpan tale full of visual humor.

Flora & Ulysses

The Illuminated Adventures
Winner of the 2014 Newbery Medal Holy unanticipated occurrences! A cynic meets an unlikely superhero in a genre-breaking new novel by master storyteller Kate DiCamillo.

The Princess in Black


Who says princesses don't wear black? When trouble raises its blue monster head, Princess Magnolia ditches her flouncy dresses and becomes the Princess in Black!

Leroy Ninker Saddles Up

Tales from Deckawoo Drive, Volume One
Yippie-i-oh! Saddle up for the first in a spin-off series starring favorite characters from Kate DiCamillo's New York Times best-selling Mercy Watson books.

Quest


Aaron Becker, creator of Journey, a Caldecott Honor book, presents the next chapter in his stunning wordless fantasy.
I think the Princess in Black is the one that caught my eye the most. Queens like to wear black too 😉
Here's another one that trips-my-trigger…."WESLANDIA honors the misfits–and the creators–among us"…Love.IT.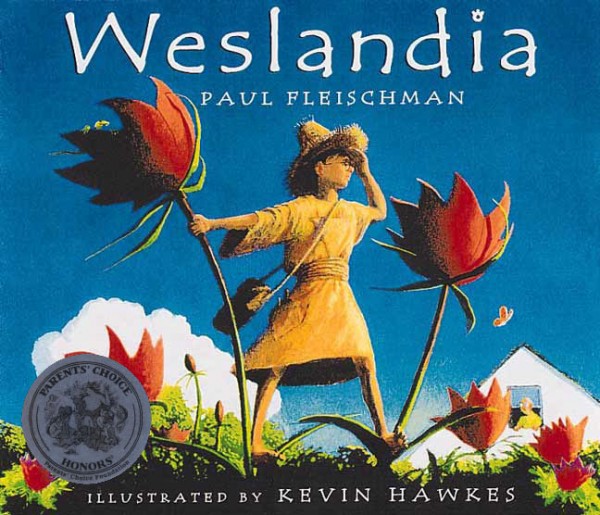 School is over and Wesley needs a summer project. Having learned that every civilization has a staple food crop, he decides to plant a garden and start his own–civilization, that is. He turns over a plot of earth in his yard, and plants begin to grow. Soon they tower above him and bear a curious-looking fruit. As Wesley experiments, he discovers that the plant will provide food, clothing, shelter, and even recreation. It isn't long before neighbors and classmates have developed more than an idle curiostiry about Wesley and exactly how he is spending his summer vacation. Enter the witty, intriguing world of WESLANDIA. WESLANDIA honors the misfits–and the creators–among us.
Candlewick has greatly expanded their list of extraordinary middle-grade and young adult titles, among them the National Book Award winner The Astonishing Life of Octavian Nothing, Traitor to the Nation, Volume One: The Pox Party by M. T. Anderson and the Newbery Medal winners The Tale of Despereaux by Kate DiCamillo and Good Masters! Sweet Ladies! Voices from a Medieval Village by Laura Amy Schlitz. Popular series such as Judy Moody, Mercy Watson, Emily Windsnap, and Clarice Bean keep younger readers laughing, while Chaos Walking, Klaatu Diskos, and Angel Burn provoke and challenge young adults.
Their logos even have a story. The original Big Bear, spiriting a candle through the dark, and the Candlewick C-flame, which now highlights their books for older readers and also acts to remind them that their authors and illustrators are truly the best and brightest in the business.
Candlewick Books is also a proud Gold Sponsor for Multicultural Children's Book Day again!. For more details on this national online event that celebrates diversity in children's literature, go here.
Here's a few more multicultural books for kids that are on my radar:
Yard Sale by Eve Bunting and illustrated by Lauren Castillo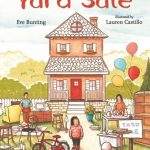 Almost everything Callie's family owns is spread out in their front yard—their furniture, their potted flowers, even Callie's bike. They can't stay in this house, so they're moving to an apartment in the city. The new place is "small but nice," Mom says, and most of their things won't fit, so today they are having a yard sale. But it's kind of hard to watch people buy your stuff, even if you understand why it has to happen. With sensitivity and grace, Eve Bunting and Lauren Castillo portray an event at once familiar and difficult, making clear that a home isn't about what you have, but whom you hold close.
Voice of Freedom: Fannie Lou Hamer, Spirit of the Civil Rights Movement by Carole Boston Weatherford and illustrated by Ekua Holmes
Despite fierce prejudice and abuse, even being beaten to within an inch of her life, Fannie Lou Hamer was a champion of civil rights from the 1950s until her death in 1977. Integral to the Freedom Summer of 1964, Ms. Hamer gave a speech at the Democratic National Convention that, despite President Johnson's interference, aired on national TV news and spurred the nation to support the Freedom Democrats. Featuring vibrant mixed-media art full of intricate detail, Voice of Freedom celebrates Fannie Lou Hamer's life and legacy with a message of hope, determination, and strength.
A 2016 Caldecott Honor Book
A 2016 Robert F. Sibert Honor Book
A 2016 John Steptoe New Talent Illustrator Award Winner
Mango, Abuela and Me by Meg Medina and illustrated by Angela Dominguez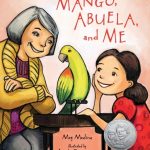 Mia's abuela has left her sunny house with parrots and palm trees to live with Mia and her parents in the city. The night she arrives, Mia tries to share her favorite book with Abuela before they go to sleep and discovers that Abuela can't read the words inside. So while they cook, Mia helps Abuela learn English ("Dough. Masa"), and Mia learns some Spanish too, but it's still hard for Abuela to learn the words she needs to tell Mia all her stories. Then Mia sees a parrot in the pet-shop window and has the perfectoidea for how to help them all communicate a little better. An endearing tale from an award-winning duo that speaks loud and clear about learning new things and the love that bonds family members.
A 2016 Pura Belpré Author Award Honor Book
A 2016 Pura Belpré Illustrator Award Honor Book
Happy in Our Skin by Fran Manushkin and illustrated by Lauren Tobia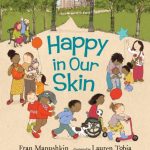 Just savor these bouquets of babies—cocoa-brown, cinnamon, peaches and cream. As they grow, their clever skin does too, enjoying hugs and tickles, protecting them inside and out, and making them one of a kind. Fran Manushkin's rollicking text and Lauren Tobia's delicious illustrations paint a breezy and irresistible picture of the human family—and how wonderful it is to be just who you are.
Is there anything more splendid than a baby's skin? For families of all stripes comes a sweet celebration of what makes us unique—and what holds us together.
Jump Back Paul: The Life and Poems of Paul Laurence Dunbar by Sally Derby and illustrated by Sean Qualls
Did you know that Paul Laurence Dunbar originated such famous lines as "I know why the caged bird sings" and "We wear the mask that grins and lies"? From his childhood in poverty and his early promise as a poet to his immense fame and his untimely death, Dunbar's story is one of triumph and tragedy. But his legacy remains in his much-beloved poetry—told in both Standard English and in dialect—which continues to delight and inspire readers today. More than two dozen of Dunbar's poems are woven throughout this volume, illuminating the phases of his life and serving as examples of dialect, imagery, and tone. Narrating in a voice full of admiration and respect, Sally Derby introduces Paul Laurence Dunbar's life and poetry to readers young and old, aided by Sean Qualls's striking black-and-white illustrations.
Discover the breadth and depth of Paul Laurence Dunbar's poetry—and learn how it reflects his singular life as a late-nineteenth-century black man.
Heather Has Two Mommies by Leslea Newman and illustrated by Laura Cornell
Heather's favorite number is two. She has two arms, two legs, and two pets. And she also has two mommies. When Heather goes to school for the first time, someone asks her about her daddy, but Heather doesn't have a daddy. Then something interesting happens. When Heather and her classmates all draw pictures of their families, not one drawing is the same. It doesn't matter who makes up a family, the teacher says, because "the most important thing about a family is that all the people in it love one another." This delightful edition for a new generation of young readers features fresh illustrations by Laura Cornell and an updated story by Lesléa Newman.
Look Both Ways in the Barrio Blanco by Judith Robbins Rose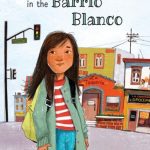 When Jacinta Juarez is paired with a rich, famous mentor, she is swept away from the diapers and dishes of her own daily life into a world of new experiences. But crossing la linea into Miss's world is scary. Half of Jacinta aches for the comfort of Mamá and the familiar safety of the barrio, while the other half longs to embrace a future that offers more than cleaning stuff for white people. When her family is torn apart, Jacinta needs to bring the two halves of herself together to win back everything she's lost. Can she channel the power she's gained from her mentor and the strength she's inherited from Mamá to save her shattered home life?
With humor and sensitivity, a debut novelist explores the coming of age of a girl caught between two cultures as she finds the courage to forge a new destiny.
Connect with Candlewick on Facebook, Twitter, Pinterest and YouTube.