**The posts I write might contain affiliate links or be written in collaboration with businesses or brands. Please see my disclosure policy for more information.**
A HUGE part of planning for a New Year is recapping the year that just came to a close. All business owners and work-from-home-pros need to take an educational review and snapshot of where they've been in order know where they are going in the future.
I could go on for DAYS on the importance of goal-setting, dream board and having effective planning in place, but right now I want to focus on a topic that is not so fun, bright and cheery; Business Expenses.
I'd like to think I am "frugal" or even "money savvy"…but I think the real truth is that I am cheap as hell. I love making $$ but don't necessarily like to SPEND money (unless it's massages, wine or books. Then I'm IN)
But picture this, you've been grinding away all year, and making some pretty killer income, but at the end of the month there doesn't seem to be much of said income left in the coffers. Reason? You may have some pretty hardcore money leaks.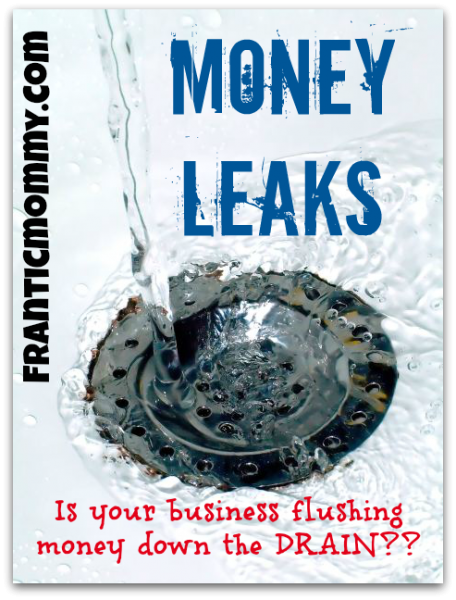 Money leaks are places where your hard-earn income is leaking out and compromising your bottom line. Money leaks can be a lot like personal spending; they are the "onesy twosy" expenditures that chip away at your income. For me, my money leaks are always in the form of PLR purchases or classes and courses…and I know that. I always purchased these items impulsively and with good intentions…only to forget they existed as my business and life got hectic.
A great time to take stock of your money habits is at year-end. It is at this time that I really recommend you look at your reoccurring business credit card charges or outgoing money via PayPal. Sometimes these "auto-bill" items are the ones that sneak up on us quietly, suck our hard earned-money, then disappear again until billing time next month. Because it is "auto-bill," mentally we aren't aware of this money leaking out until we truly study our credit card bill or dig into the reoccurring charges on your PayPal account.
To find this, log into your PayPal account, go to Reports, then to Customer Agreements, then to Reoccurring Payments. I guarantee it will be eye-opening for you!
Culprits for Money Leaks:
Classes and Courses you though would be a great idea "at the time" are now sitting idle on your hard drive. I limit myself to no more than two classes or courses a year because I know darn well I will never finish them if I take on more than that. My two incredibly worthwhile investments this year are Leonie Dawson's Shi
ning Academy and Michael Hyatt's Platform University.
Another money leak can be money you are paying for tools or programs that you rarely, or no longer, use. I had to have a hard talk with myself (I can be SUCH  ball-breaker some times!) about my Aweber service (for email newsletters). I was forking out $20/month and never sending out a newsletter! It was either use it, or ditch it, time. I chose to make a better effort to "use it."
Before you start taking a hypothetical ninja sword to your business expenses, let's review a few that you shouldn't cut:
Picmonkey- Opting to renew and pay the flat yearly fee of $33.00 I saved almost HALF over the $4.99 per month option. $30 may not sound like a lot, but to me, it's a half-hour massage. I like to think in those terms 🙂
Hosting: I really, really, really recommend BlueHost for website hosting. Not only is it affordable, their customer service people are wonderful and have always helped me. Check into their hosting rates HERE.
Your Billing System: If you are still using the old-school handwritten copy for invoices..lean closer….::SWAT!:: Try Freshbooks and I seriously considering Quickbooks. Chances are, if your billing system is a mess, your business is losing money because of lost invoices, late invoices or services you simply forgot to bill for.
The Create Your Shining Life Workbooks for 2016 are READY and I hear that they are already running low. Leonie has made it very clear she is not reprinting so I think it's best to get this workbook into your business and life planning project ASAP.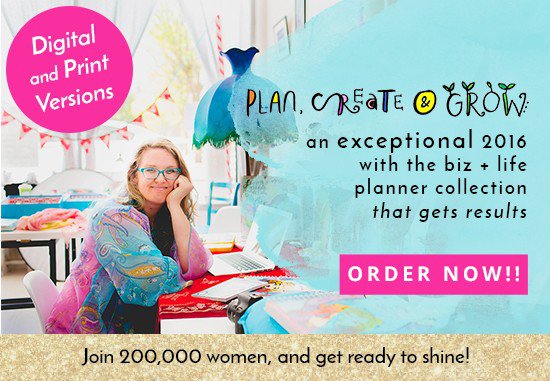 Are you a real "go-getter?" Or maybe you are someone who is going through some turmoil and transition could use some extra guidance? Not only is the Workbook and Planner a breath of fresh air like no other, it is an amazing companion and tool for anyone looking to really rock the coming year. I just received my 2016 version after completely loving and using (daily) my 2015 Shining Life and Business Workbook. This book would make a killer gift for anyone on your Christmas list, but I advise you to NOT wait. Not only are supplies limited, when Leonie runs out there will not be a second printing (plus they take about 2 weeks to get due to demand). Leonie also offers enhanced online "academies" and I am currently taking the Shining Life & Biz Academy (yes, I am SERIOUS about ROCKING the New Year) and I am loving it to bits so far. Yet another great gift for the female entrepreneur in your world.
Get the scoop on the Leonie magic HERE.