**The posts I write might contain affiliate links or be written in collaboration with businesses or brands. Please see my disclosure policy for more information.**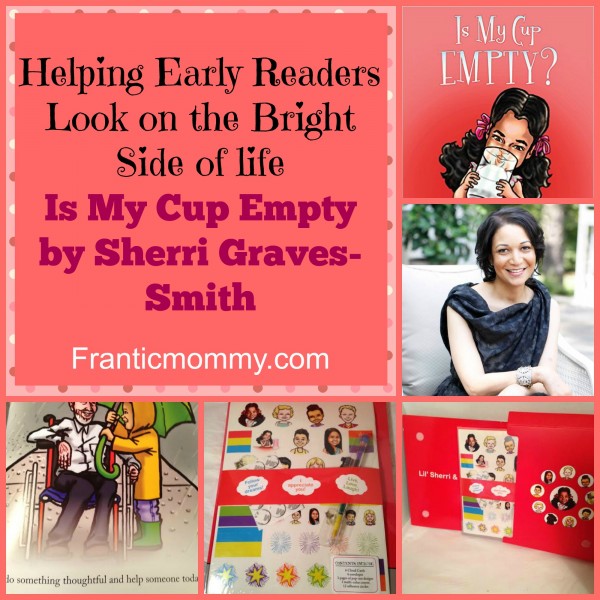 Sherri Graves Smith is an award-winning author of children's books and a popular, motivational speaker. She currently has three picture book series with more than 50 titles in print: the Lil' Sherri series, the Game Day Rules series, and a series of counting and alphabet books.
Is My Cup Empty? (Mascot Books, 2014), the first book in the Lil' Sherri series, is about hope, optimism, and perseverance. Sherri's inspiration for this series is very personal and best understood in her own words, which also provide some biographical information:
"Many lessons instilled during my childhood prepared me for the adversity that I faced as an adult, including books that I read such as Happiness is a Warm Puppy and The Little Engine That Could. The lessons in my book stem from my outlook on life after battling Stage IV cancer for the past eight years. I was only 36 years old when I was diagnosed. I found out that the cancer had metastasized one week after returning from my honeymoon, and I found myself in a position where all of my hopes, dreams, and plans were empty."
"Lil' Sherri is me when I was six years old. Is My Cup Empty? takes different things in life that are empty and shows how they can be filled with good things. I wanted to write something for children that could instill a lesson of hope and optimism in the face of adversity. I wanted to write a book that would be uplifting for a child, but also lend a helping hand for whatever adversity he or she may face in the future. My wish is to instill lessons in hope and optimism at an early age so they may be relied upon and strengthened as children grow and mature. In addition, I thought that even if an adult is reading the book to a child, the adult also can be uplifted."
Is My Cup Empty? was honored as a Phillis Wheatley Book Awards Nominee and a New York Book Festival Awards Runner-Up in 2015.
Sherri's debut as an author and the creation of the Game Day Rules series came in November 2012 after a University of Alabama fan poisoned the famous oak trees on Auburn's campus. A huge college football fan and an Alabama grad, Sherri was appalled. She could see that winning and cheering for our favorite teams was turning into instances of bullying, and verbal and physical abuse. Instead, she wanted to shine the light on the qualities of simply being a good sport and chose to touch children's lives by writing about manners and sportsmanship.
Recognizing that school mascots would be a great way to reach children in a light-hearted and fun way, Sherri wrote Big Al's Game Day Rules in which Alabama's mascot takes children around campus on a typical game day and explains how a good fan supports the team. Since that release, Sherri has added more than forty titles to the Game Day Rules series, which includes college football and basketball, pro baseball, and pro basketball. Each book is licensed by the team and features their mascot. They are available at campus shops, select Hallmark Stores and Dillard's Department Stores, in addition to traditional and online bookstores. A complete list of teams can be found at www.sherrigravessmith.com.
Her third series consists of children's alphabet and counting books and also features various school mascots teaching campus traditions and sports facts. All of Sherri's titles are hardcover, feature multicultural characters and full-color-illustrations, and are published by Mascot Books (www.mascotbooks.com).
In January 2014, Sherri was named the 2013 Author of the Year by her publisher, Mascot Books. She was recognized for her superior achievements in storytelling and writing and a demonstrated passion for literature. Mascot Books donated $1000 in her name to the Atlanta Cancer Care Foundation.
In March 2014, Sherri was honored as the first winner of the Tuscumbia Education Foundation Hall of Fame. This award is for graduates of the Tuscumbia, Alabama school system who have exemplified excellence in their careers and in the community.
Sherri is a popular speaker at educational conferences such as the National Conference of African American Librarians and book festivals such as the Harlem Book Festival held in conjunction with Columbia University. She is known for her courage, passion, and ability to motivate.
Presently, Sherri is continuing her battle against chronic cancer, in addition to growing her series. She manages to write while taking some form of chemotherapy five times a week but always makes time to visit children with their own challenges. She has made a lasting impression at schools and hospitals around the country. Sherri and her husband live in Atlanta.
UPDATE: Unfortunately, Sherri lost her battle with cancer in 2016.  Our thoughts and prayers are with her family.
**I received a copy of this book to review. Opinions expressed are purely my own. Some of these links are affiliate links which means, if you click through and buy, I get a wee little commission. Possible enough even to buy a new marker for my hardcore adult coloring addiction 🙂