**The posts I write might contain affiliate links or be written in collaboration with businesses or brands. Please see my disclosure policy for more information.**
*I was gifted a set of Drop Stops® to test and review. Opinions expressed are purely my own.
I love watching Shark Tank. Honestly, on the handful of evenings I do actually watch TV, I find myself automatically heading over to Channel 48 to "see if Shark Tank is on." I don't care how old or new the episode is, I really enjoy watching the entrepreneurial process, the amazing ideas and the deep wisdom from the Sharks.
One of my favorite episodes, and Shark Tank Success Story, is when inventors Jeffrey Simon and Marc Newburger presented their product, Drop Stop®, to the Sharks. Ultimately, these lucky guys landed an awesome deal with the "Warm-Blooded Shark," Lori Greiner.
The bottom line is; have you ever dropped your cell phone, keys, French Fries, jewelry, coins, makeup, parking cards, and a host of other items down that dreaded Black Hole gap between your vehicle's seat and center console?
I know I have.
That known fact is what inspired the creators of this product to commit to making sure these dropped items down this Black Hole gap does not become another reason for distracted driving. Every single day, there are accidents and deaths reported in the news of people looking away from the road reaching for a fallen phone, or other items.  This is why Driver Distraction has now overtaken Drunk Driving as the #1 killer on the roads.
Thus Drop Stop® was born: an affordable vehicle safety and convenience invention that quite simply, blocks that distracting gap once and for all. "Simple, affordable, and may save your life."
I have to admit, this video from AllState Insurance's Mayhem cracks me up….and strikes a cord.
Super easy to install, these flexible seat gap fillers tuck nicely down in the Black Hole Gap and even have slots for your seatbelt latchy-thingy (I know there's a technical term for that "thingy"….). They work for cars, truck and SUV and also work on either driver, or passenger, side seats.
There are very few things a driver can do to protect from accidents before the fact.  While car insurance can help in the aftermath – Drop Stop® makes accidents due to "I dropped my French Fries down the Black Hole Gap Syndrome," preventative.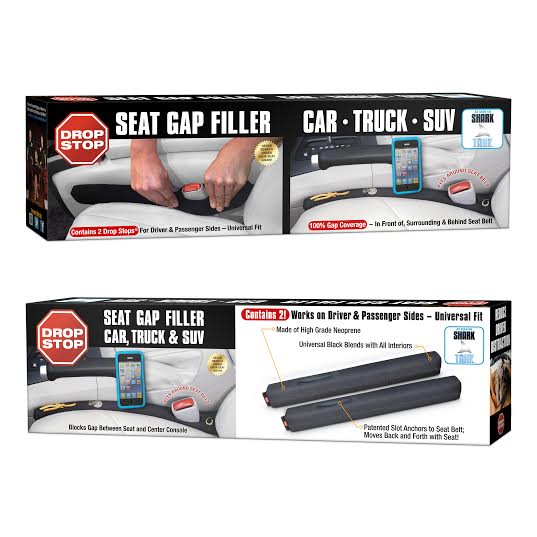 Seriously people, this product is such an affordable way to keep all drivers in your family safer when they hit the road. Drop Stop® was kind enough to supply me with a coupon code for you to use for a limited time so you can score your own set of Drop Stops®. Just go HERE and use coupon code FRANTIC to get free shipping and handling through 2/29/16 on any amount of Drop Stops that you order-whether it's 1 or 10, get FREE SHIPPING with the code FRANTIC at check out!
Want a chance at winning your own set of Drop Stops®? Giveaway time!
GIVEAWAY DETAILS
ONE winner will receive a set of 2 Drop Stops®. Giveaway begins 2/7/16
Prizing & samples  courtesy of Drop Stops®

Giveaway open to US addresses only
Must be 18 years or older to enter
One entry per household.
Staff and family members of Frantimommy are not eligible.
Grand Prize winner has 48 hours to claim prize
Winner will be chosen via Rafflecopter on 2/14/16
*I was gifted a set of Drop Stops® to test and review. Opinions expressed are purely my own.